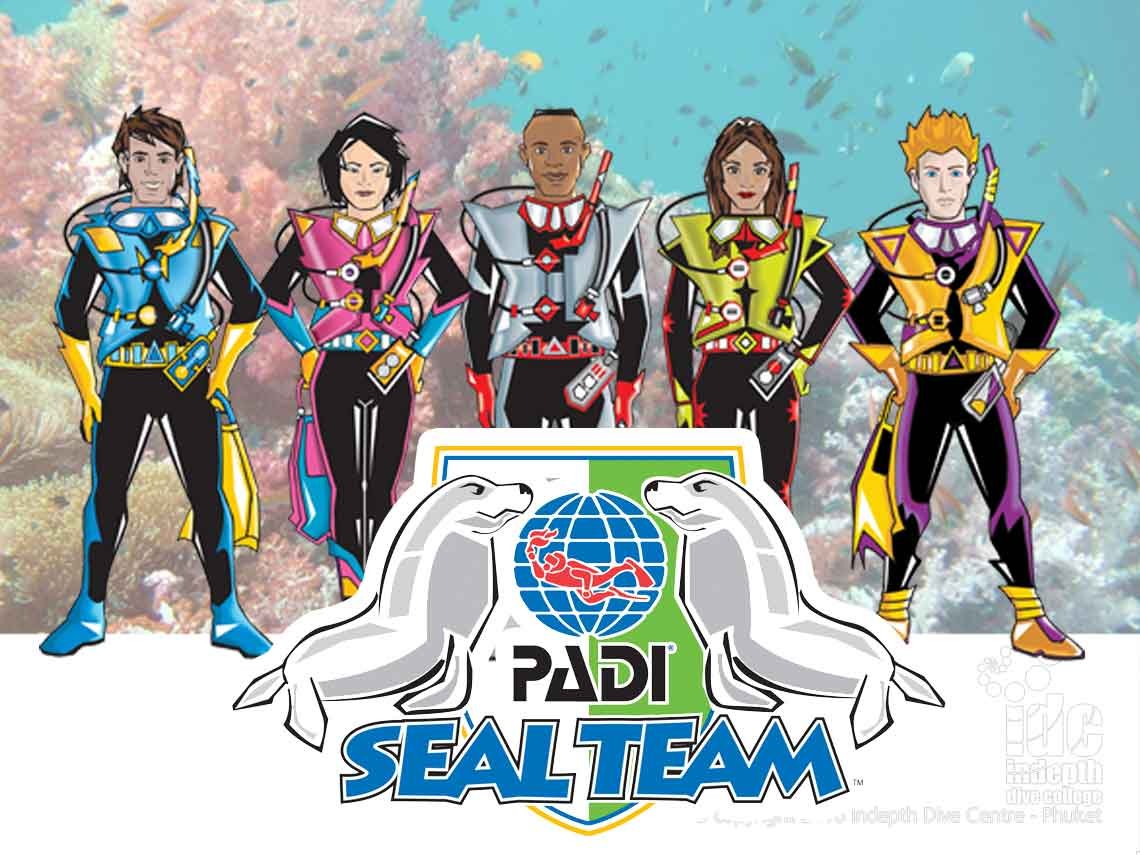 FROM 4,700 THB
Kids are you ready for the PADI Seal Team?
This PADI Seal Team program is an awesome way for kids and children to explore the exciting underwater world of Scuba Diving.
The course is broken down into 5 PADI "Aqua Missions" which each consist of a few simple Scuba Diving skills with games and loads of exciting "Missions" to complete underwater.
The Master Seal Team then gives them TEN additional Specialty "Aqua Missions" where they will have even more fun in 10 more scuba dives focusing on different aspects of Specialty diving – like Buoyancy, Wreck, Fish ID and more.
Duration: Varies on the number of Aqua Missions they do
Pre-requisites: Sign the Seal Team statement & completed Diving Medical
Minimum Age: 8 years old
Digital/Online Study: Coming
Availability: Daily
Group Size: 4:1
Personal Tuition: 1:1 personal tuition is available
So what are you actually going to be doing?
 
PADI Aqua Missions are underwater pool Scuba Diving adventures where children and kids learn Scuba Diving activities and some of the basic skills from the PADI Open Water Diver Course, PADI's entry level Scuba Diving course.
 
They will learn one skill each Aqua Mission keeping it all nice and simple whilst at the same time having a fun, exciting and worthwhile time with additional games and diving around the pool.
 
Supported by DVD, Aqua Mission and logbook the PADI Seal Team program is a great way for kids to share the excitement and wonder of Scuba, yet in a controlled environment. When they have completed Aqua Missions 1-5 they then become PADI Seal Team Members and will receive a PADI Seal Team Member Card and Wall Certificate.
They can then continue with the next adventure and carry on with the PADI Master Seal Team which consists of 10 PADI Specialty Aquamission Dives:
Creature ID Specialist
Environmental Specialist
Inner Space Specialist
Navigation Specialist
Night Specialist
Safety Specialist
Search & Recover Specialist
Skin Diver Specialist
Snapshot Specialist
Wreck Specialist
On these PADI Aqua missions PADI Master Seal Team Divers will explore different PADI Specialty dives like Buoyancy, Underwater Photography, Environmental Awareness and many more.
 
For example the PADI Aqua Mission: Inner Space Specialist will teach you how to move underwater weightless as if you were an Astronaut in Space. The PADI Snapshot Aqua Mission Specialist lets PADI Seal Team members take pictures of each other scuba diving and loads more cool stuff.
 
When they have completed all 10 PADI Aqua missions they will then become PADI Master Seal Team members receiving a PADI Seal Team Member Card and Wall Certificate.
OK so you are now hooked on Scuba Diving like we are!
Well the good news is there is a whole life long list of things you can do next!  The next step we would suggest would be to get certified and get your Scuba Diving license as PADI Junior Scuba Divers or PADI Junior Open Water Diver, which they can start as soon as they reach 10 years old. If this is within 12 months of the Seal Team then the Seal Team dives can count towards your PADI Junior Scuba Diver or PADI Junior Open Water Diver certification.
Another course you could take, which would also count towards your PADI Junior Scuba Diver or PADI Junior Open Water Diver course would be the PADI Skin Diver Course.
CONGRATULATIONS divers a whole new world has just opened up for you!
PADI Seal Team Pricing Options
Included:Tuition fees, scuba equipment rental, lunch, PADI Materials, T-shirt and Registration with PADI.
PADI Seal Team
4,700 THB
Master Seal Team
varies on the number of days and dives
Not included: Hotel transfers