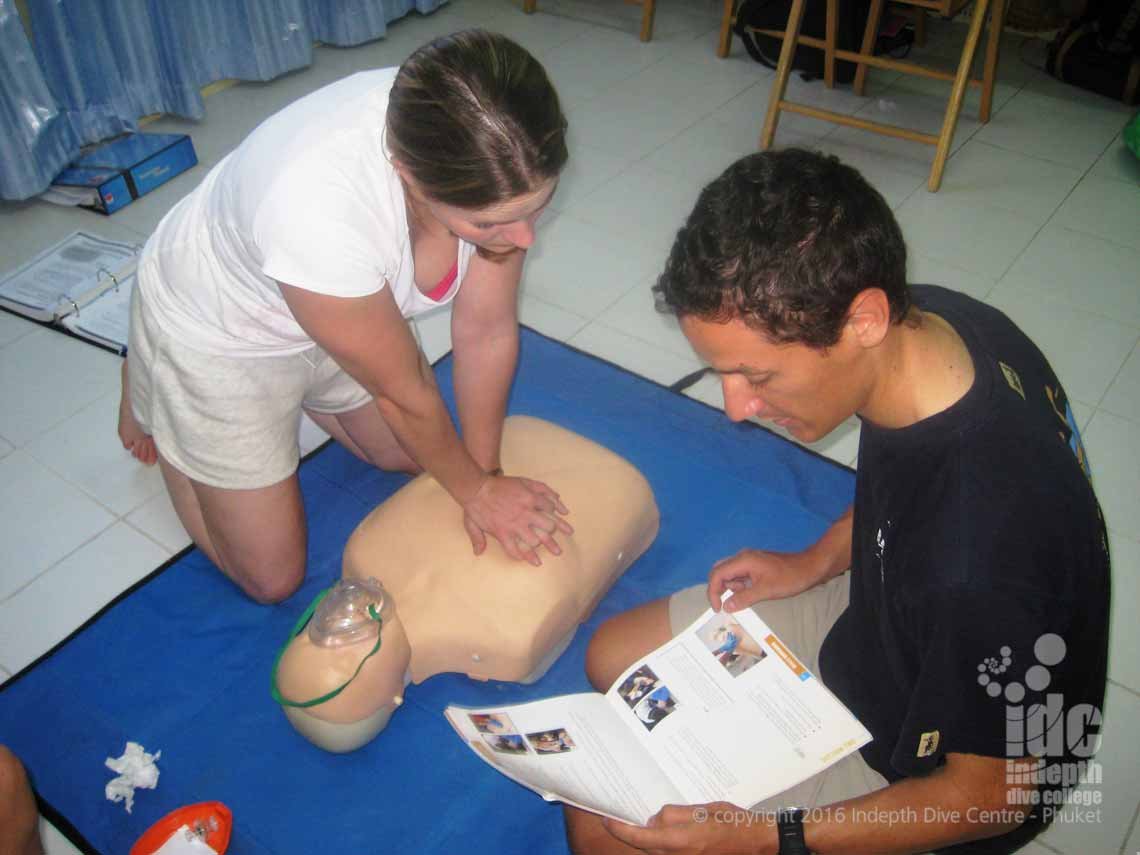 EFR Instructor (CPR / First Aid) 11,900 THB
The Emergency First Response/ EFR Instructor Course is a 1-2 day course and is open for anyone with current CPR and First Aid Training.
We believe this is one of the best courses that we offer. After all, who would not benefit from learning CPR and First Aid? Primary Care is CPR. Secondary Care is First Aid. So what could be better to help more people get certified in CPR / First Aid, than becoming an EFR Instructor?
The EFR Instructor Course teaches you how to teach the following EFR Courses: EFR Primary / Secondary Care (for adults) and EFR Care for Children (CPR / First Aid for infants and children.) And there is also now a dedicated CPR and AED Course. As such, this is an extremely valuable course and qualification to have for both and non-divers.
Why would anyone not want to be trained in CPR / First Aid?

Duration : 1 ½ Days
Pre-requisites : Current CPR & First Aid certification
Minimum Age: None
Digital/Online Study: Coming
Availability: Daily
Group Size: 8:1
Personal Tuition: 1:1 personal tuition is available


Your chance to learn how to teach CPR / First Aid to others!
Chris and his Wife, Jarunya, are both Emergency First Response Instructor Trainers. In fact, Chris was one of the very first EFR Instructors and Instructor Trainers in the world. and as such, has also been one of the most active EFR Instructor Trainers in Asia for over 18 years.
It started in 2002 when Chris traveled to the USA for the release of Emergency First Response Courses.The EFR Primary, Secondary Care and EFR Instructor Courses were the first EFR Course to be released. Subsequently in October 2003 Chris went again to the US for the release of the EFR Care for Children Course. And Chris has been actively teaching EFRI Courses ever since. Chris is also a Dive Medic Technician. This is a Commercial Diving Medical Qualification with the training being hospital based. For this month long course Chris trained in Townsville General Hospital and also with Queensland Ambulance Services.
However, when possible, all our EFR Instructor Courses are team taught by Chris and his Wife. Jarunya went to Nursing College and since graduation has been working in the medical profession ever since. She has studied and worked in a variety of countries. These include UK, Canada, USA, and also Australia. So between the two of them, Chris and Jarunya are probably two of the most qualified and experienced EFR Instructor Trainers in Asia!
Why become an EFR Instructor?
The EFR Instructor (CPR / Fist Aid) is a vital Instructor rating to have. If we look at the Dive Industry, PADI Rescue Divers need CPR and First Aid training. And, of course, PADI Divemasters and Assistant Instructor also need current CPR and First Aid training. Consequently, If you are a PADI Instructor, then why would you want to send your students and consequently your income to another Instructor? So if you haven't taken this course already, contact us know to book your EFR Instructor Course!
And don't forget this is a non-diving course! As such, this Instructor Course is open to divers and to non-divers alike. Remember the CPR / First Market is one of the biggest markets globally. Chris, for example, since becoming an Medic First Aid / EFR Instructor, has taught the same CPR / First Aid Courses to more non-divers than divers.
Course Structure and content

Before you start the course you need to have completed the 4 Instructor Level Knowledge Reviews. These are found in the Appendix of your EFR Instructor manual. Then we start the course with some Staff presentations. These look at the EFR Philosophy and the medical basis of CPR and First Aid Courses. In addition, we will also have an indepth look at the course Standards. Along with the Primary / Secondary / Care for Children and the EFR materials you need to teach the courses.
On the EFR Instructor Course; you are in fact learning to teach 3 EFR Courses:
This Instructor Course teaches you how to teach these courses. This done through EFR Staff presentations and demonstrations and then once you understand the structure of a teaching presentation, then it is your turn to do some teaching.
You will teach a minimum of:
Primary Care / CPR Skill x1
Secondary Care / First Aid Skill x1
Care for Children Skill x1
You will also demonstrate Role Model Demonstrations for the 9 Primary Care Skills. In addition, you will also demonstrate the Optional AED Skill.
EFR Primary Care / CPR Skills
Scene Assessment - Primary Care Skill #1
Barrier Use - Primary Care Skill #2
Primary Assessment - Primary Care Skill #3
CPR Chest Compressions - Primary Care Skill #4
CPR Chest Compressions Combined With Rescue Breathing - Primary Care Skill #5
Optional Primary Care Skill Automated External Defibrillator Use
Serious Bleeding Management - Primary Care Skill #6
Shock Management - Primary Care Skill #7
Spinal Injury Management - Primary Care Skill #8
Conscious/Unconscious Choking Adult - Primary Care Skill #9
Optional Primary Care Skill Emergency Oxygen Use Orientation
EFR Secondary Care / First Aid Skills
Injury Assessment - Secondary Care Skill #1
Illness Assessment - Secondary Care Skill #2
Bandaging - Secondary Care Skill #3
Splinting for Dislocations and Fractures - Secondary Care Skill #4
Finally there is an open book EFR Instructor Final Exam with the usual 75% Pass Mark.
Become a CPR / First Aid  EFR Instructor and as a result, make the world a better place ...
Now you are an EFR Instructor what's Next?
There are many reasons people become CPR / First Aid EFR Instructors.
For many people, becoming an EFR Instructor is part of their Career plans, often for advancing in their Career as a PADI Scuba Diving Instructor. Because if you are a PADI Divemaster or PADI Assistant Instructor then this rating will help you greatly when it comes to work. Also many divers who take this course are progressing onto their PADI Instructor Course at some point. In addition, being a CPR / First Aid Instructor Rating is a prerequisite for becoming a PADI Open Water Scuba Instructor.
The is also the next step for those becoming EFR Instructors for Career reasons, as opposed to simply personal development. Consequently, the next step is often to become an EFR Instructor Trainer. Yes, you got it! You are going to learn how to teach other people to teach the EFR Instructor Courses. Moreover, this is great choice as not only does it make you more employable. But it is also a prerequisite for those hoping to become a PADI Course Director.
Also while you are on Phuket with us, you might as well take some time out after the course and dive Phuket with us on one of our Phuket scuba diving day trips!
And of course don't forget there is a HUGE CPR & First Aid market outside of the Dive Industry. Therefore, EFR Instructor and EFR Instructor Trainer are GREAT goals for just about ANYONE. Especially if you are already involved, or wishing to become involved in a CPR & First Aid business.
GO FOR IT !!! The opportunities are limited only by your enthusiasm and also innovation ...
EFR Instructor Pricing Options
1½ Days
Classroom only
11,900 THB
Private course
1:1 Tuition available
2,000 THB
Included: EFR course materials and certification fees as well as all necessary use of mannequins, gloves, bandages, AED etc needed for the course.
PLEASE NOTE: For those taking the PADI IDC you will find that this course is included in most of our IDC Packages.