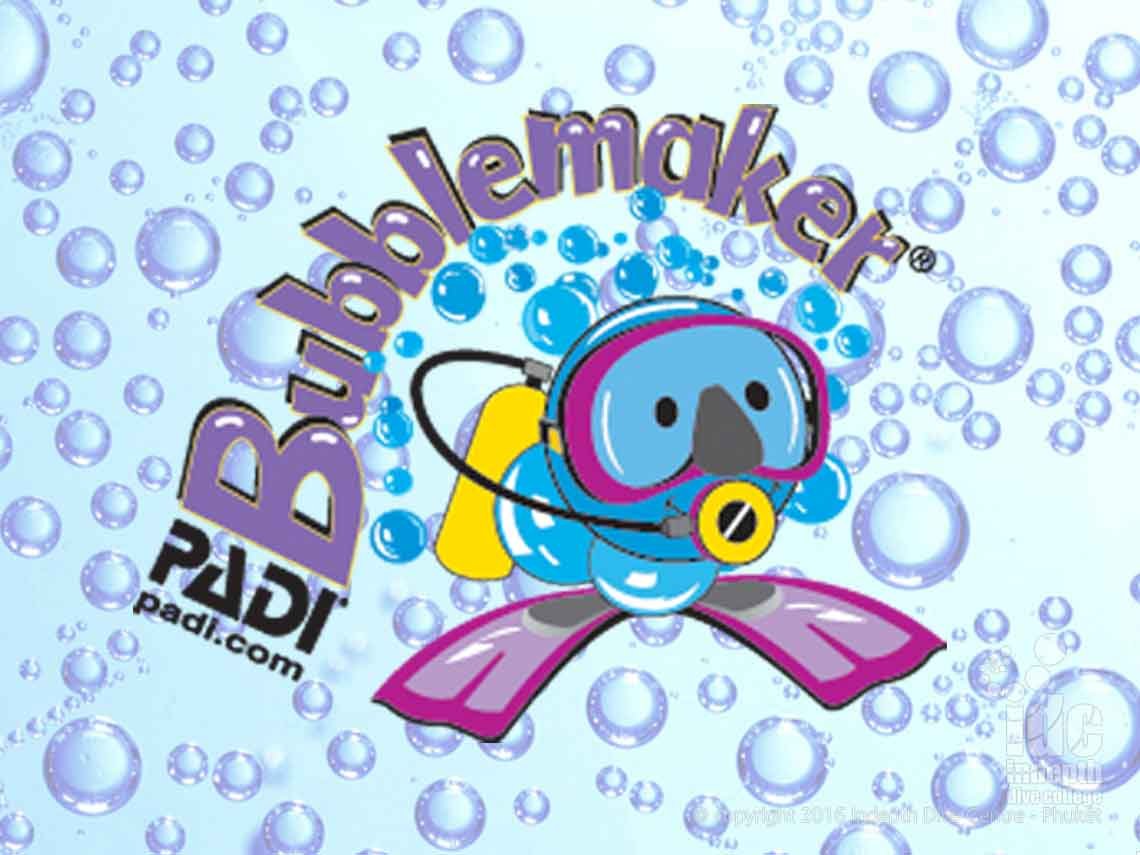 PADI Bubblemaker: FROM 2,600 THB
PADI Bubblemaker: did you know that children and kids as young as 8 years old can safely go scuba diving?
There are many fun and exciting PADI Scuba Diving, Skin Diving and Snorkeling programs made for children and kids. In fact you can start as young as 8 years old on some PADI programs which we think is awesome! The PADI Bubblemaker is for 8 years and older and perfect for parents who wish their kids to try scuba diving. After all how could you come to Phuket and NOT scuba dive?!?
The PADI Bubblemaker program let's your children/kids try Scuba Diving for real. As such they will be using the same equipment as an adult would use on a Phuket scuba diving day trip out at one on our Phuket dive sites. But in the confines of a swimming pool. And YES we have plenty of equipment in child sizes.
YES, when your kids take the PADI Bubblemaker program, the whole family can go blow bubbles together ...

Duration: 1-2 hours usually - it depends how much fun they are having!
Pre-requisites: Sign the Bubble Maker statement & completed Diving Medical
Minimum Age: 8 years old
Digital/Online Study: Coming
Availability: Daily
Group Size: 4:1
Personal Tuition: 1:1 personal tuition is available


The PADI Bubblemaker program: scuba diving for kids!
Contrary to what you might think from TV and movies, scuba diving isn't only a sport or hobby for "grown-ups." In today's day and age scuba diving is also an excellent sport and hobby for kids and children. In addition, the PADI Bubblemaker could be the start of a lifelong adventure and even a career in the making.
The PADI Bubblemaker course is specially designed to allow children to experience the thrill of Scuba Diving in an easy, safe and fun way. As such, not only is the program conducted under the direct supervision of a PADI Instructor. But it also takes place in water shallow enough for kids to stand up should they want to.
What your children / kids will be doing?
At the start of the program participants will have a short "Bubblemaker briefing" on how the to breathe underwater. Don't worry, this is the same as we do on the surface. The only difference is that we never hold our breath underwater. We will also explain how the scuba diving equipment they will be using works. This is along with a few other simply things they need to know to dive safely under supervision.
After they are happy with their briefing, then it's time to get in the pool and do some diving! First their PADI instructor will help them on with their equipment in the water. And before you ask, we do have Scuba Diving equipment made in small sizes especially for kids. When they are happy with their equipment and how it works then it's time to dive.
In the pool and equipment on, their PADI Instructor will show them some simple skills. Once they are comfortable, and their instructor satisfied, then it's time to dive! We have lots of games for them to do, as well as a load of other fun and exciting things to do.
You will be surprised at just how much fun it can be and just how much there is to do in a pool. Especially if you have never dived before.
PADI Bubblemaker safety first!
And don't worry folks, The Bubblemaker program takes place in a swimming pool under the direct supervision of a PADI Instructor. And in water no deeper than 2m. Our Parents are so lucky that this PADI program was not available when we were kids. Because we would not have not stop pestering them until they let us try scuba diving. Even when we were only 8 years old.
Sign up your kids for the PADI Bubblemaker and see how they develop and change ...
Now they love Scuba Diving there is so much they can do!
As we have mentioned, the PADI Bubblemaker program is specially designed to allow children and kids to experience the thrill of scuba diving. The Seal Team and Master Seal Team Programs also offer over 15 specialty pool dives. This then to explore and increase their enthusiasm and comfort underwater. That is until they are 10 years old. Then they will be in and in a position to get their PADI Junior Open Water Diver certification. However If they are 10 years old already, then they would be able to continue straight onto their PADI Open Water Course. And become certified PADI Divers. This could be either with the PADI Open Water Diver Course. Or if you are short on time, the PADI Scuba Diver Course.
Consequently, they would be able to dive with YOU, their parent/s, an adult who is a certified diver, or with PADI Divemaster.
And if they aren't yet 10 years old then they would be able to join the PADI Seal Team and Master Seal Team programs
Time to go diving everyone ...

Bubblemaker Best Pricing Options
½ day in the pool    from 2,600 THB
Included: Tuition fees, scuba equipment rental, PADI Materials and registration with PADI.
Not included: Hotel transfers from other areas on Phuket please contact us for supplement details