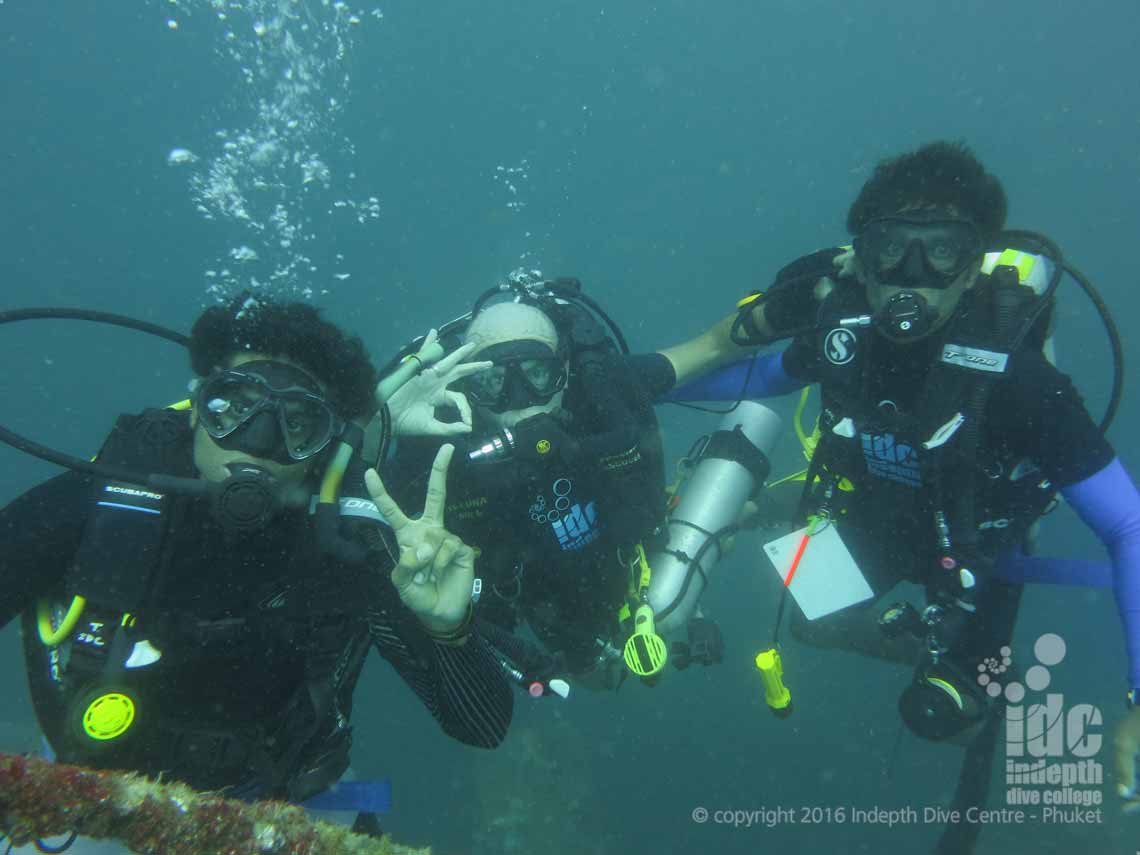 Take The PADI Master Scuba Diver Challenge!
PRICE VARIES
First of all, the path to PADI Master Scuba Diver will take you time to achieve! However, The PADI Master Scuba Diver Rating will greatly broaden you knowledge of scuba diving as well as your skills. And in addition, you will develop a new sense of confidence. During your path to PADI Master Scuba Diver will learn how to dive in at least 5 NEW and different PADI Specialty Diver areas. Such as Wreck Diving, Night Diving and Underwater Photography. When you dive Phuket you will be pleased by the variety of Phuket dive sites we have. You will during your Master Scuba Diver program that you will be a number of different Phuket scuba diving day trips and you will get to visit most of the them we hope.
As a result, new dive sites will become available to you as a PADI Master Scuba Diver because your new knowledge and skills. You will also find that during the process you explore yourself as a diver, as you develop into a Master Scuba Diver. Once successful, The PADI Master Scuba Diver rating truly puts you in a class of distinction and achievement.
Whether you are new to diving or have been diving for many years, there is nothing quite like taking The PADI Master Scuba Diver Challenge!

Duration: Varies
Number of dives: Varies
Pre-requisites: Varies & completed Diving Medical
Minimum Age: 12
Digital/Online Study: Yes
Availability: Daily
Group Size: 4:1
Personal Tuition: 1:1 personal tuition is available


How do I take the challenge and become a PADI Master Scuba Diver?
The path to The PADI Master Scuba Diver Rating is an exciting one. Full of adventure, experience and challenges. After all it takes time and dedication to achieve to complete.
You will need at least 5 PADI Specialty Diver ratings. Such as Nitrox, Wreck Diver and PADI Rebreather Diver. Along with Drift Diver and Night Diver for example. Consequently, The PADI Master Scuba Diver is also the highest non-professional rating in the PADI system.
In addition, this achievement sets you apart from other scuba divers. Because only a small percentage of recreational divers worldwide have reached this point.
Some of the most popular Specialty Diver Courses on Phuket include:
Delayed Surface Marker Buoy (DMSB)
Digital Underwater Imaging
Self Reliant Diver
Sidemount Diver
Finally, to achieve the PADI Master Scuba Diver Rating you would need:
The challenge is on – so GO FOR IT!!
PADI Master Scuba Diver – finally completed!
It has probably taken you a few years to reach the top of Recreational Diving. As a result this shows your commitment and love of scuba diving and because of this it is a pinnacle not many people have reached.
So how can you therefore take another step up?
Certainly now as an experienced scuba diver you know much, much more than you did when you embarked on this adventure. Likewise by now you know what interests you. and What aspects of diving and learning you enjoy. So what challenges are you ready to take on next?
Many people with this level of knowledge and skills will probably now shift their focus onto another professional qualification or qualifications. In turn this allows them to work in the Scuba Diving Industry. PADI Go Pro courses include: PADI Divemaster, PADI Assistant Instructor and PADI Open Water Scuba Instructor.
Because becoming a PADI Pro allows you to take passion for Scuba Diving and love of the underwater world to a new level you can earn money through it! Most of all, how awesome would it be to have the ocean and also the reefs as your office!
Many divers also look at other adventures, in addition, such as one of our passions: Poseidon Rebreather CCR diving. Take advantage because this is guaranteed to change your life!
Master Scuba Diver Best Pricing Options:
Because the awesome journey to PADI Master Scuba Diver has so many possible paths, program options and scheduling options. We customize and in addition personalise a unique package for each diver specifically.
Should you have any questions or would like to book please contact us for details