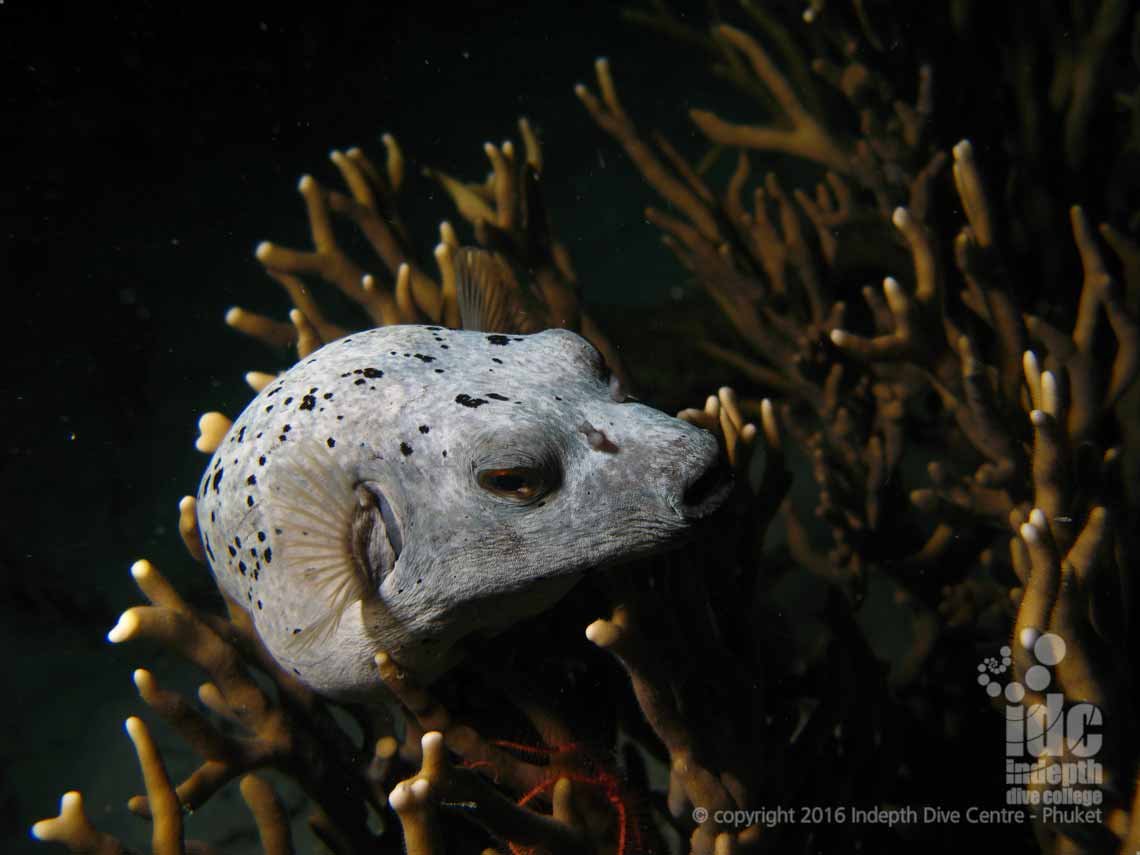 PADI Night Diver: FROM 8,900 THB
Ever wondered what the PADI Night Diver Course was all about?
First of all, you are going to have a whole new perspective of scuba diving after a PADI Night Diving course! You have dived this dive site many times? You know the dive site? Or so you think! Just wait till you dive the same dive site at night. Because on your night dives you are going to see a whole different dive site! As light is absorbed by water starting around 6m, you will be be surprised just how bright and colorful the dive sites really are! We get an idea diving in shallow water with excellent viz, but it's just not the same as diving at night.
Take your PADI Night Diver Course and see the real colours of the underwater world ....

Duration: Varies 3 Dives
Pre-requisites: Certified Diver & completed Diving Medical
Minimum Age: 12
Digital/Online Study: Coming
Availability: Daily
Group Size: 4:1
Personal Tuition: 1:1 Personal Tuition is available


PADI Night Diver: Time for some Phuket Night Diving!
Are you ready to scuba dive your favorite dive site and see it in a completely different light? Everything which was grey or brown is now going to BRIGHT yellow, orange and red. As a result you are going to see a whole different array of marine life. Marine life that you never know existed on the dive sites!
Likewise your favorite Parrot Fish will be tucked away nicely in a safe crevice for the night. However, before going to sleep some species extrude mucus from their mouths. This forms a protective cocoon that envelops them hiding their scent from potential predators. During your PADI Night Diver Course you will see things in a totally different light!
Procedures and skill sets
The PADI Night Diver Course teaches you the procedures to safely scuba dive at night. While straight forward enough, there are various things that you do need to be taught. First of all we will teach you how to safely organize a night dive. Along with various techniques we use when night diving. On the Night Diver Course we will also look at the possible hazards of diving at night and the procedures for navigation at night. Not surprisingly buoyancy control is very important as is signalling and buddy contact. Although surprisingly, it is often easier at night than during the day.
You have the chance to do 2-3 night dives on your course. Some of the PADI Night Diver Course exercises include navigating at night which can be a little strange at first. You will learn how to signal and communicate at night. And what to do if your torch or flash light were to flood. It is a fun course to take because it gives you a completely new view of the dive sites you thought you knew.
Phuket Night Dives
Here on Phuket the PADI Night Diver Specialty Course can be done over a couple of evenings off the local Phuket House Reefs. Also, on certain nights of the week, it is also possible to go on night dive trips out to the local Phuket dive sites.
The best place to do the PADI Night Diver Specialty Course is on a Liveaboard trip. These are to the best dive sites Thailand has, the Similan Islands. Here you will have the opportunity to complete the PADI Night Diver Specialty on some of Thailand's top-notch night dives.
Oh, and did we tell you about the awesome bio-luminescence or diving during a Full Moon?
Have you got bitten by the PADI Night Diving Bug?
If so then here are some things you will want to think about doing
As a PADI Night Diver you will want to buy your own torch / flashlight! These are obviously essential for night diving. But they are also an absolutely awesome piece of equipment to have on any scuba dive. So if you want to see the true colours of the corals and marine life that you saw on your night dive. Or you want to look into a hole and see what critter is hiding in there, then you will need a torch.
Personal Equipment
Torches / Flashlights come in many different sizes and specifications and can be as cheap about 10 $USD or up to 200+ $USD. Price depends on the quality, strength of beam and what you are actually purchasing it for. Luckily your Indepth PADI Instructor will able to advise you as to what best suits you and your specific needs.
Now that you have got comfortable diving in the dark, a lot of scuba divers feel much more confident moving onto to take the PADI Wreck Diver Course. In addition to other environments that typically have low visibility or are "dark"
The first three dives of the PADI Wreck Specialty Diver Course are conducted on the outside of the Wreck. This is because we are preparing you to dive inside the wreck. Where guess what? You are going to find it dark and dim and your trusty torch / flashlight that you just invested in. Yep, it's once again going to become an invaluable tool in your diving adventure!
And of course as you have just improved your knowledge and skills of diving in specialized environments. This means you are once again one step nearer the prestigious PADI Master Scuba Diver ...

PADI Night Diver Pricing Options
Boat / Beach
Varies
Varies
Private Class
1:1 Tuition
Add 2,000 THB
Night & Wreck Diver Combo:
6-8 Dives
17,800 THB
Special Discount available for two or more people booking together
Included: PADI course materials, PADI certification fees, Boat fees, breakfast and lunch on the boat, drinking water, tea, coffee, equipment rental (if needed) and round trip hotel transfer from Patong, Kata, Karon, Chalong to the boat and back.
Not included: Hotel transfers from other areas on Phuket please contact us for supplement details