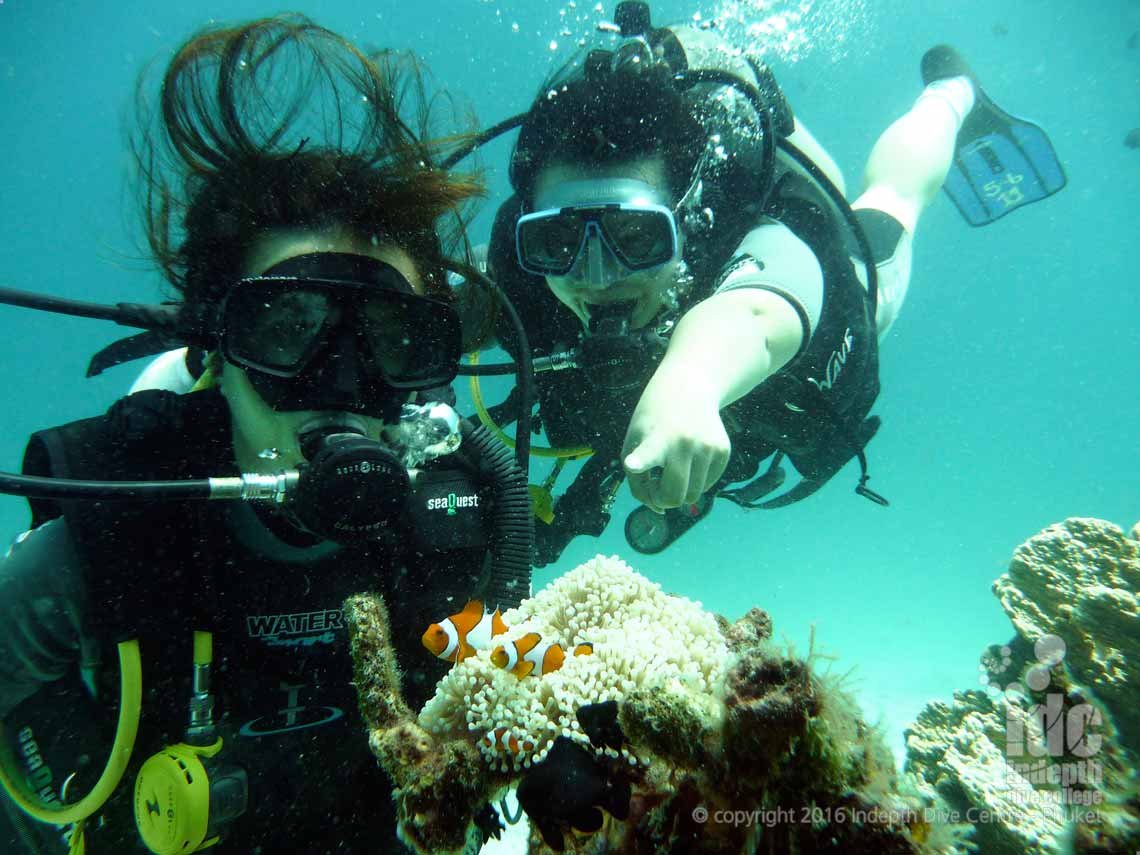 Try Scuba Diving Today: FROM 2,600 THB
Now is your chance to try diving in a little as 1/2 a day! The PADI Discover Scuba Diving is a simply, safe way try diving. You will start by diving in shallow water so that you can easily stand up if you want to. This is either in a pool or off the beach. There you will learn some easy skills needed to safely use scuba equipment. Don't worry this will be under the close supervision of your PADI Instructor.
Then you get to go on some REAL scuba dives with your PADI Instructor. Imagine seeing all the coral and fish you have seen on TV and read about! Dive Phuket and make the most of your holiday with an experience you will NEVER forget. Although it can be done in a pool. We try to help you get the most out of this experience by giving you a day out on one of our Phuket scuba diving day trips. This way you will be diving at some the best Phuket dive sites.
Give yourself a special treat and experience diving and see what the spectacular underwater world has to offer. BUT BE WARNED! Most people never stop diving after their first dive experience ...
Duration: 1 hour to 1 day
Pre-requisites: Complete the Diving Medical
Minimum Age: 10 Years Old
Digital/Online Study: Coming soon
Availability: DAILY
Group Size: Maximum 4:1
Personal Tuition of 1:1 is available


Do you want to Try Scuba Diving?
If you have 2 or 3 hour available? Are 10 years old? Then you can try scuba diving, it's that simple!
Have you ever wanted to go underwater and see all the exciting fish and coral? After all, we have all seen amazing fish and coral on TV or at the movies, but have you ever tried scuba diving with them? If not, then now is your chance! The PADI Discover Scuba Diving program is a quick and easy way to dive in a swimming pool or off the beach. Or better still, spend the day out on the boat at the nearby islands and dive in the Andaman Sea. And see the amazing marine life that Phuket and Thailand are so famous for!
How long does it take?
Our PADI Indepth Discover Scuba Diving program is usually run over 1 day, but it can be run over 2-3 hours easily enough. However, the best way to try scuba diving diving is to go out on the dive boat. This way you can make 1, 2 or 3 scuba dives in the sea. We usually go to the Racha Yai or Racha Noi dive sites because these are some of our best dive sites for your first scuba dives. They are in sheltered bays with easy access to sandy bottoms shallow enough to stand up in.
However, if you don't have much time, or don't like boats, then you can do the same thing in a swimming pool or off a local beach. We have Kata Beach, Ao Sane Beach and Ya Nui Beach just a short distance from Indepth Dive Centre. These are the best Phuket beaches to do your first scuba dives from for the first time. Consequently you can try scuba diving in just a 1/2 day.
How is the program organised?
The first thing you will do is listen to a simple briefing by your PADI Instructor. In addition, you will be given a PADI Discover Scuba Diving Booklet which is yours to keep. This covers the basic information you need to know. There is also a quick quiz of 10 questions for you to complete. The first thing you will when you try scuba is learn a few simple skills. We do these in a shallow water where you can easily stand up if you want to. We do this is in a sheltered bay off the beach or in a swimming pool. Then once you are comfortable with that, you will go on some scuba dives at REAL dive sites with your instructor! Here you will experience some spectacular Phuket dive sites.
These reefs are full of the amazing tropical fish and corals typical of The Andaman Sea. These are the same reefs that certified divers travel to Phuket and Thailand to dive on. And you will be pleased to know that the dive sites we take you to are ideal for people to try scuba diving. This is because these dive sites have some of the best marine life at shallow depths. Thus, you will have a "full-on" diving experience!
So what are you waiting for? Start Diving TODAY ...

So do you like Scuba Diving so far?
YES? GREAT NEWS!
And here is some even better news! Now you been able to try scuba diving with our PADI Discover Scuba Diving program, you are already on your way to getting your first PADI Scuba Diving Certification.
This is because the dives you have completed, both pool and in the sea, can count towards PADI Certification Diving Courses. These courses are your PADI Scuba Diver Course (2 days) or your full entry-level PADI Open Water Diver course (3-4 Days.)
Therefore, if you choose to do the PADI Open Water Course within 12 months. Then your dives can count as PADI Open Water Course Confined Water Dive 1 and Open Water Dive 1.
Contact us for our special rates for anyone taking our Discover Scuba Diving program and then continuing onto The PADI Open Water Diver Course.
CONGRATULATIONS! You are already well on your way to becoming a certified PADI Diver ...

Discover Scuba Diving best pricing
Beach - 1/2 Day
1-2 Dives
2,600 THB
Boat - 1 Day
2 Dives
4,900 THB
Boat - 1 Day
3 Dives
5,900 THB
Private Course
1:1 Tuition
Add 2,000 THB
Special Discount available for two or more people booking together
Included: PADI course materials, PADI Registration fees, Boat fees, breakfast and lunch on the boat, drinking water, tea, coffee, equipment rental and round trip hotel transfer from Patong, Kata, Karon, Chalong to the boat and back.
Not included: Hotel transfers from other areas on Phuket please contact us for supplement details