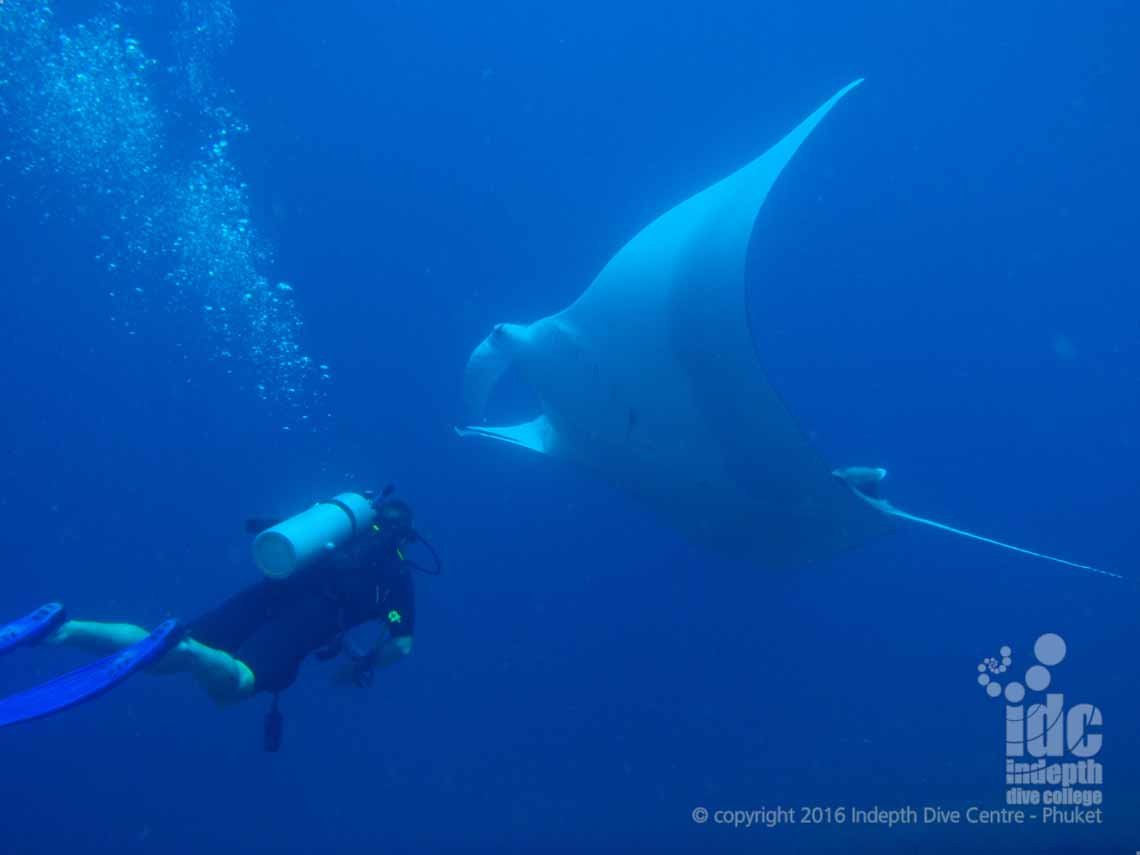 PADI BOAT DIVER: 7,950 THB
Fed up with long surface swims or want to go on a Liveaboard Safari? If you have never dived from a boat before you might want to consider the PADI Boat Diver Course. After all boat diving is by far the best way to dive Phuket!
There are many good dive sites around the world which can be dived from the beach. However when we look at diving globally, we have to agree that the majority of the worlds dive sites are best dived (or can only be dived) from a boat. This can be a RIB / Zodiac or a Longtail if you are here in Thailand. It could also be on a 5* Luxury Liveaboard diving one of the most remote and unspoiled dive sites in the world.
Take the PADI Boat Diver Course and let's go Boat Diving ...

Duration: One Day 2 dives + 1 extra dive for fun!
Pre-requisites: Certified Diver and completed Diving Medial Form
Minimum Age: 10
Digital/Online Study: Coming
Availability: Daily
Group Size: 4:1
Personal Tuition: 1:1 personal tuition is available


Why should you take a PADI Boat Diver Course?
Diving from a boat generally makes scuba diving easy. After all, all you need to do is take a step off the back of the boat and you're in the water! Also diving from boats is usually more convenient and generally easier than shore dives in a number of ways. And this is definitely true whether you are diving on one of the close-by Phuket local dive sites. Or if you are on a Liveaboard Safari to a remote rarely dived location. But at the end of the day, its great fun to spend time out on a boat whether to dive Phuket or just snorkel.
While diving from a boat isn't difficult, there are several special procedures that one needs to know and be aware of. Thus, the PADI Boat Diver Specialty teaches you the broad, basic procedures used when diving from boats. This includes some basic dive boat terminology such as the meaning of words "head", "port", "starboard" and "galley." As these all take on a different meaning when boat diving.
As a PADI Boat Diver it is important to master certain boat diving skills. Examples include safe and proper entries/exits, storing equipment properly and the appropriate "boat etiquette". Consequently, the PADI Boat Diver Course enables you to plan, organize and conduct safe dives from a boat. In addition, you will be taught some useful tips; such as how to avoid seasickness and what to do if you are seasick. And importantly, you will also learn to identify safety equipment and the importance of it for boat diving.
Drift Diving and Boats
Diving in currents, Drift Diving, becomes far easier and more exciting when diving from a boat. As such, it also saves you time and energy you usually waste getting from the shore to the entry or exit point. All in all, The PADI Boat Diver Specialty Course is about giving you knowledge to have a more enjoyable boat diving experience.
So to start the PADI Boat Diver Specialty, you will need to read your manual and complete the Knowledge Reviews. Then your instructor will go through these with you before the Boat Diver dives. We usually do this on the way to the dive site while pointing out all the various things covered in the manual on the actual boat you are diving from.
Boat diving is a great way to dive and everyone loves a day out on the boat ...

Having completed your Boat Specialty Course, what's next?
As such the next logical thing is GO DO SOME BOAT DIVING!
Phuket has a large number of local Dive Sites which can be dived by boat on pretty much any day of the week throughout the year. However, NOT be missed out on while you are here is a Liveaboard Safari to the Similan and Surin Islands to the North of Phuket. Moreover, if you are lucky there might also be a Liveaboard trip to Hin Daeng / Hin Muang trip to the South of Phuket. A trip to Hin Daeng / Muang usually includes a dive or two at Ko Haa.
Drift Diving Options
As a PADI boat diver why not try drift diving which is a popular diving activity and Phuket is a perfect place to take the PADI Drift Diver Course. And once you have taken your Boat Diver Specialty you are now on your way to Master Scuba Diver. Also, if you have taken the Drift Diver Specialty along with the PADI Boat Diver Course, then you only have 3 PADI Specialty Diver Courses to go.
Time for some Boat Diving ...

PADI Boat Diver Pricing Options
BOAT - 1 Day
2 Dives + 1 Extra Dive for Fun!
7,950 THB
Private Course
1:1 Tuition
+1,000 THB
Boat & Drift Diver Combo:
+5,500 THB
SPECIAL DISCOUNT available for two or more people booking together!
Included: PADI course materials, PADI certification fees, Boat fees, Lunch and breakfast on the boat, drinking water, tea, coffee, equipment rental (if needed) and round trip hotel transfer from Patong, Kata, Karon, Chalong to the boat and back.

Not included: Hotel transfers from other areas on Phuket please contact us for supplement details