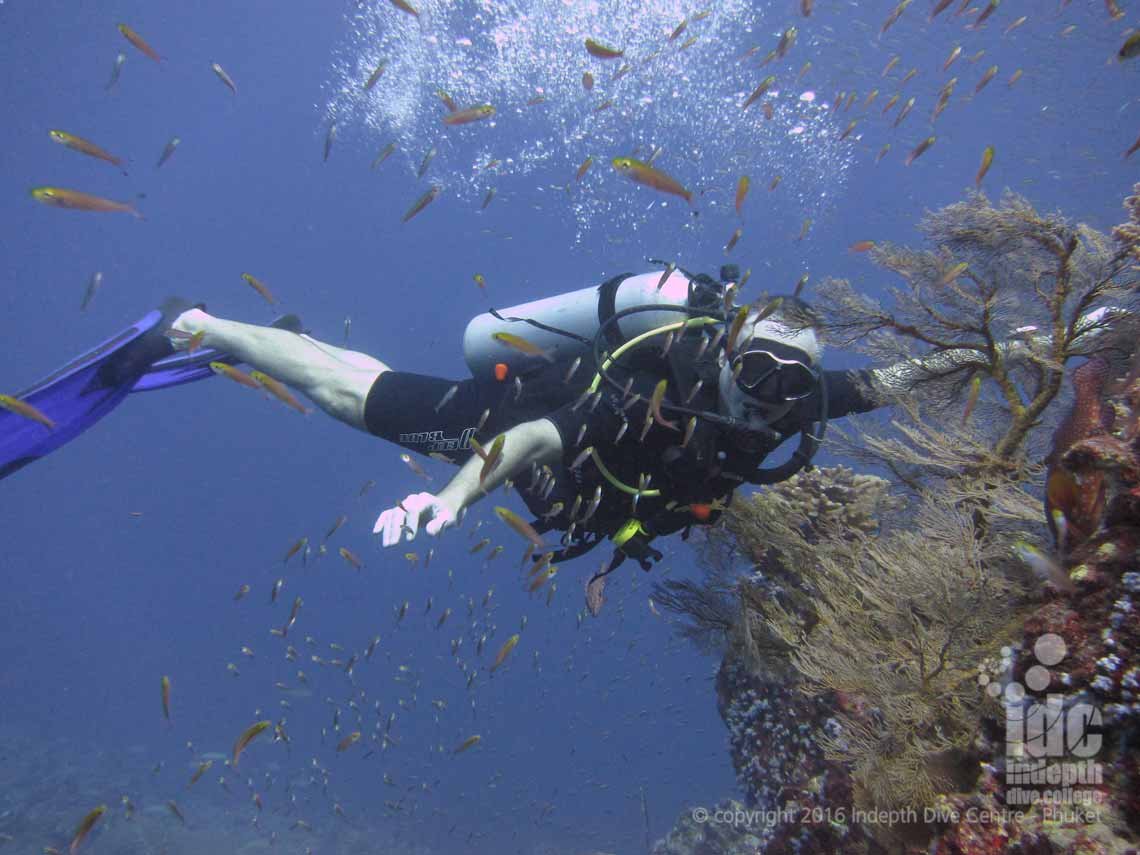 PADI DRIFT DIVER COURSE: FROM 7,500 THB
Would you like to fly underwater on the PADI Drift Diver Course?
Drift Diving is a relaxing yet thrilling type of specialty diving. PADI Drift Divers can dive sites that offers an alternative to the usual "Swim into the current and back to the boat" dive plan. Rather than as taught on your PADI Open Water Course. Drift diving is especially suited to dive sites with mild to strong current with long reefs and other topography. Phuket has some perfect dive sites for the PADI Drift Diver. It's actually one of our favourite types of diving.
The PADI Drift Diver Course teaches you controlled effortless flight underwater. We teach drift divers a systematic, safe methodical approach to drift diving. Done properly drift diving really can be awesome. In addition you can cover large dive sites and use very little air as you don't really need to "fin," you just go with the flow ...
Let's go Drift Diving!
Duration: One Day 2 Dives + 1 extra dive for fun!
Pre-requisites: Certified Diver & completed Diving Medical
Minimum Age: 12
Digital/Online Study: Coming
Availability: Daily
Group Size: 4:1
Personal Tuition: 1:1 Personal Tuition is available


PADI Drift Diving: Time to learn how to fly underwater!
The PADI Drift Diver Specialty course is actually only 2 dives but we include a 3rd dive with your PADI Instructor for fun. This also gives you more practice handling the reel and line and launching an SMB at the end of a dive. Initially this can be more to handle than you expected depending on your experience level and just how strong the current is. Consequently you will also use at a variety of different reels and lines.
The dive sites of Phuket, The Similan Islands, Racha Yai and Noi, Ko Dok Mai make for great drift dives when the conditions are right. Also, when choosing Phuket dive sites and planning the dives, we always look at the Tide Charts first. There is a LOT than can be learnt about Tide Tables and how important they are. The above dive sites can have absolutely no current at all or can be rippinig!
First of all you start your PADI Drift Diver Specialty Diver Course by reading the PADI Drift Diver manual and completing Knowledge Reviews. In addition, your PADI Instructor will review these with you before you do the actual dives.
Drift Diving topics covered will include:
Planning, organization, procedures, techniques, problems and hazards of drift diving
An introduction to drift diving equipment: floats, lines, reels
Buoyancy-control, navigation and communication for drift diving
Dive Site selection and overview of aquatic currents: causes and effects
Buddy System Techniques for staying close together as a group or Buddy Team
You can use your usual dive equipment on the course, open circuit or a Rebreather (CCR). In addition we will also introduce you to various surface marker buoys, floats, lines and reels.
PADI Drift Diving Techniques
Remember it is typically difficult or impossible for scuba divers to swim against currents for anything more than a short time. This raises various potential concerns such as staying together as a group and maintaining contact with the boat. Missing the exit / pick up point is something you also need to be aware of. If you miss your exit point in a strong current you can easily get blown several miles off the reef. Sadly, every year we read about fatalities around the world from people not trained as a PADI Drift Diver. These accidents usually as a result of divers diving in areas outside of their training and experience. And/or because of not having the correct equipment.
Furthermore, on your drift dives you will learn more about coordinated Entries. This is one of the most crucial things with drift diving. Managing ascents and descents becomes more important as does line handling. This can either be taking a line with surface buoy down or reeling the line back up again, without getting it tangled! You will practice staying together, judging where to be in the water and how to change directions along with many other fun drift diving activities.
You will also find that many dive sites actually do have currents. These vary from very mild to quite strong.
What you learn on this course will actually improve not only your scuba diving knowledge and skills. It will also help you overall diving on dive sites you know already!
PADI Drift Diver: So you like Flying Underwater – we thought so!
Now you are going to be able to dive new and exciting dive sites around the world. And you will be pleased to know that Phuket and The Similan Islands can also have some very good Drift Dives. You just need the correct training and surface  support if they are to be planned correctly.
Many awesome dive sites around the world have current on them. However because we "go down" and "come up in" the "same place" they are not considered Drift Dives per se. Therefore knowledge and skills from this PADI Specialty Diver Course is going to be very useful in your future diving adventures.
In addition many Wrecks lie in shipping channels in mid-water so they also often have current running on them. The skills you have learnt on this course will certainly help you to scuba dive on many Wrecks. If you haven't taken it already the PADI Wreck Diver Specialty Course is one to think about. Another bonus is that Phuket is a great place to this course if you see yourself doing some Wreck Diving!
There are plenty of superb Wall Dives which can only be dived as a Drift Dive. Be warned a lot of these can be quite deep drift dives which offer some other factors you will need to take into consideration. A PADI Deep Diver Specialty Course can be a wise scuba diving decision too. Learn how to make deep drift dives while using a drop tank along with a buoy.
Let's find some current and Go Dive ...

PADI Drift Diver Pricing Options
Included:PADI course materials, PADI certification fees, Boat fees, breakfast and lunch on the boat, drinking water, tea, coffee, equipment rental (if needed) and round trip hotel transfer from Patong, Kata, Karon, Chalong to the boat and back.
BOAT - 1 Day
2 Dives + 1 Extra Dive for Fun!
7,950 THB
BOAT - 1 Day
2 Dives
7,500 THB
Private Course
1:1 Tuition
+2,000 THB
Deep / Wreck + Drift Diver Combo:
VARIES
SPECIAL DISCOUNT available for two or more people booking together!
Not included: Hotel transfers from other areas on Phuket please contact us for supplement details