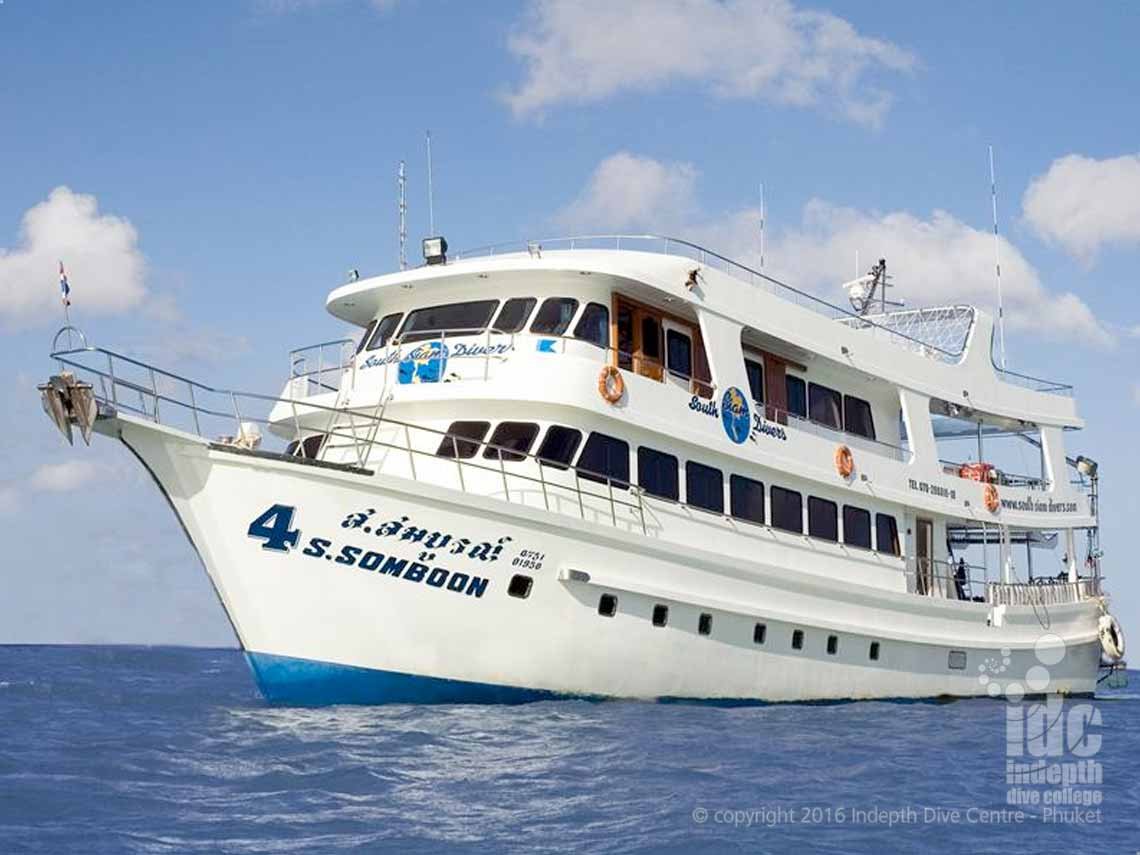 5,600 THB 1 day – 39,890 THB  7d / 7n
Additional days 4,700 THB (3,000 THB for non-diver) / day
First of all, South Siam Divers (SSD) run 2 Liveaboards to Similans / Surin / Richelieu Rock. These run through October till May this is because the National Park is closed to visitors outside these dates. South Siam Divers are the only Phuket dive operator that can offer you ANY number of days and ANY number of nights. Therefore the only Liveaboards that can cater for almost any Phuket diving holiday schedule! Most of all you should realise that a Richelieu Rock Liveaboard should on your bucket list if you are coming to Thailand.

So how do they manage to do it?
The answer... because both South Siam Similans Liveaboards stay moored in The Similan Islands. Consequently, Indepth can arrange a Richelieu Rock Liveaboard experience for you twice a week, usually on South Siam Divers 4 (SSD4). A Richelieu Rock Liveaboard is one of the highlights of diving in Thailand and is probably Thailand's most famous dive site. You can also dive Phuket with South Siam as they also operate our Phuket Day Trip Boat 3 if you would to refresh your dive skills before your Liveaboard Trip.

South Siam 4 (SSD4) conducts scuba diving around Richelieu Rock every week. This is every Wednesday & Sunday because this is when she is in The Surin islands. The famous Ko Tachai and Koh Bon are two other dive sites which are almost always also dived on these days.

SSD4 Richelieu Rock Liveaboard Schedule & Prices
EVERY DAY OF THE WEEK!
SSD 4
is based in The Similan Islands for the Similans and Richelieu Rock Liveaboard Season. Daily shuttle by speedboat is available from the mainland, and as such offer you anything from 1 day's diving to as long or as short as you wish, any day of the week.
VISITING
Monday, Tuesday, Thursday, Friday, Saturday
The Similan Islands
Wednesday, Sunday
The Surin islands, Richelieu Rock, Ko Tachai & Koh Bon
Seasonal: October to May
PRICING
1 Day: 5,600 THB to
7 days/7 nights: 39,890 THB
Additional Days: 4,700 THB
(3,000 THB non-diver) per day

SSD4 Richelieu Rock Liveaboard: Inclusions
2 – 100+ dives
Breakfast, lunch, dinner, water, tea, coffee, soft drinks, fruit and regular snacks
Professional Divemaster - 1 DM: 4 divers
12 Lit tank, weights and weight belt, torch, DIN adaptors
Nitrox - 250 THB / tank
15 Lit tank – 300 THB / day
Free transfer (Kata, Karon, Patong and Khao Lak only) from your Phuket / Khao Lak hotel to the liveaboard boats and back
Government Taxes
Insurance (500,000 Baht maximum)
SSD4 Richelieu Rock Liveaboard: Exclusions
Scuba Equipment rental, Alcohol, 15L tanks, towels and National Park Fees.
Marine National Park Fees are paid directly to Richelieu Rock Liveaboard when you reach the boat. They in turn pay the authorities when the boat enters the National Park.
Similans / Richelieu Rock / Surin 500 Baht for entry into the (divers and non-divers)
PLUS
Please note: Because National Park Fees are set by The National Park authorities they are therefore subject to change without notice
SSD4 Richelieu Rock Liveaboard: Guest Facilities
Maximum Guests: 28 guests
10 Twin Cabins with 2 Beds each (2 guests per cabin)
4 Double Cabins with 1 Double Bed (2 guests per cabin)
Cabins have 220 volt Electricity 24 hrs and air-conditioning
Fresh water showers on the dive platform
Large buckets filled with fresh water for cameras, dive computers, torches.
Large covered & open Sundeck and saloon area
MONDAY - SSD4 Richelieu Rock Liveaboard: Itinerary
Tuna wreck - Island # 5
Shark Fin Reef - Island # 3
Boulder City - Island # 3
Anita Reef - Island # 5
Night Dive - Island # 4
TUESDAY - SSD4 Richelieu Rock Liveaboard: Itinerary
Elephant Head Rock - Island # 5
Christmas Point - Island # 5
North Point - Island # 5
Ko Bon
Koh Tachai *Night Dive*
WEDNESDAY - SSD4 Richelieu Rock Liveaboard: Itinerary
Surin Island Torinla Pinnacle
Richelieu Rock
Richelieu Rock
Koh Tachai
**No Night Dive**
THURSDAY - SSD4 Richelieu Rock Liveaboard: Itinerary
Tuna wreck - Island # 5
Shark Fin Reef - Island # 3
Boulder City - Island # 3
Anita's Reef - Island # 5
*Night Dive* - Island # 4
FRIDAY - SSD4 Richelieu Rock Liveaboard: Itinerary
Deep Six - Island # 7
West of Eden - Island # 7
South of Eden - Island # 7
Turtle Rock - Island # 8
Night Dive - Island # 8
SATURDAY - SSD4 Richelieu Rock Liveaboard: Itinerary
Elephant Head Rock - Island # 8
Christmas Point - Island # 9
North Point - Island # 9
Ko Bon
Koh Tachai *Night Dive*
SUNDAY - SSD4 Richelieu Rock Liveaboard: Itinerary
Surin Island Torinla Pinnacle
Richelieu Rock
Richelieu Rock
Koh Tachai
**No Night Dive**
PLEASE READ: The above itinerary is an example of the usual schedule, weather can and does affect the schedules and destinations
The Captain and Cruise Director will decide the daily dive schedule due to and depending on conditions
We retain the right to cancel or alter the trip to because we are bound to ensure the safety of all passengers, crew and the vessel
SSD4 Richelieu Rock Liveaboard: Specifications
Length: 28 metres
Width: 6.5 metres
Bathroom: 6
Engines: 2 x Hino 420 HP
Generators: 2 x 50KW and 1 x 10KW
Compressors: 2
Two freshwater showers on the dive platform
Emergency oxygen and First Aid facilities
Affiliated member with the Hyperbaric Chamber in Phuket