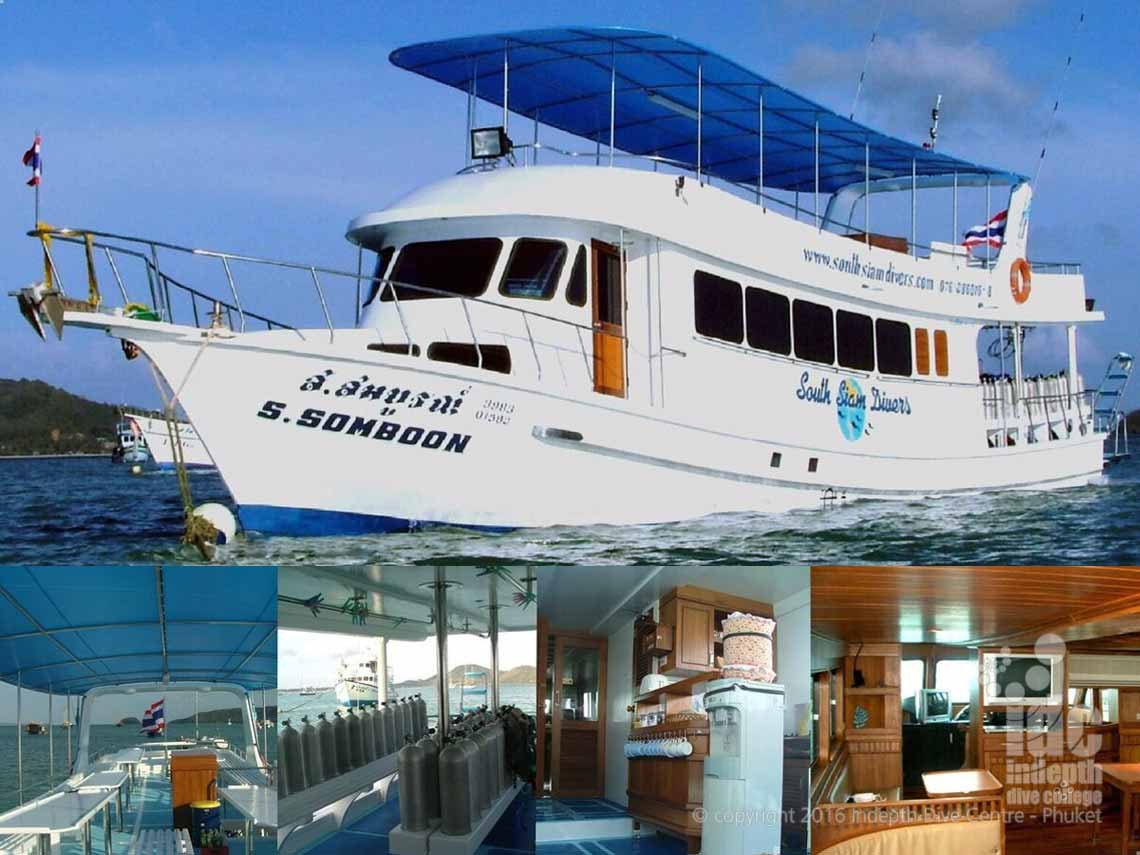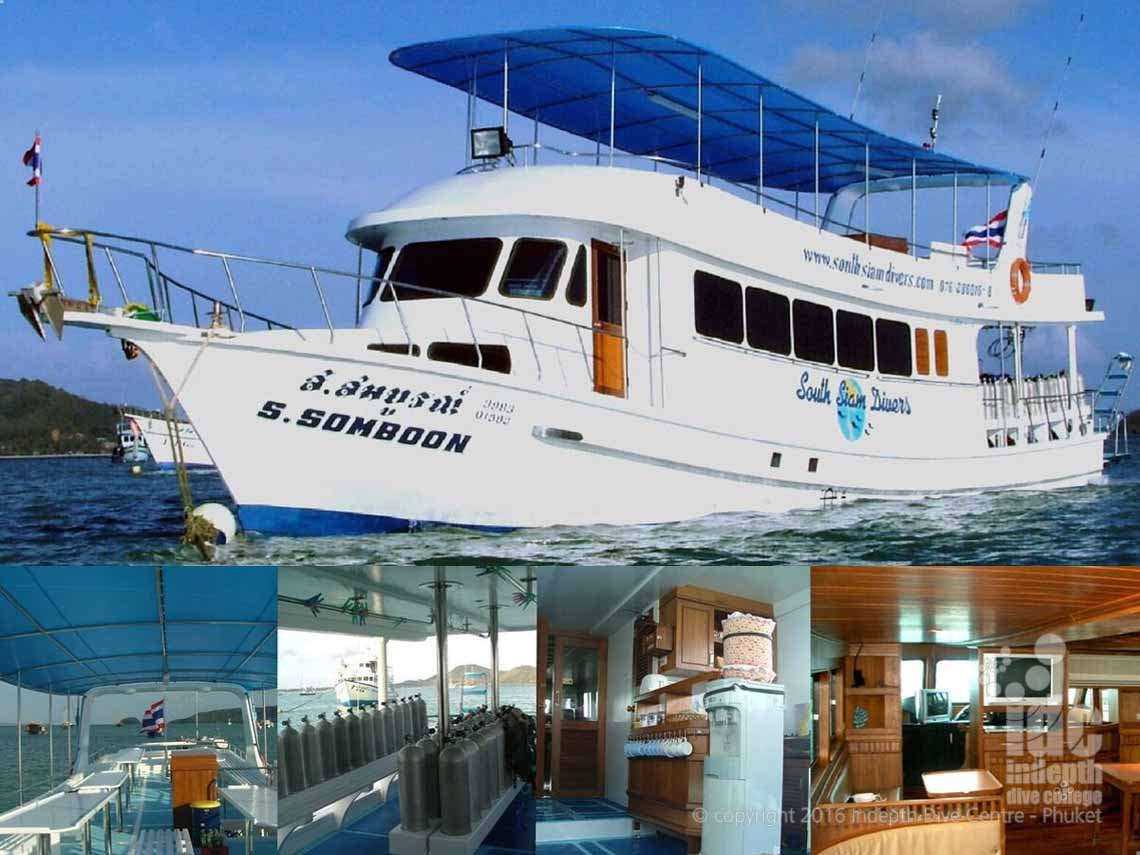 Indepth Dive Centre Phuket Day Trip: Boat 3
Phuket is Thailand's 2nd most popular Tourist destination and also home to Thailand's best diving. Consequently you will find Phuket has plenty to offer, with its beaches and local Phuket dive sites. Not surprisingly a Phuket Day Trip is one of the most popular activities. Why not try an Indepth Phuket day trip to one of our local dive sites? This will give you one of the best Phuket dive trip experiences and is a great way to dive Phuket.
Divers coming to Phuket will be pleased to hear that the Phuket dive sites can cater to almost everyone. This is due to having secluded bays for shallow Try Dives and divers new to diving. And in addition our Day Trip also visit dive sites which are perfect for the experienced diver too. And last but not least, many Phuket dive sites are also "Rebreather friendly" and because of this offer some great rebreather dives. Indepth usually runs at least 1 Rebreather Diving Trip every month on Boat 3, as it is in the ONLY Phuket Dive Boat to go to King Cruiser 2 days in a row! We have been working with this boat for almost 17 years now, as Chris has been running his PADI MSDT dives every month on her for the past 15 years. Therefore we know the boat very well.
Phuket Day Trip: Boat 3 Service
The Boat 3 boat crew have always been extremely helpful and also always fun to be with. This is another reason we use Phuket Day Trip Boat 3, even after so many years.
At the start of your Phuket Day Trip a light breakfast and plentiful cups of coffee are served on the way out to the King Cruiser. And there is also plenty of bread, toast and jam for anyone still hungry. This Phuket day trip also includes unlimited soft drinks as well as tea and coffee. Also, as you would expect, or probably hope, this Phuket Day Trip has lots of ICE cold beer after the last dive at 50 THB / tin.
Please note: You may also pre order EANx Nitrox at 200 THB per tank on board Boat 3. Consequently is not available without this prior request.

Boat 3 has the same Itinerary every day which is: The King Cruiser, Shark Point and Ko Dok Mai.
In fact, it is currently the only Phuket Dive Boat offering the King Cruiser Ship Wreck every day. Consequently, we love it and it is the perfect Day Trip for Wreck Specialty Diver and also Instructor course dives.
Indepth Phuket Day Trip Boat 3 daily schedule:
07:15 is the usual start time for hotel pick-ups from Kamala and Patong, with the boat departing from Chalong Pier around 08:30. At the end of the day customers are usually back at the hotel around 17:30. The Trip can be back a bit earlier or a bit later depending on the number of divers on the boat.

Phuket Day Trip Boat 3: Schedule & Prices
DAY
Destination
Dives
Diver Price
Non-Diver Price
MON
King Cruiser Wreck, Shark Point,
Ko Doc Mai
3
4,500 THB
2,900 THB
TUE
King Cruiser Wreck, Shark Point,
Ko Doc Mai
3
4,500 THB
2,900 THB
WED
King Cruiser Wreck, Shark Point,
Ko Doc Mai
3
4,500 THB
2,900 THB
THU
King Cruiser Wreck, Shark Point,
Ko Doc Mai
3
4,500 THB
2,900 THB
FRI
King Cruiser Wreck, Shark Point,
Ko Doc Mai
3
4,500 THB
2,900 THB
SAT
King Cruiser Wreck, Shark Point,
Ko Doc Mai
3
4,500 THB
2,900 THB
SUN
King Cruiser Wreck, Shark Point,
Ko Doc Mai
3
4,500 THB
2,900 THB

Your Phuket Day Trip includes:
Dive Guide
Tanks and weights
EANx available on demand +200 THB / Tank
15 lit tanks available on demand +200 THB / tank
Breakfast, lunch,  fruit, water, tea coffee and soft drinks
Beer 50 THB / tin
Hotel Transfers: Patong, Karon, Kata, Nai Harn, Chalong (other locations are available for a small additional fee)
Two Bathrooms
Two freshwater showers on the dive platform
Saloon and Sun Deck
Kitchen
2 Water stations
4 Fresh water showers
Length: 22 meters
Width: 4 meters
Engines: 1 Hino 315 HP
Generator: 1
Compressor: 1
Emergency oxygen
Dive platform
Tank racks