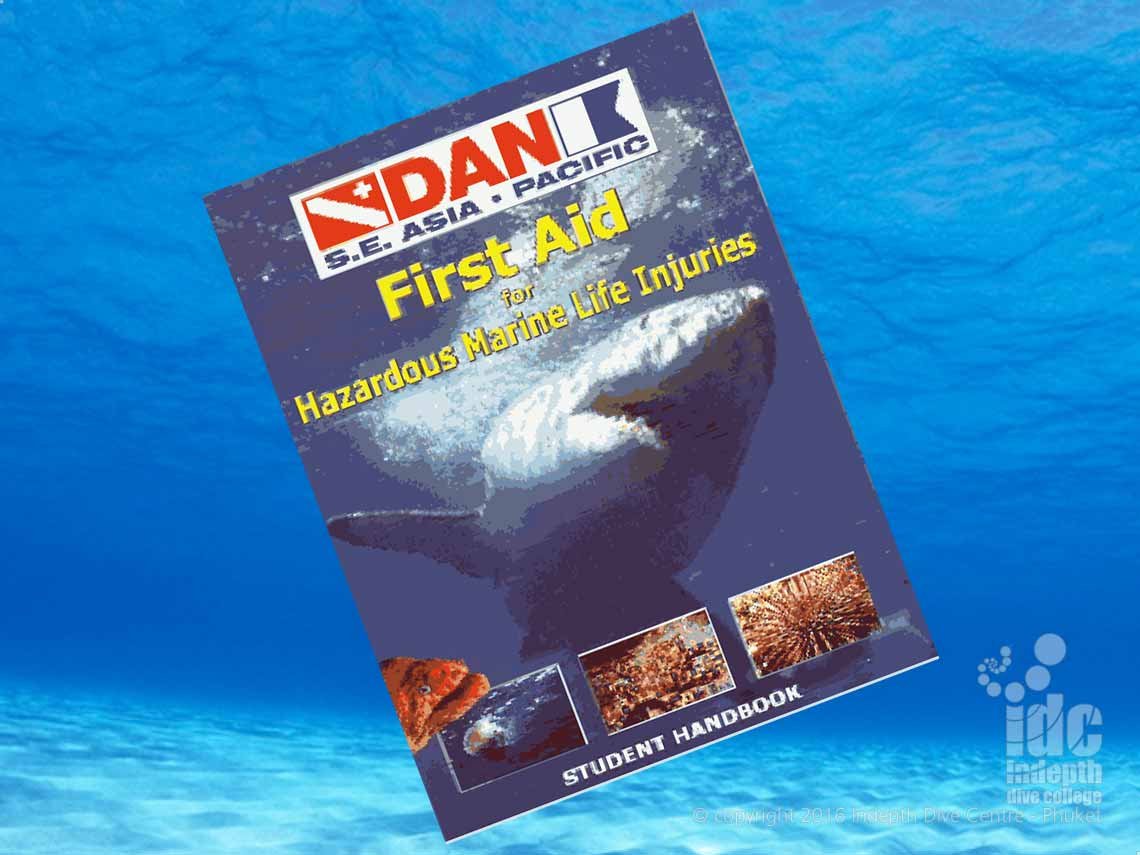 DAN Hazardous Marine Life Injuries 5,500 THB
DAN Hazardous Marine Life Injuries: have you ever worried about be stung or bitten while scuba diving?
Most of us scuba dive or snorkel because we want to interact with and observe aquatic life. I mean who wouldn't want to in the tropical water of Phuket? However, it is also one of the reasons that some people are afraid to venture on to or under the sea. In reality though, injuries caused by hazardous marine life are rare and usually the result of a diver's carelessness and a defensive reaction by the animal.
Join this popular DAN Course to find out more about Marine Life Injuries ...

Duration: ½ Day Classroom
Pre-requisites: CPR & First Aid
Minimum Age: 14
Digital/Online Study: No
Availability: Daily
Group Size: 4:1
Personal Tuition: 1:1 personal tuition is available


DAN First Aid for Hazardous Marine Life Injuries
The DAN course is around 4-6 hours and is open to all that have an interest in the subject.
The HMLI student manual sets the scope for this fun training program. The course teaches scuba divers and non-divers the entry-level procedures in identifying Hazardous Marine Life so as to recognize and provide basic first aid to possible injuries caused by hazardous marine life and how to avoid hazardous marine life injuries.
This very interesting Course covers the following subjects:
Hazardous Marine Life Identification
Types of Hazardous Marine Life Injuries
Envenomation
Bites
Irritations
Poisoning
Indications and First Aid for Venomous Marine Life Injuries
Spine Punctures
Blue-Ringed Octopus
Sea Snake Bites
Sea Urchin
Starfish
Cone Shell
Stings
Severe Allergic Reaction
Warning Signs and First Aid Procedures for Bites
Marine Animal Bites
Common Octopus
Warning Signs and First Aid Procedures for Irritations, Cuts and Abrasions
Infection
Warning Signs and First Aid Procedures for Seafood Poisoning
Scombroid
Ciguatera
Shellfish
Skill Development Overview
Scene Safety Assessment
Initial Assessment with Basic Life Support
Basic Life Support with Supplemental Oxygen
Providing care with an AED
Control of External Bleeding
Shock Management
Wound Management
Pressure-Immobilization Technique
Emergency Assistance Plan
Avoiding Hazardous Marine Life Injuries
It is important to understand that the Course does not provide training in Cardio Pulmonary Resuscitation (CPR), Automated External Defibrillators (AED) and Oxygen Provision in Diving Accidents or in Scuba Diving Rescue.
For more information on these DAN courses please Contact Us.
Now you know the basics about First Aid for HMLI.
However what would you do if the person you were treating, for example a scuba diver out on a Day Trip or a Liveaboard, got worse and needed further treatment?
The most likely scenario is that you would need to administer Oxygen especially if out at sea with no medics or Drs around, and that it might well be your job to apply First Aid.
As such the DAN Oxygen Provider Course is an extremely valuable add-on in this course, which goes hand-in-hand with the PADI Rescue Diver Course and PADI Divemaster Courses.
Vital courses for serious Scuba Divers and those on the Professional scuba diving path ...

DAN Hazardous Marine Life Injuries Pricing Options
½ - 1 Day
Classroom Only
5,500 THB
Included: DAN course materials and certification fees as well as all necessary use of mannequins, Oxygen units, AED etc needed for the course.
Not included: Hotel pick-up not included.