The Junk Liveaboard: Destinations
Junk Liveaboard - Similan Islands, Koh Bon, Koh Tachai & Richelieu Rock

| Days | Nights | Dive Cruise Destinations |
| --- | --- | --- |
| 5 | 6 | 19 dives: Similan Islands, Koh Bon, Koh Tachai & Richelieu Rock |
| 4 | 4 | 14 dives: Similan Islands, Koh Bon, Koh Tachai & Richelieu Rock |
The Junk Liveaboard, whose real name is The June Hong Chiang Lee, is known locally as simply 'The Junk', is actually a genuine, traditional Malaysian-built Chinese Junk. June Hong Chiang Lee became a dive boat after extensive renovations in 1995. Prior to this she was part of a merchant fleet. The Junk is now probably the most noticeable Liveaboard in the Similan or Surin Islands.
Additional en-suite cabins due to even further refurbishment with massive amounts of relaxation space make the Junk Liveaboard even more desirable. Sleeping under the stars or taking in the rays on her large sun deck are firm favourites between dives as well as relaxing in the large air-conditioned saloon. On The Junk Liveaboard you can even get a Thai massage upon request!
There is a huge dive platform on The Junk Liveaboard. This along with 2 large tenders (ribs) ensures you get dropped in on the best dive site entry point possible. And get picked up when you have finished your dive.
And if you want to dive Phuket before your Liveaboard Trip just let us know and we can schedule a Phuket day trip to get you back into Dive-Mode!

Liveaboard Schedule & Prices
The Junk Liveaboard: Cabin prices are in Thai Baht, per diver, excluding equipment & Park Fees

The Junk Liveaboard: Inclusions
14-19 dives
Breakfast, lunch and dinner, Snacks, Fruit,
Cookies, water, tea and coffee
Certified Divemaster (ratio 1 DM: 4 divers)
12 Lit tank, weights and weight belt, DIN adapters
Torch: 100 THB / night dive
15 Lit tank: 300 THB/ day
Nitrox: 800 THB / day
4 Night trip: 4,000 THB
6 Night trip: 5,000 THB
Transfers to and from your accommodation on Phuket's main tourist areas (Patong, Kata & Karon Beach)
The Junk Liveaboard: Exclusions
Scuba Equipment rental, Alcohol, 15L tanks and National Park Fees.
Marine National Park Fees are paid directly to The Junk Liveaboard when you reach the boat, who then in turn pay the authorities when the boat enters the National Park
Similans / Richelieu Rock / Surin, 500 Baht for entry into the (divers and non-divers)
PLUS
Please note: National Park Fees are set by the relevant agencies and are subject to change without notice
The Junk Liveaboard: Guest Facilities
Maximum Guests: 18
Crew: 10
6 Cabins:
2 x Three Berth Cabins (can be sold as so called Shared Twins and can also be turned into a Private Double Bed)
2 x Four berths cabins (which are all bunks but can also be sold as Shared Twin)
All cabins are fully air-conditioned and have their own hot water shower and toilet en-suite
8 hot water showers with toilet
Two recreational areas total 150 sqm:
Huge salon which doubles as a deluxe restaurant and is also the perfect place to prepare photo or video equipment
Extensive library of books
Mini Discs and Videos
Immense deck allowing divers plenty of space to gear up suit up in comfort and chill between dives
The Junk Liveaboard: Similan Island Liveaboard Safari – sample schedule:
1st Day: Departure day 18:00 Departure for Similan Islands 20:00 Dinner
2nd Day: Similan Islands
3rd Day: Koh Bon Island
4th Day: Richelieu Rock with the Surin Islands in addition
5th Day: Surin Islands
6th Day: Similan Island
7th Day: The last Day of your cruise starts with wake up at 07:00, Breakfast served on board and at 09:00 finally disembarking
PLEASE NOTE: The above itinerary is an example of an average liveaboard trip.
The Captain and The Junk Liveaboard Cruise Leader will decide the best course of action because weather conditions may affect plans at the specific time of each trip.
Indepth and The Junk Liveaboard retain the right to cancel or alter the trip because we consider most of all the safety of all passengers and crews and also the vessel.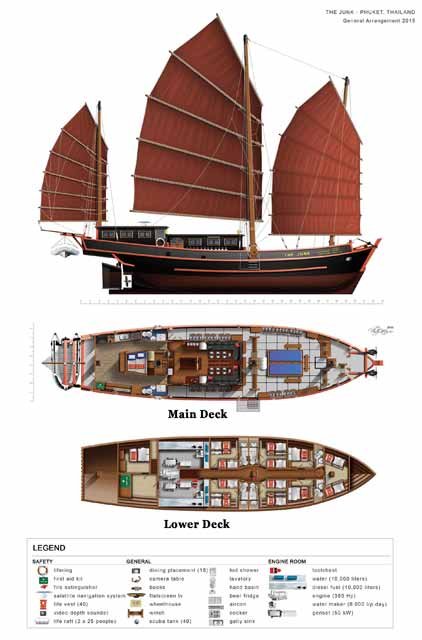 The Junk Liveaboard: Specifications
Length: 33m
Beam: 8.50m
Speed: 8 knots Motor Sailing
1 Main Engine 380 HP
2 generators 50 KW each
Tenders / RIBs:
tender No. 1 - 40 HP 4.20m
tender No. 2-  60 HP 5.80m
Compressors: 2 Bauer
Scuba Tanks: 40
Electronic: Satellite Navigation System
3 VHF Radios
2 CB Radios
Video Depth Sounder
Water-maker 6.000 l/p day
Range: 10.000 liters of diesel (range unlimited as long as there is wind)
Safety: Patient area with 2 large oxygen tanks
40 life jackets
Life raft for 25 people