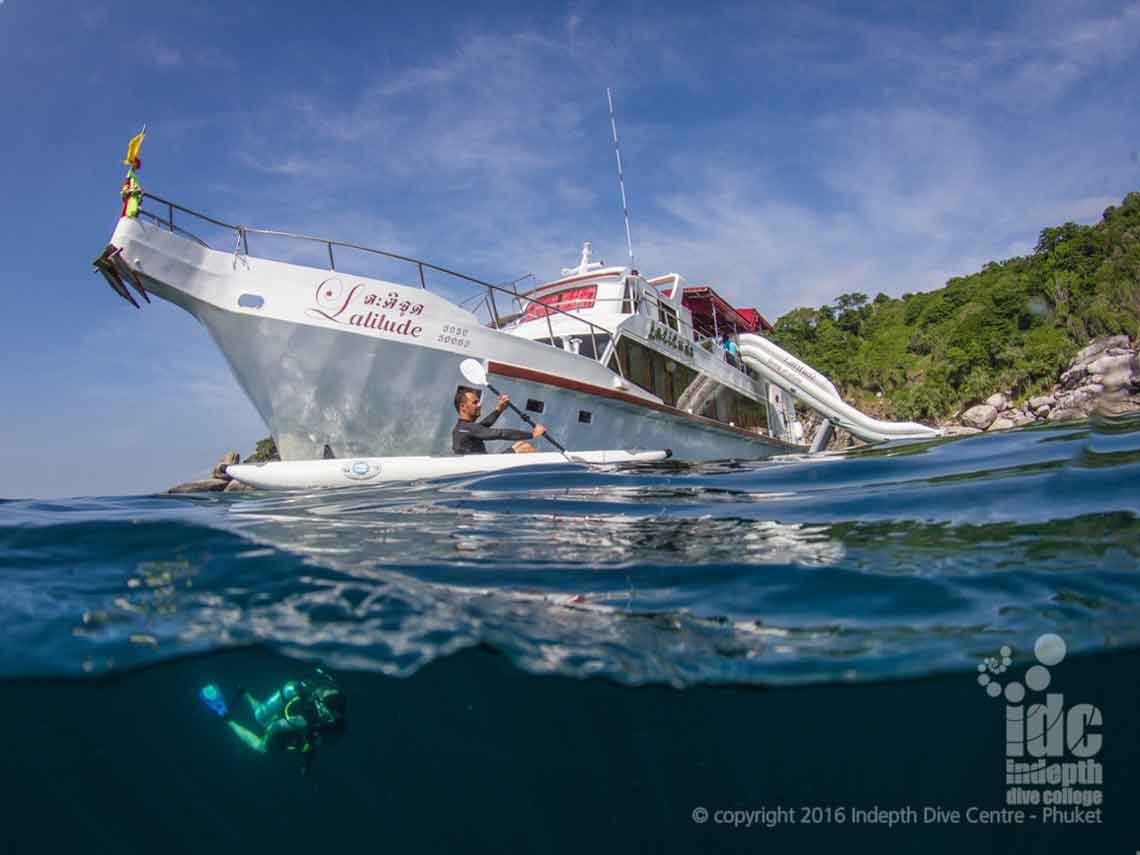 Indepth Dive Centre Phuket Diving: Boat 4
Many people come for a holiday to Phuket because of one reason; Phuket Diving and we don't blame them! Phuket has long been a Dive Travel destination due to the quality of the Phuket diving. Consequently, we are lucky enough to be able to offer some great Phuket diving for divers of all levels. Not only that, but Phuket diving is 12 months a year, so you can enjoy some awesome Phuket diving any month of the year.
Having said that, Boat 4 is a touch different from other Phuket Diving Day Trip Boat. This is because Boat 4 does not move throughout the day. As such, Boat 4 stays on the mooring in Racha Yai Bay 1 for approximately 5 hours. This means you have plenty of time to go scuba diving. In fact you can do 1 dive, 2 dives, 3 dives or non at all. As you can treat yourself to some of the unique additional activities that Boat 4 offers.
If you are here for some Phuket diving then you have enough time for 3 dives, or even 4! There is plenty of good Phuket diving here with loads to see. From the artificial reefs known as "The Cubes" lying in 5-15m, to the 2 Wrecks lying in around 20-25m. There is always some interesting Phuket diving here. Rebreather divers are in for a treat because you can easily spend around 1 ½ hour on both Wrecks in 1 dive. We only say 1 1/2 hour total because of the depth and your non-decompression limits. But there is a lot of excellent Rebreather Phuket diving options with Boat 4.
Phuket Diving:
For non-divers why not take some Try Dives or a PADI Discover Scuba Diving? And in addition, if you want to try some non-diving activities there is plenty on offer. For example, they have a RIB which means they can take you to the beach should you want to go for a walk. They have glass-bottom canoes and also some kayaks so you can relax and paddle around the bay. And there is also a water slide off the top deck for some added fun. And of course, there is plenty of snorkeling going on as well.
Please note: Boat 3 doesn't have EANx Nitrox on board, however it can be pre-ordered at 200 THB / tank.

Indepth Phuket Diving Day Trip Boat 4 daily schedule:
Hotel pick ups start time is usually 07:30 from Kamala and Patong, with the boat departing from Chalong Pier around 08:30. The boat usually leaves Racha Yai Bay 1 at 14:45 being back in Chalong around 16:00.

Phuket Diving Day Trip Boat 4: Schedule & Prices
| DAY | Destination | Dives | Diver Price | Non-Diver Price |
| --- | --- | --- | --- | --- |
| MON | Racha Yai | 2 | 3,500 THB | 2,600 THB |
| TUE | Racha Yai | 2 | 3,500 THB | 2,600 THB |
| WED | Racha Yai | 2 | 3,500 THB | 2,600 THB |
| THU | Racha Yai | 2 | 3,500 THB | 2,600 THB |
| FRI | Racha Yai | 2 | 3,500 THB | 2,600 THB |
| SAT | Racha Yai | 2 | 3,500 THB | 2,600 THB |
| SUN | Racha Yai | 2 | 3,500 THB | 2,600 THB |
Phuket Diving Trip Hotel pick-ups start from 07:30 with the boat departing around 08:30
You can expect to be back from your Phuket Diving Trip and at your hotel any time from 17:30 onwards

Your Phuket Diving Trip includes:
Water Slide
Kayaks
Stand Up Paddling
Snorkelling equipment
Dive Guide
Tanks and also weights
EANx available on demand +200 THB / Tank
15 lit tanks available on boat +100 THB / tank
Welcome drink, water, Tea and Coffee
Breakfast, lunch, fruit, also return snack
Soft drinks 30 THB / tin
Beer 60 THB / tin
Finally, hotel Transfers: Kalim, Patong, Karon, Kata, Kata Noi, Chalong (other locations are available for a small additional fee)
Air conditioned lounge
TV
Wifi
PlayStation 2
IPad
2 sundecks
Spacious Dive Deck
4 fresh water showers
2 bathrooms
Kayaks, Stand Up Paddle and also Water slide
Steel mono hull
Length : 28 meters
Width : 5 meters
Weight : 55 tons
Main engines : 2 x HINO 350 HP
Generators x2
Bauer compressors x2
1 Dinghy
60 tanks
8L tanks x2
15L tanks x2
55 passengers max
Cruising speed : 9 knots
Safety:

1 medical First Aid Kit
Oxygen tank
7 Fire extinguishers
65 life jackets
CCTV
Crew:

Tour leader
Captain
Tour guide
Engineer
3 boat boys
Cooking lady
Communications:
AIS
VHF radio
GPS Navigation
Mobile phone
Walkie Talkies on boat