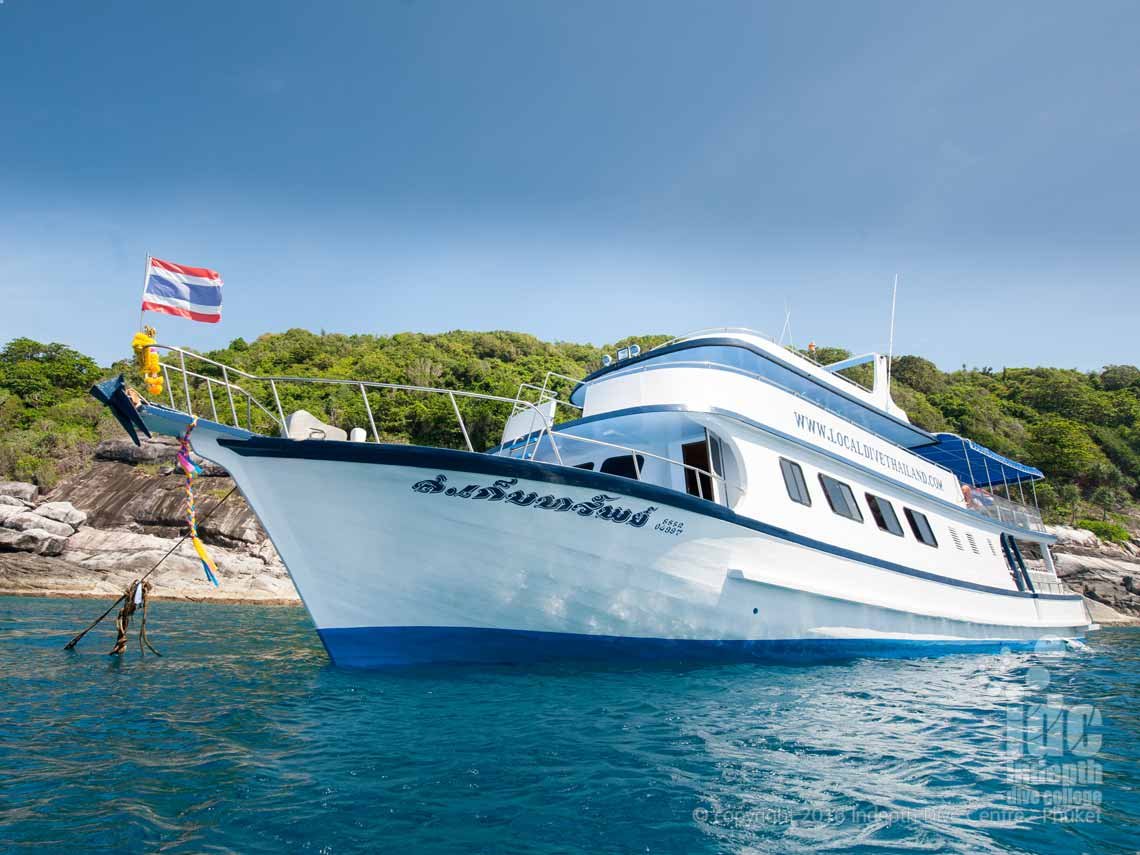 Indepth Dive Centre Phuket Dive Trip: Boat 1
Phuket is a great place for a holiday and a chance for some excellent scuba diving. And an Indepth Phuket dive trip guarantees you the best dive sites the island has to offer. Having been here for 20 years, we know all of the best dive sites so we make sure our dive trips visit these sites. Not only do these dive trips have some great dive sites for Beginner Divers, but also plenty of great diving for experienced divers. Thus, an Indepth Phuket Dive Trip has something for everyone, divers or non-divers, alike.
Additionally, these local Phuket dive sites are also suitable for both Open Circuit and Rebreather Divers which is always a bonus. In fact we run a Phuket Dive Trip for Rebreather divers every month, as well as upon request. Incidentally, several years ago Boat 1 was modified slightly specifically to cater for Chris's Poseidon Rebreathers which was nice of them. Therefore you will most likely find yourself on Boat 1 if you are taking a PADI Rebreather Course. Similarly, you will like Boat 1 if you are diving on your own Rebreather you brought with you. If you want to know about PADI Rebreather Courses please contact Chris.
The famous Banana Pancakes
On this Dive Trip a delicious cooked breakfast will be served on the way out with the usual tea and also coffee. As you would expect, lunch is again freshly cooked on board and served as a Thai Buffet on a first come, first served basis. And there is a special surprise on this Day Trip! This is the cook and her famous Banana Pancakes which magically appear on the way back.
Boat 1 also has EANx Nitrox blended onboard and is available at 200 THB / tank. Also cold, soft drinks are available at 30 THB each in addition to cold beer at 60 THB / tin after your final dive of the day. All in all Boat 1 is a great boat to dive Phuket from.

Boat 1 is a great choice for a Phuket dive trip due to its weekly schedule visits to: Racha Noi, Racha Yai, King Cruiser, Shark Point and Phi Phi
Phuket Dive Trip Boat 1 daily schedule
Your Phuket dive trip hotel pick-ups start from 07:30 in Patong with the boat departing from Chalong Pier around 08:30. As such you can expect to be back from your Phuket Dive Trip and back at your hotel any time from 15:30 to 18:30. The exact time will depend which dive sites you went to and also the number of dives.
On Boat One a 3 dive Phuket Day Trip to Racha Noi / Yai would be back at Chalong Pier around 17:30. Whereas a Phi Phi 3 dive day trip could be back at 18:30 if things were running late.

Phuket Dive Trip Boat 1 Schedule and Prices
| DAY | Destination | Dives | Diver Price | Non-Diver Price |
| --- | --- | --- | --- | --- |
| MON | Racha Noi, Racha Yai | 3 | 4,100 THB | 2,500 THB |
| TUE | King Cruiser Wreck, Shark Point, Ko Dok Mai | 3 | 4,100 THB | 2,500 THB |
| WED | Phi Phii, Shark Point | 2 | 4,100 THB | 2,500 THB |
| THU | Racha Noi, Racha Yai | 3 | 4,100 THB | 2,500 THB |
| FRI | Ko Phi Phi, King Cruiser, Shark Point, Koh Doc Mai | 3 | 4,100 THB | 2,500 THB |
| SAT | Racha Noi, Yai | 2 | 4,100 THB | 2,500 THB |
| SUN | Phi Phi, Shark Point | 3 | 4,100 THB | 2,500 THB |

Dive Guide
Tanks and also weights
EANx available on demand +200 THB / Tank
15 lit tanks available on boat
DIN Adapters available with advance notice
Water, Tea and Coffee
Breakfast, lunch,  fruit,  return snack
Soft drinks 30 THB / tin
Beer 60 THB / tin
Finally, hotel Transfers: Kamala, Kalim, Nakalay, Patong, Karon, Kata, , Chalong, Rawai, Nai Harn (other locations are available for a small additional fee)
On-board Facilities:
3 Bathroom
2 fresh water showers on the dive platform
Lounge
Sundeck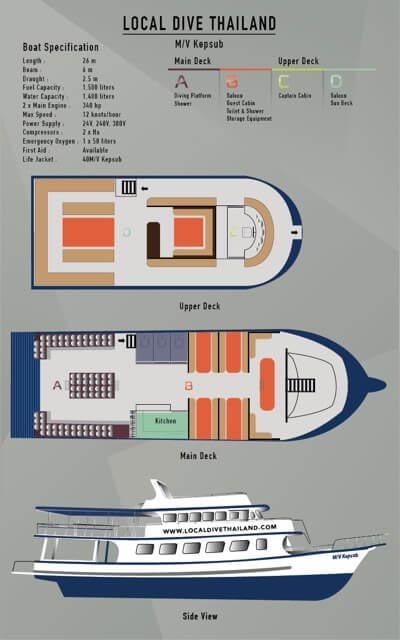 Length: 26 metres
Beam: 6 metres
Draught: 2.5 metres
Fuel capacity: 1,500 litres
Water capacity: 1,400 litres
2 x Main Engine: 340 HP
Max Speed: 12 knots per hour
Compressors: 2 x Ha
Emergency Oxygen: 1 x 50 lit
First Aid: Available
Life Jacket: 60