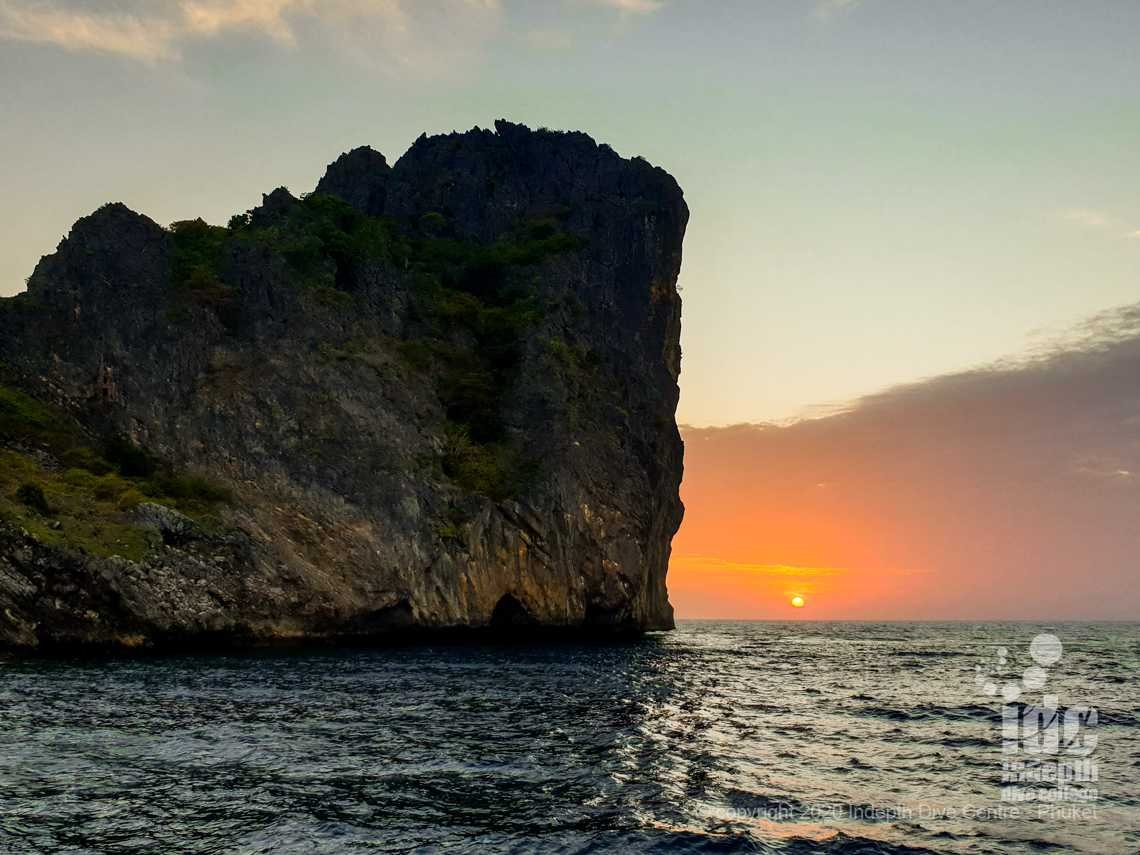 Ko Haa Yai is the most Northerly of the Ko Haa islands
Approximately 70km South East of Phuket are the five Islands that make up the Koh Haa group including Ko Haa Yai. These sites are normally dived by overnight liveaboard from Phuket. "Ko / Koh" means "island" in English and "Yai" means "Big or Large" hence the name "Ko Haa Yai." If you dive Phuket, you will see we have the same with Racha Yai and Racha Noi Islands too.
Koh Haa Yai is the largest of the 5 Islands and is surrounded by hard & soft corals plus many large Sea Fans. The reefs slope gently off with the sand line from 15-20m and leveling out around 30m. The current at Ko Haa Yai is normally mild, running from East to West or vice versa.
As such this makes Ko Haa Yai a perfect dive site to start your scuba diving Liveaboard Safari, and get you comfortable in the water ...



How should I dive Ko Haa Yai?
To start your dive we would usually enter the water on the South side of the Island. At the time of writing there is no mooring line. Consequently, you would make a free descent to between 10-15m. Try not to exceed 15m at this point of the dive, you can explore the deeper areas later.
From there head north towards Ko Haa Yai and you will see there is a small swim through at around 15m and then the whole area flattens out at around 15m. This area is sandy/rubble and excellent to spot some very nice Nudibranchs and other macro-suited marine life.
You then reach a cave with the entrance being about 14m deep and the further you enter the narrower it gets.
DO NOT ENTER THIS CAVE unless you have the correct equipment and qualifications to do so.
Continue East for around 20m and there is a 2nd cave / cavern.
The entrance to this is at around 15m and goes right to the surface. There are actually 2 entrances split by a vertical rock plate. The cave is very spacious and the cavern is about 2 or 3m above sea level, reaching a peak of more than 20m.
If you have not gone too deep and you are at the beginning of the dive you can proceed to the surface (very slowly) and actually surface during your dive.
Diving The Cathedral
Ko Haa Yai makes for an amazing photo opportunity as there is cave; "The Cathedral." It is called this because of the blue light reflected from the surface. Take your time to enjoy this as it is one the nicest parts of Koh Haa Yai to dive. After a few of minutes if you descend again you can head across into the 2nd chamber (East.) At a depth of 5-8m there is another huge cavern, and at the back of this cavern, at a depth of around 14m, there is a deep narrow cave.
DO NOT ENTER THIS CAVE unless you have the correct equipment and qualifications to do so.
When you exit the 2nd cavern you can take the main exit (enormous, you can drive a bus in) or take the smaller swim thru exit on the left at around 12m. Looking out into blue is quite stunning and a great photo opportunity.
After leaving the Cathedral you would normally head back West into the deeper water. The sand line here is around 20m. Look in the sand for Blue Spotted / Kuhls Stingrays, Gobies and the occasional Leopard Shark. Head back to the reef and head East (or anticlockwise) around Ko Haa Yai Island.
There are some beautiful submerged pinnacles covered in hard and soft corals.
Ko Haa Yai and rebreather diving:
If you are diving this dive site with a rebreather it is possible to make a superb 2-3 hour long dive. On a rebreather dive like this you can visit all the various areas mentioned above and below. In the midwater you often get large schools of Yellow fin Barracuda and squid. On the reef there are many Anemone Fish, Puffer Fish, Angel Fish, Butterfly Fish and Trigger Fish. You can also usually see a turtle or two along with all the usual Andaman Sea life. Incidentally if you are not yet a PADI Rebreather Diver, then you might well want to consider taking your PADI Rebreather Course. As a Thailand Liveaboard is the prefect setting for taking such a course. There is no rush, logistics are easy, and on top on that you have some of the best diving in Thailand.
Please be careful with the Caverns and Caves as people have lost their lives diving here without the proper training and equipment.
You would normally end the dive on the Eastern side where there is a small beach. Swim away from the island at the end of the dive to avoid a long surface swim back to the boat.