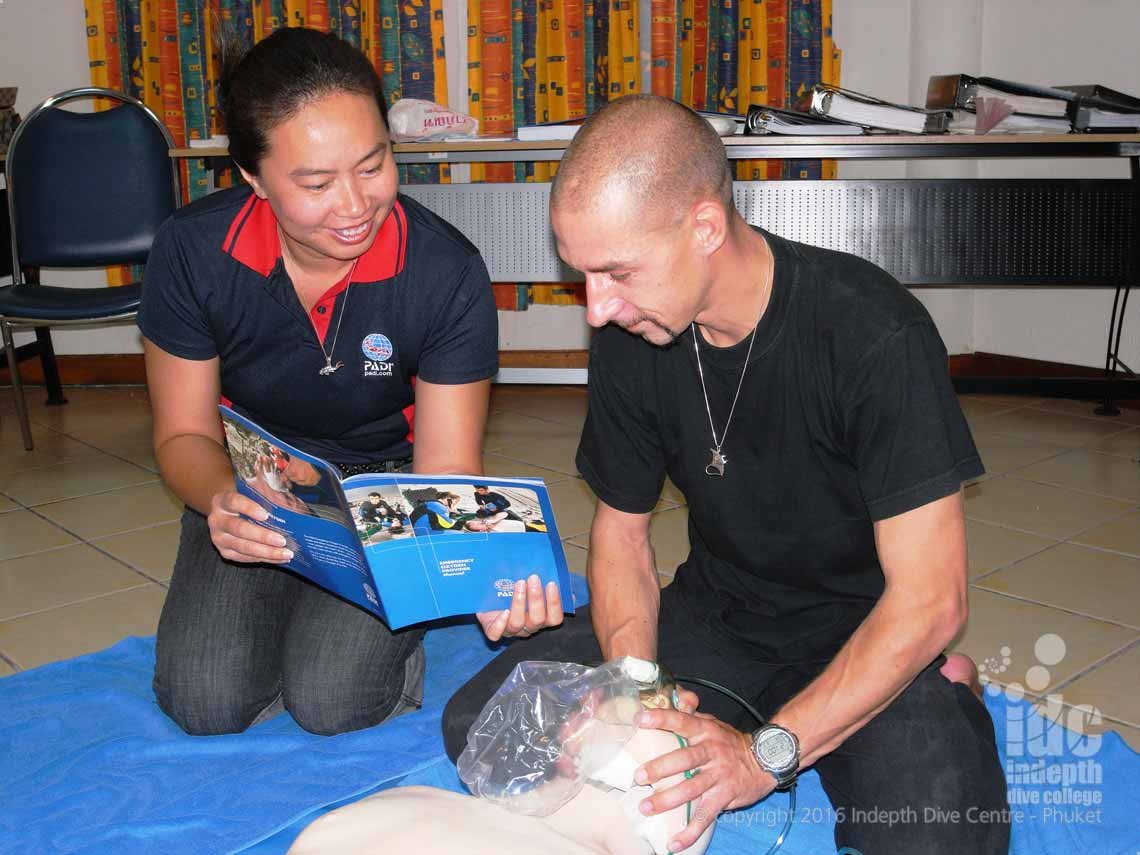 PADI Emergency Oxygen Course: 5,500 THB
Have you taken an Emergency Oxygen Course?
As Scuba Diver we all know Emergency Oxygen Provision is important, but can YOU administer O2 if needed?
On all your PADI Open Water Diver Course you have learnt that Scuba Diving injuries are rare. While fatalities are rare, accidents do happen. Emergency Oxygen is the primary First Aid for most scuba diving accidents. Hence Oxygen should given to anyone suffering from scuba diving injuries such as Decompression Illness (lung overexpansion injuries and decompression sickness.)
This is simply and fun half day / 4-5 hour PADI Emergency Oxygen Course. The course teaches people to recognize signs and symptoms of Decompression Illness (DCI) and provide them with Emergency Oxygen as appropriate.
You cannot go wrong taking this course ...

Duration: ½ Day Classroom
Pre-requisites: None
Minimum Age: 10
Digital/Online Study: Coming soon
Availability: Daily
Group Size: 4:1
Personal Tuition: 1:1 personal tuition is available


Emergency Oxygen Administration: Delivering 100% O2 is vital in managing a Scuba Diving Accident!
This is a simple, yet essential, non-diving Course. In fact it is very similar in structure to the EFR Primary and Secondary Courses. During the Emergency Oxygen Course you will learn why providing 100% Oxygen is the standard First Aid for treating injured Scuba Divers. Very simply put Oxygen provides oxygen-starved tissues with additional oxygen. As a result this can help in reducing and eliminating bubbles in the body.
First will to need read through your PADI Emergency Oxygen Course manual and complete the Knowledge Review. Your PADI Instructor will go through this with you in class. You may have the chance of Chris, our PADI Course Director, teaching the course. Chris is a Dive Medic Technician with a lot of O2 experience. If Chris is teaching your Emergency Oxygen Course he will take you through 1-2 hours of Physiology and Decompression Theory. The course does include some Physics and physiology. Just not the amount he will probably put in for you!
Emergency Oxygen Course Practical Training
Once that is done you will move on to the fun part, the hands-on practical.
First of all you will start off with how to assemble and disassemble an Emergency Oxygen Unit. Following that we will look at how to effectively administer Oxygen through a variety of delivery systems. These delivery systems are: Demand, Non-Rebreather Mask and Oronasal Mask with supplemental Oxygen. You will learn not only how to prepare each system. But also how to correctly administer Emergency Oxygen with the delivery system.
Although optional we will run you through a variety of aggressive, real-time scenarios. Therefore you will be able to put your new skills to the test. However these are not "Pass"or "Fail"scenarios. Hence they are here to help you develop your skills and build confidence.
This course is an absolute MUST for anyone serious about scuba diving. Especially those hoping to become PADI Rescue Divers or Dive Professionals.
Do not leave things to chance - GET TRAINED ....

Do you want to prevent and taking care of Scuba Diving accidents?
You are serious enough about Scuba Diving to be taking your PADI Emergency Oxygen Provider Course therefore the chances are you will be looking to increase your knowledge and skills even more. If so then the next logical course to take would be the PADI Rescue Diver Course.
And the great news is that the PADI Emergency Oxygen Provider Specialty Course was designed to be integrated into the PADI Rescue Diver course.
Therefore you can easily take both PADI courses at the same time.If you do not already have current CPR & First Aid certification required for Rescue Diver Certification, we strongly advise you to take this before taking your PADI Emergency Oxygen Provider Specialty Course.
Once you have your PADI Emergency Oxygen Provider Specialty Course you would also be on your way to attaining your PADI Master Scuba Diver rating.  The Master Scuba Diver requires certification in at least 5 PADI Specialty Diver Courses and The PADI Rescue Diver Course.
Who thought learning safety could be so much fun ...

PADI Emergency Oxygen Provider Pricing Options
Included: PADI course materials (digital or paper), PADI certification fees
Emergency O2 Provider Course
Classroom
5,500 THB
Private Course
1:1 Tuition
Add 2,000 THB
O2 & Rescue Diver Combo
17,900 THB
O2 & Rescue & EFR Combo
22,400 THB
Special Discount available for two or more people booking together
Not included: Hotel transfer