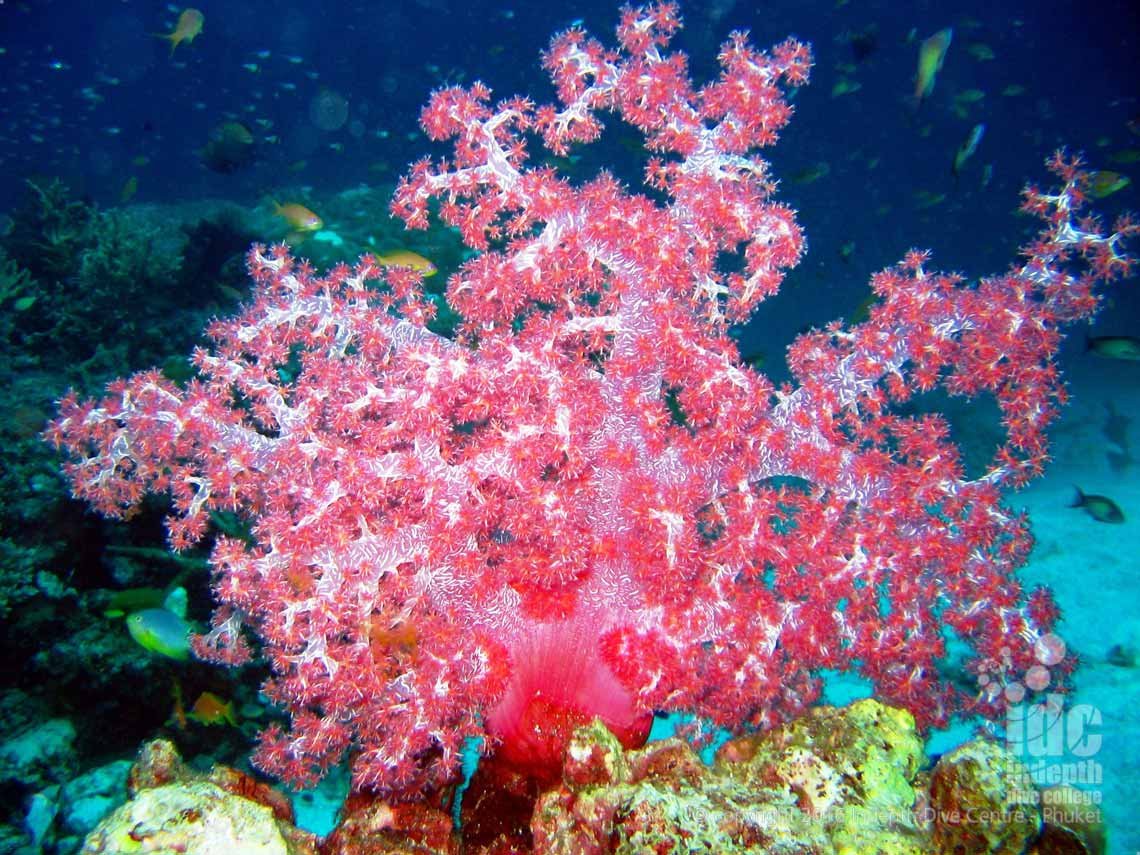 PADI AWARE Coral Reef Conservation:  5,500 THB
PADI Coral Reef Conservation: What is a Coral Reef?
Many people think they are looking at pretty rocks, or plants when they see pictures or coral. However as scuba divers we know that very little could be further from the truth.
The PADI AWARE Coral Reef Conservation Course is a must for divers who like diving in warm waters with colorful coral reefs. Divers not only want to know the actual make-up and composition of coral reefs, but also their function in the underwater Eco-system. Furthermore Coral Reef Conservation also looks at the major threats affecting Coral Reefs today. Although no dives are required in this Course, you are welcome to dive Phuket on one of our Phuket Scuba Diving Trips with Indepth as part of your course.
In today's day and age with so much information easily available on the internet, there are unlimited resources easily available to make this a very exciting and valuable course.
Duration: ½ - 1 Day Classroom
Pre-requisites: None
Minimum Age: 10 years old
Digital/Online Study: Coming
Availability: Daily
Group Size: 4:1
Personal Tuition: 1:1 personal tuition is available


Coral Reef Conservation: What are Coral Reefs really and how to they function?
The PADI AWARE Coral Reef Conservation course is a non-diving course and as such takes place in the classroom. Your PADI Instructor will take you through the course in an interesting manner with lots of photos and video from our Phuket Local Dive sites.
Some of the topics covered include:
What a Coral Reef actually is
How Coral Reefs function
The various relationships which function within a Coral Reef
Ways to protect and conserve our Coral Reefs
Initiatives that we can use to re-generate and repair damaged reefs.
Indepth Coral Reef Conservation
On our Indepth Coral Reef Conservation program we will also examine local initiatives here on the Phuket local dive sites. We will look at the effect they have had on some of our reefs. These include The Marine Sanctuary where The King Cruiser, Anemone Reef and Shark Point are located. As well as The famous Similans and Surin Island National Park.
The Coral Reef Conservation course also looks at the environmental effects natural events can have on the area. Examples of this include Global Warming and the December 2004 Tsunami. Thankfully that tragic episode is long behind us with the coral reefs sustained minimal damage. However it is interesting to see where the damage was and in turn how it has recovered.
Coral Reef Conservation is a very interesting program which takes anywhere from a few hours, to a full day depending on the age and interests of the students. This is because we can quite literally put in as much, or as little, into the course as you want!
This really gives you a great insight into what we are looking at underwater, what it does, and how we can protect and maintain it ...

Coral Reef Conservation: You now know more about how a Coral Reef actually "works"
GREAT!
You are going to find that all your future scuba diving is going to look very different, now that you know what and how things really are. Moreover, you will see that "Nemo The Clown Fish" and his friends are never alone. The Living Reef has a constant buzz which never stops 24 hours a day, so enjoy looking at the underwater world with a new pair of glasses. Or new mask should we say.
By now if you are not already thinking about taking the PADI Digital Underwater Photography Course then maybe you should. This is because not only will the Digital Underwater Photography Course allow you to actually take cool photos of what you have been looking at, but also record the underwater world as it unfolds. And in today's day and age, our cameras take photos and video.
If all this looking at Coral has wanted to make you stay under water longer, then the PADI Enriched Air Nitrox Diver Course is waiting for you. With the PADI Nitrox Course you will find it is possible to stay underwater longer than normal air. So you can dive the same dive sites but stay down longer.

And did we tell you about the PADI Poseidon Rebreather Course? So much to do and so little time to do it!
AWARE Coral Reef Conservation Pricing Options
Included: PADI course materials, PADI certification fees and lunch with your Instructor.
1 Day
Classroom only
5,500 THB