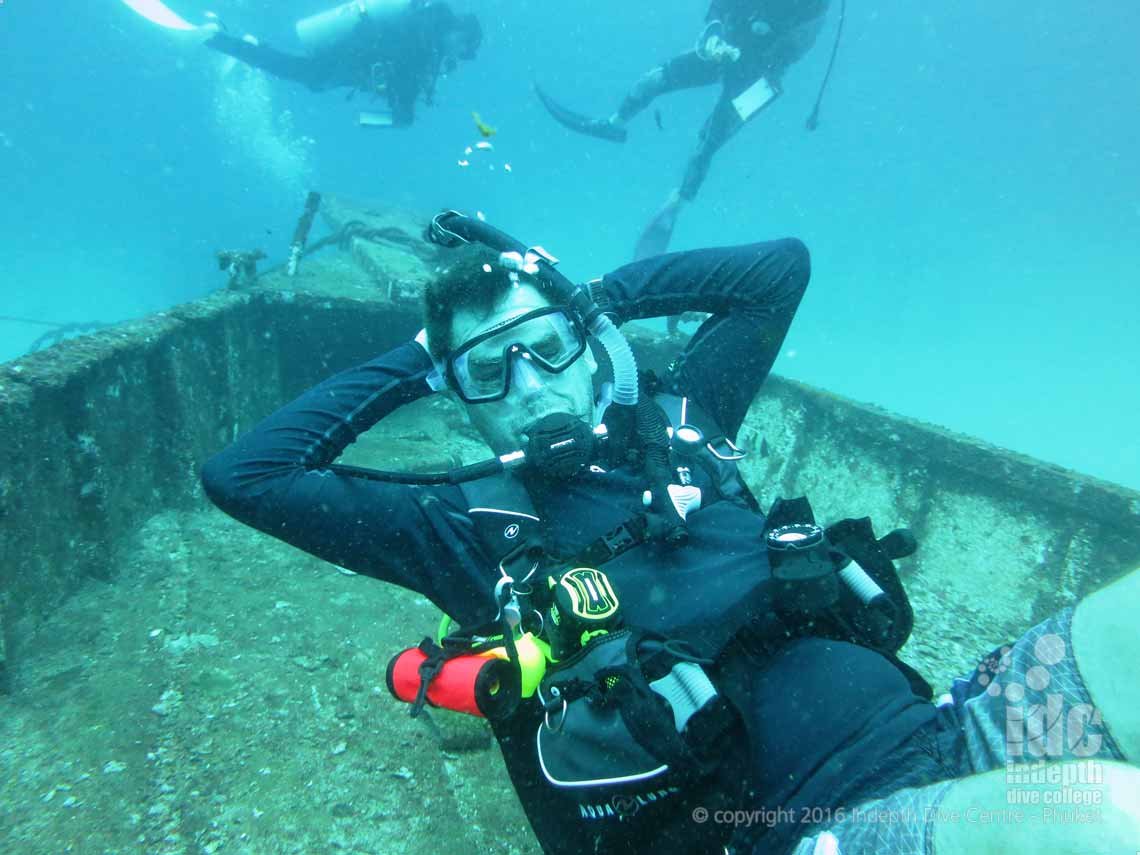 PADI Wreck Diver Course: FROM 11,900 THB
The PADI Wreck Diver Course has been the most wanted PADI Specialty Course for over 20 years now. In fact Wreck Diving or "Getting Wrecked" has probably been one of the most popular scuba diving activities since scuba diving began. Sadly some people never get the chance to live near sunken Wrecks or get to dive them very often.
Now is your chance to dive Phuket and learn how safely dive underwater ship wrecks. The Phuket dive sites have a number of different wrecks, in various depths and different conditions. On your PADI Wreck Diver Course you will first of all learn how to to evaluate, navigate and map wrecks. In addition you will learn how to lay a penetration line. And then on the final dive on your PADI Wreck Diving Course, we will also make an actual Wreck Penetration Dive. This is done under the careful supervision of your PADI Wreck Diver Course PADI Specialty Instructor.
We have a selection of Phuket scuba diving day trips so we can put you on pretty much any Phuket ship wreck any day of the week.
Let's get Wrecked ...

Duration: 2-3 Days 4 Dives min.
Pre-requisites: PADI Adventure Diver & completed Diving Medical
Minimum Age: 15
Digital/Online Study: Coming
Availability: Daily
Group Size: 4:1
Personal Tuition: 1:1 personal tuition is available


The PADI Wreck Diver is one of PADI's most popular scuba diving courses!
And we are not surprised ...
Have you ever wanted to go scuba diving on sunken ships, planes, trucks, cars? Ever wondered if this is this a purposely sunk wreck, or was it lost as the result of an accident? Maybe sunk in a battle or war? Whichever it is, underwater wrecks are fascinating windows into the past and are awesome to dive and explore. Wrecks are also usually teeming with aquatic life, especially in the tropical waters of Phuket and the Andaman sea. In fact some of the best and most popular dive sites around the world are wreck dives.
Where will I dive?
The PADI Wreck Diver Specialty Diver Course consists of 3 - 4 dives. We love to conduct this on the sunken car ferry The King Cruiser, which is our favorite Phuket Wreck dive. In addition to The King Cruiser, Phuket has other Ship Wrecks at various different dive sites, depths and conditions. Another nice option is the recently sunk Wreck on Phi Phi? Or maybe one of the local Phuket wrecks sunk off the nearby island of Racha Yai? However when possible, we prefer you to do all the course dives on the same wreck, as you will learn much more about what we are teaching you if you get familiar with 1 wreck first. But we can easily dive multiple wrecks if you want.
How to start the wreck diver course:
First of all you start by reading the Wreck Diver manual. Then, as usual, you will complete the PADI Wreck Diver Knowledge Reviews at the end of each chapter and watch the DVD. Once that is complete your PADI Instructor will go through them with you. This will probably be on the boat before your exciting Wreck dives, but depending on how many PADI Specialties you are taking with us, could be done in the classroom or at the beach.
PADI Wreck Course Dive 1 is an orientation of the wreck the same as the Wreck dive on your PADI Advanced Course. On Dive 2 dive you will map the wreck, or a portion of the wreck. While on Dive 3 you will be laying penetration lines on the outside of the wreck. You will do this while using a torch, and using the same fining techniques you would use inside the wreck. Finally we have PADI Wreck Diver Course Dive 4 which is an actual Wreck penetration dive. After all this is what we wanted to do when we signed up for our Wreck Diver Course.
Some of the things that you are going to learn include:
Basic techniques for Wreck Exploration, The basic Dos and Don'ts.
Wreck Navigation: nope your compass is not very good next to a large lump of metal
Wreck mapping techniques
Identify interesting aspects of wrecks that might not be obvious to the untrained eye
Entry and exit points, potential hazards and points of interest
Reel and torch use
Wreck Penetration
In addition to teaching key safe Wreck diving techniques, the PADI Wreck Diver Course also helps you learn more about scuba diving and yourself.
Why not join us for a PADI Wreck Diver Course and Get Wrecked on Phuket ...

PADI Wreck Diver Course: So now like us, you are in love with Wreck Diving

Cool, as there are a number of PADI scuba diving courses which are beneficial for those interested in learning more about Wrecks and Wreck Diving. Not surprisingly the PADI Deep Specialty Course is probably a course you would want to take if you haven't done so already. Due, not surprisingly, to the fact that a lot of Wrecks around the world, whether artificially sunk or sunk accidentally, lie in deep waters.
Likewise the PADI Nitrox or Enriched Air Nitrox Course is another great course to take in along-side your PADI Wreck Diver and Deep Diver courses, which will in turn give you longer dive time. Very simply by decreasing the amount of Nitrogen that is in the air your breathe and increasing the amount of Oxygen in it. Which is what Enriched Air Nitrox / EANx actually is. Consequently you will absorb less nitrogen for a given depth than you would on air. As a result you will have more time before your nitrogen levels reach the same level you would have if you were breathing air. Therefore this will give you a longer dive time.
This is a massive advantage when diving Wrecks in the 15-25m range when you want all the time you can get.
You can also learn to dive with a Poseidon Rebreather and have a 3 hour dive on your favorite Wreck ...

PADI Wreck Diver Pricing Options
2 days boat
Min 4 Dives
From 11,900 THB
Private Course
1:1 Tuition
Add 2,000 THB
Wreck & EANx Combo
15,700 THB
Wreck & Deep Diver Combo
Varies
Wreck & Deep Diver & EANx Combo
Varies
Special Discount available for two or more people booking together
Included:PADI course materials, PADI certification fees, Boat fees, breakfast and lunch on the boat, drinking water, tea, coffee, equipment rental (if needed) and round trip hotel transfer from Patong, Kata, Karon, Chalong to the boat and back.
Not included: Hotel transfers from other areas on Phuket please contact us for supplement details