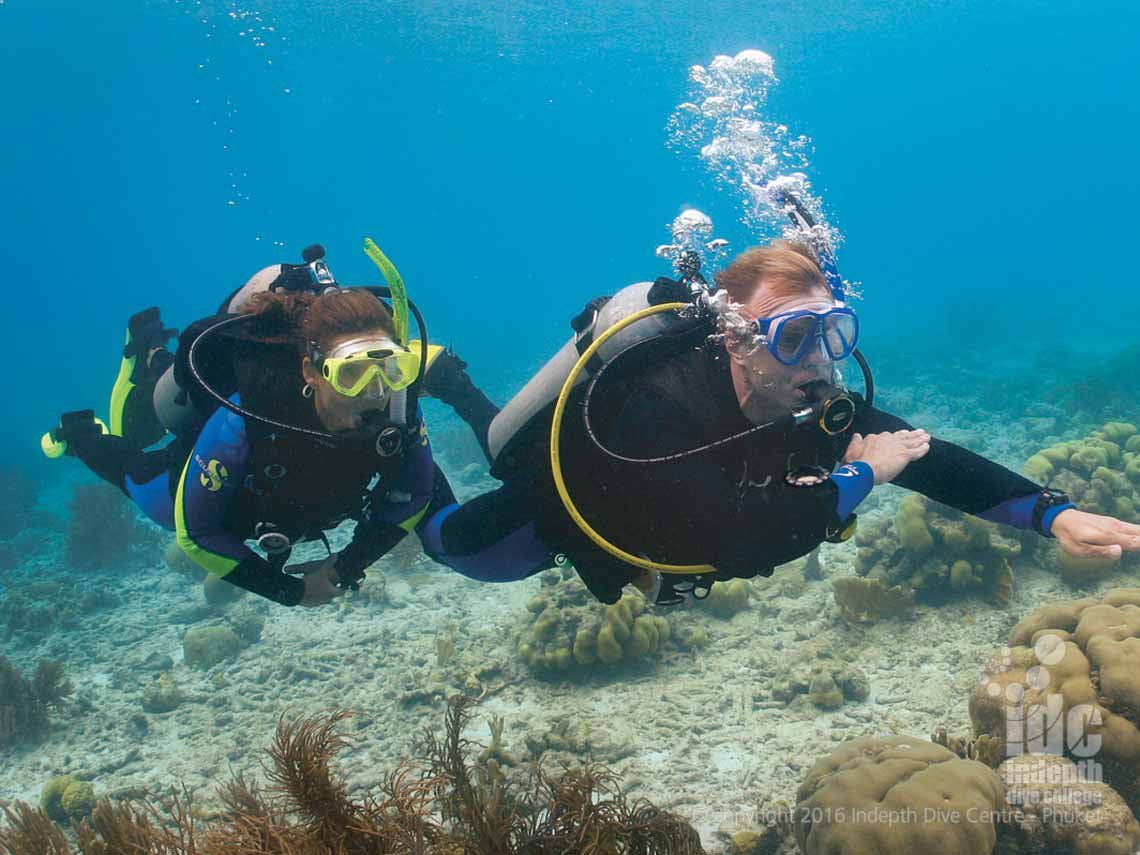 PADI Underwater Navigation Course: 7,900 THB
Why take The PADI Underwater Navigation Course: Have you ever been lost underwater? If so then you know why ...
Have ever you noticed how your PADI Instructor or PADI Divemaster always finds their way around the dive sites? Not only do they come back to the boat just before you reach 50 bar or the dive time ends. But they also seem to focus on you and not where they are going? When you dive Phuket you will find our PADI Instructors and Divemasters do this too. On our Phuket scuba diving day trips you will see that no matter which of the Phuket dive sites you are on, they know exactly where they are going.
Wouldn't you like to be able to do the same?
Awesome! The easiest way to learn is to take the PADI Underwater Navigation Course. Why not learn to navigate properly underwater & enjoy the confidence of knowing where you are and where you are going.
PADI Underwater Navigation: Time to get your Compasses out guys ...
Duration: 1-2 Days 2 Dives + 1 extra dive for fun!
Pre-requisites : Certified Diver & completed Diving Medical
Minimum Age: 10
Digital/Online Study: Coming
Availability: Daily
Max Group Size: 4:1
Personal Tuition: 1:1 Personal Tuition is available


Who knew learning to navigate underwater could be so much fun!
Why would someone like to learn how to navigate easily underwater?
Would you like to get to dive sites from the boat at the beginning of the dive? How about getting back to the boat at the end of the dive without the Divemaster's help? Would you also like to avoid those long surface swims? Are you fed up with the "I don't know how get to there from here" underwater feeling? And that frustrating feeling of knowing where you are and where you want to go, but not knowing how to get from A to B? By the way do you know how to navigate when there is a current?
If this sounds like you, then the PADI Underwater Navigation Specialty Diver Course could just be what you are looking for to build up your confidence and skills! Underwater Navigation is useful on all dives. Whether you have 20m viz as we have most of the time on Phuket, or 5m or less as we can also have sometimes. And when you dive Phuket you will see that our Phuket dive sites offer all the conditions we want for a PADI Underwater Navigation Course.
Types of underwater navigation
There are in fact two basic types of Underwater Navigation: Compass Navigation and Natural Navigation. During your PADI Underwater Navigation Course we will teach you to use both. Although these skills which develop over time, like all scuba diving skills, they are also skills that are greatly helped by using well-structured PADI course. And of course with the help of a knowledgeable PADI Underwater Navigation Instructor to help you on the way.
The PADI Underwater Navigation Course has a lot to offer divers of all levels, backgrounds and countries.
Your PADI Underwater Navigation Course starts with you reading your PADI Underwater Navigator Specialty Diver manual. There is also a DVD to watch while you complete the Knowledge Reviews. Your Indepth PADI Underwater Navigation Instructor will review these with you before you do your actual dives. Once completed then into the water you go!
The PADI Underwater Navigation Course has 3 scuba dives.
Some of what you will practice and learn is:
Distance estimation incl arm spans, kick cycles and timed estimation.
Natural Navigation Techniques, this is navigating without a compass.
Compass Navigation where you will learn how to navigate straight lines, triangles and squares.
Navigation patterns.
How to "mark" and relocate an object underwater and from the surface. Such as a dive site, underwater ship wreck or maybe something which has been lost.
Basic Underwater Mapping. Dive site location and relocation.
Once you have completed your PADI Underwater Navigation Course, if the Tour Leader now tells you to follow the mooring down to the bottom. And from there where you will find the reef about 45 meters away at approximately 120 degrees. Then now both you and your buddy should able to dive the reef and be back to the boat in time for lunch with plenty of air left, even with a mild current.
PADI Underwater Navigation: At the end of the day there is NOTHING like knowing where you are going especially on an awesome dive ...

Happy with your Underwater Navigation skills now?
So what could be next for a Happy PADI Underwater Navigation Diver? Well as you maybe have noticed during your PADI Underwater Navigation Course, Buoyancy Control is essential if you are going to navigate properly underwater. In fact ,Buoyancy Control is one of the foundations of scuba diving and is an essential part of all the diving you are going to be doing. In addition, there are a number of courses and areas of diving which do benefit enormously from excellent buoyancy control.
One of the most popular PADI courses to combine with the PADI Underwater Navigation Course is The PADI Peak Performance Buoyancy Specialty Diver Course. This is a great way to improve not only your underwater navigation skills but also your buoyancy. You will find that as your buoyancy improves, not only does your navigation. But you will also find you move easier underwater, use less energy and in turn improve your air consumption and your dive time.
Why not learn to dive on Enriched Air Nitrox?

Another great way to increase your Dive Time apart from mastering the art of Buoyancy Control is to dive on Enriched Air Nitrox. Now Enriched Air Nitrox / EANx may sound scary but actually it's very simple. By decreasing the amount of Nitrogen that is in the air you breathe and increasing the amount of Oxygen in it, which is what Enriched Air Nitrox / EANx actually is. Then logically you will absorb less nitrogen than you would breathing air for a specific depth. This is because it will take longer for your Nitrogen levels to reach the same level you would have if you were breathing air. As a result you can stay much longer at that depth than you could if you were diving on air.
Even better news is that an Open Water Diver, or even Open Water Course Student, can take the PADI Enriched Air Nitrox / EANx Diver Specialty Diver Course.
What could be better than having awesome buoyancy, diving on Enriched Air Nitrox / EANx and taking great photos underwater in the warm waters of Phuket?
PADI Underwater Navigation Pricing Options
1 Day Boat
2 Dives + 1 extra dive for fun!
7,900 THB
Private Course
1:1 Tuition
Add 2,000 THB
PPB & EANx Combo:
11,900 THB
PPB & EANx & DUP Combo:
20,600 THB
Special Discount available for two or more people booking together
Included: PADI course materials, PADI certification fees, Boat fees, Lunch and breakfast on the boat, drinking water, tea, coffee, equipment rental (if needed) and round trip hotel transfer from Patong, Kata, Karon, Chalong to the boat and back.
Not included: Hotel transfers from other areas on Phuket please contact us for supplement details