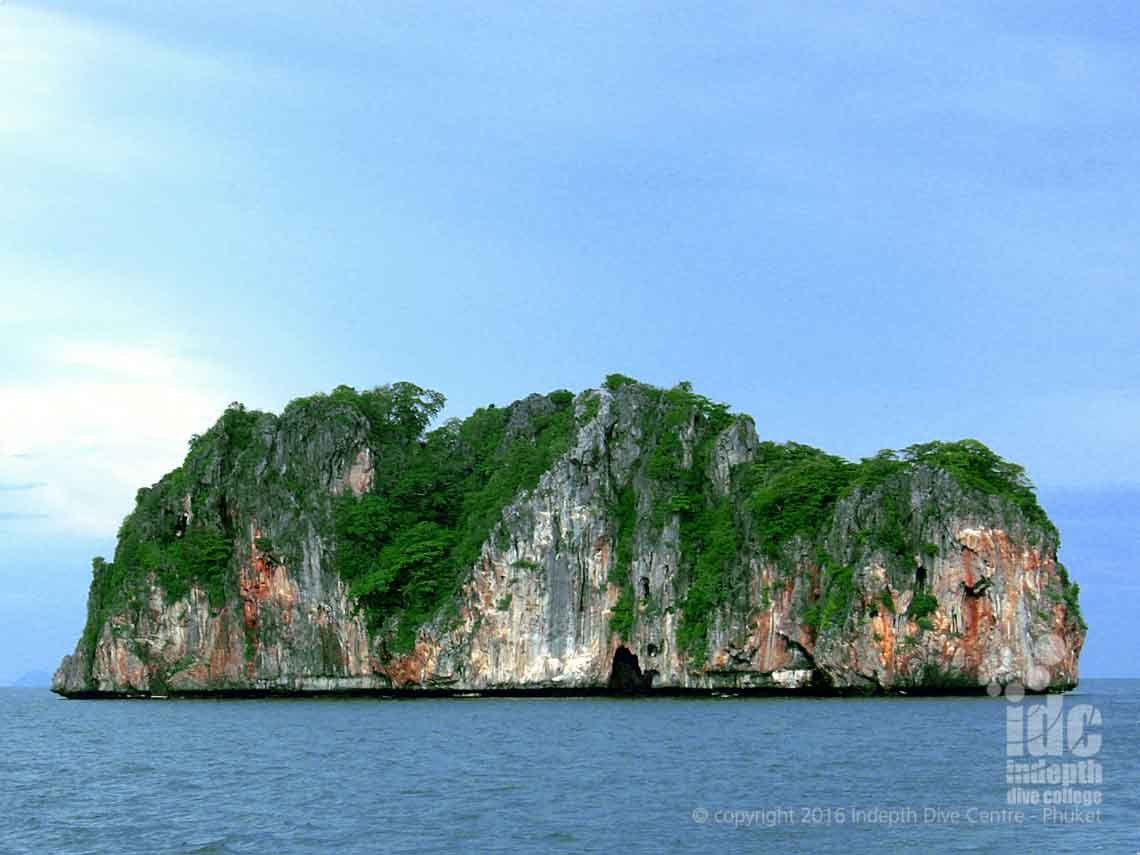 Ko Doc Mai or "Flower Island"
Ko Doc Mai is an uninhabited island only a short 1 hour boat ride away. The Thai word "Ko" or "Koh" means "island" and "dok mai" means flower. It is called this as the island is believed to look like a flower. With its easy accessibility and stunning macro life, Ko Doc Mai is one of the most popular Phuket scuba diving sites. With it's huge rock formation and sheer cliffs all the way around, Ko Doc Mai is visible for miles around. Of note is the fact that the only people that can access the island itself are the fishermen who collect special Birds' Nests. These are sold to the local markets for the world famous "Birds Nest Soup."
Ko Doc Mai is well known for its macro life and because of this very popular with photographers. There are areas of the wall teeming with Durban Dancer Shrimp, Boxer Shrimp and White Eyed Morays.
However the real attraction to the macro lover is the wide variety of Nudibranchs and Ornate Ghost Pipe fish found along the wall. Often with some Tigertail Seahorses. However, if macro is not your thing, then there are also large varieties of fish species to be found. We regularly see Clown Fish, Moorish Idols, Puffer Fish, Banded Sea Snakes and, in addition, the overly friendly Titan Triggerfish!
If you dive Phuket Ko Doc Mai is a beautiful, dynamic and sometimes challenging dive. As a result the visibility can be up either 20m with no current on a good day or visibility of 5m with a strong current on a more challenging day. We have Phuket scuba diving Day Trips daily to Ko Doc Mai.
Whatever the conditions, Koh Doc Mai is a surprise and a delight for divers of all levels and interests ...



Ko Doc Mai consists of two main dive sites
The East Side
On the East side of Ko Doc Mai is a stunning wall dive whereas the West side of Ko Doc Mai is predominantly a sloping reef. Here the currents can be very strong. Especially during the full moon and Ko Doc Mai can be an excellent drift dive.
On the day of your dive the current will most likely determine the direction your dive will take. This will be either North to South or South to North. Starting the dive deep and then multi-leveling up is the best way to enjoy your dive at Ko Doc Mai. The main thing to do when diving Ko Dok Mai is to remember to keep looking out to the blue water as there is always a chance to see cool stuff. Great Barracuda are common, the occasional Leopard Shark, and if its your lucky day, a Whale Shark.
You will find Ko Doc Mai a very popular local Phuket dive site, especially with scuba divers taking their Advanced Open Water Diver Courses. This is because the East side of Koh Dok Mai makes a great Deep Dive with it's superb wall. In fact both sides of Ko Doc Mai are excellent dives for the Adventure Drift Dive. And in addition, as the first dives are the same, The Deep or Drift Specialty Diver Courses.
The East side of Ko Doc Mai is the dive site preferred by most and the reasons are obvious once you have seen this magnificent wall for yourself. This dramatic wall drops from 0-25m with almost shear sides and a sandy slope taking you down to over 40m. Consequently, this can be really stunning with the wall covered with large Gorgonian Sea Fans and Bush Coral.
Diving The East Side, Southern End
If you start from the Southern end you of Ko Doc Mai you can immediately descend to your maximum depth of around 25m. As soon as you are near the sand start to look under rock shelves for Bamboo Sharks. They tend to like hiding under the shelves and crevices. Then as you drift along, look in any of the cracks as you will find Shrimps and Jans Pipefish. Again keep an eye on the wall itself for the large variety of Nudibranchs. As you slowly start to work your way up the wall or slope, you will approach the entrance to the first Cavern. This one is large so is almost impossible to miss. Here you will find plenty of Moray Eels, Lion fish and also more Bamboo / Nurse Sharks scattered around the entrance.
For divers with the relevant training and experience you will find that the cavern itself is not large. However your eyes will need to adjust to the darkness. Inside the cavern you will find pockets of air in the roof created by divers exhaled air bubbles.
Note to photographers: Go in the cavern slightly and take a picture (without flash) from inside of the cave looking out. This is because you will find the other divers in silhouette which makes for some interesting photos.
PLEASE DO NOT enter any caves, caverns or overhead environments without the appropriate knowledge, training and experience.
The area directly after the cave at 19-16m is a Seahorse and Ghost Pipe Fish Hotspot! So take your time around here and see what critters you can find.
Found the Ko Doc Mai critters?

By now it will be time to ascend a little bit. As you move up to around 16m you will find yourself looking for more Nudibranchs and shrimps. And as you continue along the wall and the dive becomes shallow the light improves. As it does you should see schools of Snapper and Trevally starting to appear. If you are lucky the Trevally will be hunting the smaller fish which is fantastic to watch. At this depth the soft coral and anemones are more plentiful. And you can also start to look for Anemone Crabs hiding in the soft coral.
Ko Doc Mai can be a great dive for rebreather divers too. It does depend on which way the current is running, however it is often possible to dive round Ko Doc Mai island completely. The easiest way to do this is by following the sand line at the bottom of the wall and slope tightly. You can usually swim against the current as you come around the island back into current. This is something the open circuit divers will not be able to do due to gas supply and no deco time.
Going from South to North of Ko Doc Mai you will most likely miss the second cave which is approximately at 21m at the entrance. This is a nice one to find as inside you can find a chimney. This rises to an air pocket at 8m.
Once again do not enter any caves, caverns or overhead environments without the appropriate knowledge, training and experience.
Diving The West Side
The gentle slope on the West side goes from 1m down to around 35m off the rock. This combines both hard and soft coral and around 20m be sure look under the rock shelf. Bamboo sharks and Nurse sharks can be found here. And don't forget to inspect the Bush Coral for Ornate Ghost Pipe Fish. Try and take your time here as they are incredibly difficult to spot.
No matter which side of the dive site you dive you will find Ko Doc Mai an interesting dive with plenty of opportunities for all levels of diver ...