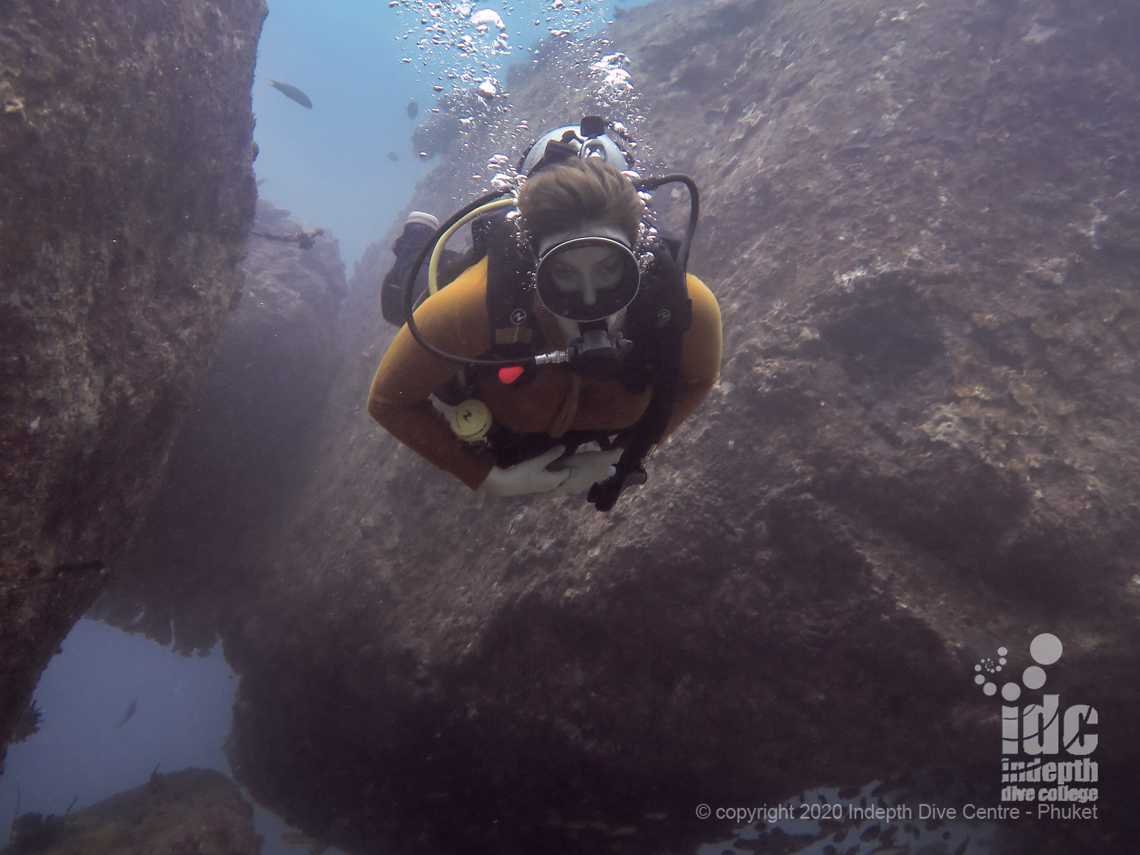 Racha Noi: Maritas Rock & Marina Bay 2 dive sites in 1
Maritas Rock, also known as Marina Bay, lie 12-15 miles South of Phuket, and are probably two of the most dived and local dive sites. These dive sites lie roughly in the middle of South-West side of the Racha Noi Island.
In fact Maritas Rock and Marina Bay are actually almost the same dive site. Local legend has it that Marita's Rock was named after a local Divemaster from many years ago, although details are scarce. These dives sites are beautiful to dive and are covered in soft corals and Gorgonian Sea Fans with visibility ranging from 10-30+ m. Additionally the boulder are formations are stunning and reminiscent of The Similan Islands. In turn these create some swim-throughs, canyons and small caverns to explore.
Current inside Marina Bay itself is normally mild. However outside the bay, especially at Marita's Rock, the current is can be very strong. For this reason Marita's Rock is recommended for Advanced / experienced divers only. Since Racha Noi is the "last" dive site before the Andaman Sea and as such the Racha Noi dive sites start to get deep. Consequently, this means there are very deeps dive sites off the island. However it also brings in the larger pelagic fishes such as large Tuna, and schools of Barracuda and  Trevallies.
Keep your eyes open for Manta Rays, the occasional Whale shark, along with Blacktip and Whitetip Reef Sharks ...



What can I see on a Dive Tour to Maritas Rock & Marina Bay at Racha Noi Islands?
Marina Bay is a huge bay on the Western side of Racha Noi and is also known as "Manta Bay." For reasons, we hope are self-explanatory!
We would normally start the dive inside the bay and descend down one of 2 mooring lines. These drop down onto flat sand at around 10-12m. The dive site here consists of a sloping sandy bottom with Coral Bommies. Along with some scenic Staghorn Coral and various other Hard Corals and granite rock formations. Go slowly, as if you look carefully, you should find a lot of Peacock Mantis Shrimps. This is addition to Cuttle Fish camouflaging themselves in the rocks, Sea Whips, Brain Corals and patches of Fire Coral.
Leopard Sharks like the sandy patches as they provide resting areas, and Leopard Sharks can usually be seen on most days. Furthermore there is a nice variety of Stingrays that can be found out on the sandy patches.
Maritas Rock and Marina Bay: the last Phuket dive sites before the Similans
When you have had enough of Marina Bay we normally head South to exit the bay. The depth varies but is usually around 12m. From here there is a dramatic change in the topography as these awesome large granite boulder formations start to appear. These have much steeper drop-offs, similar to what you will find in The Similans.
Roughly 20m from Southern the corner of the bay is Marita's Rock starts around 24m.  Marita's Rock has many swimthroughs formed by the granite boulders resting on each other. These are similar to the world-famous Elephant Head Rock dive site in The Similan and Surin Islands. These boulders can be pretty impressive, especially with the huge Sea Fans and Soft Corals.
Be careful if you dive in the swimthroughs as sometimes it's hard to make you way around clearly. This is due to the exits being invariably full of Five lined Snappers and Glassfish.
PLEASE REMEMBER: Not only should you NOT enter any overhead environment without the proper training and equipment, but you should always pay close attention to you Dive Guide's briefing.
What Marine Life will I see on the dive?
The diversity of Marine Life can be quite overwhelming at Maritas Rock and Marina Bay. Consequently, it can be hard to say what you will see at Maritas Rock and Marina Bay.
Obviously, you can expect to see the usual South Andaman marine life you would expect to see around Phuket dive sites. This includes many Parrot Fish, Triggerfish, Butterfly Fish, Anemone Fish, Pipefish, Cornet and Trumpet Fish. Additionally, there are different species of Sea Snake, along with favourites like Cuttlefish, Moorish Idols and Banner Fish.
Take your time to look in the canyons and crevices, as they are Turtles find and Barracudas to see.
The Mantas are usually found towards the Southern end of the Marina Bay / Marita's Rock where the depth is around 20-30m. Manta Rays are common here and are usually spotted cruising up and down reef feeding on the krill and jellyfish. Hence why they are attracted to dive sites that have currents.
At the end of the dive it's a good idea to ascend to around 5m on Marita's Rock and do an extended Safety-Stop. This is because you never know when you might be rewarded with a famous "Manta Fly-By" ...