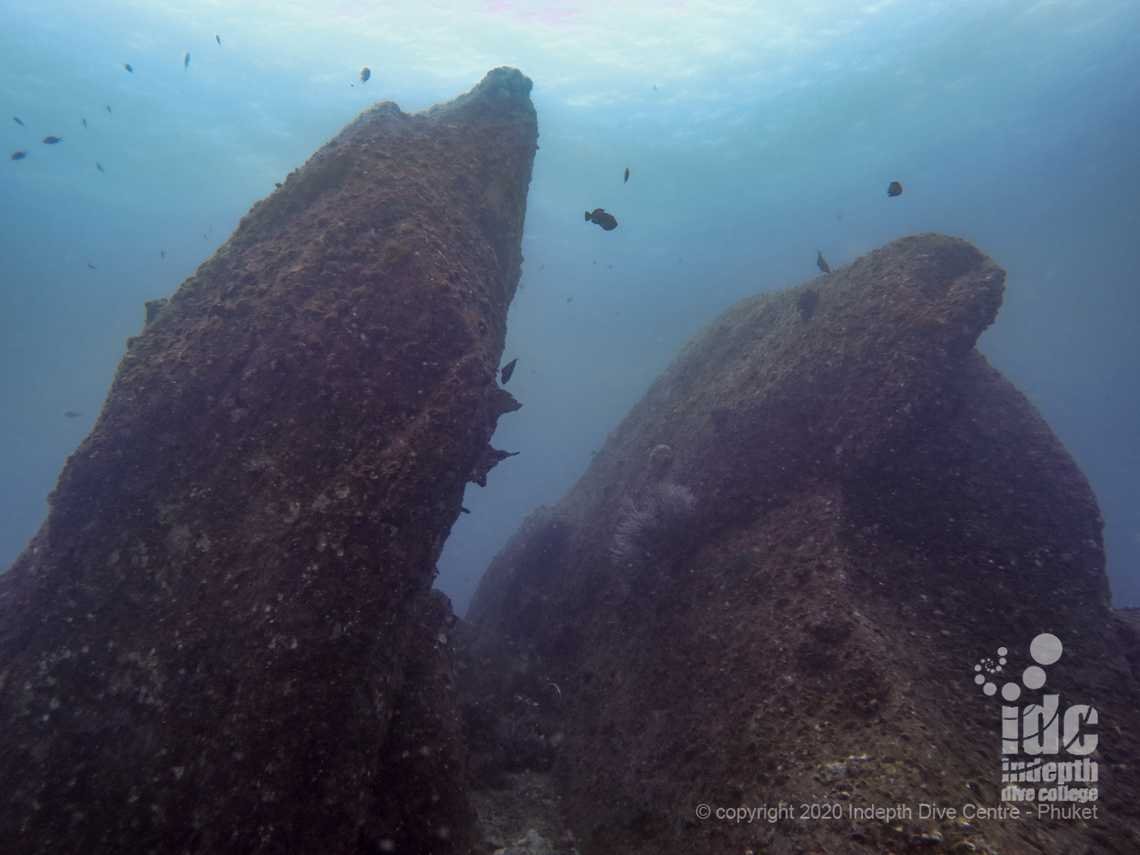 Banana Rock: another Rock that Rocks
Banana Rock is located at Racha Noi Island, roughly 45-60 minutes further than Racha Yai Island. Be sure to keep your eyes open and as you go between the two Rachas, as both Sailfish and Dolphins can be seen around here. And with the deeper waters Whales have also been spotted here too.
Banana Rock at the East side of Racha Noi located at the North tip of Banana Bay. This is between Banana Bay and North Rock and is a mixture of shallow flat sand with the usual mixture of Hard and Soft Corals. There are also "granite boulder / rock formations," similar those in The Similans that start at 15 m and drop down to more than 40m+.
Remember Racha Noi is the "last" dive site before the Andaman Sea starts to gets deep. This means that there are some very deep spots off the island, in excess of 80m. As such the tides and current bring in the larger pelagic fish. These tend to be Manta Rays, large Tuna, Barracuda, Trevallies. Additionally Black Tip, White Tip Reef Sharks and even Whale Sharks have been spotted here.
For PADI Open Water Diver Course students and beginner divers new to scuba diving it is ideal with plenty of places for skill practice. Yet at the same time there are lots of hard and soft corals to keep you mesmerized!
It is an ideal scuba diving site for both scuba divers and snorkelers and provides some awesome photographic opportunities ...



Phuket Dive sites: Racha Noi Banana Rock
Not surprisingly Banana Rock is similar in bottom topography to its neighbor Banana Bay. This a superb mixture of white sand, Hard and Soft Corals and Andaman Sea reef fish and pelagic fish.
To start the dive you would normally do a giant stride off the boat and then descend down a mooring line to around 6m. This will then take you down to the sloping sand bottom followed by a gentle swim out to the first rocks and boulders around 15m. Again, do take the time to explore these slowly as there are all kinds of Marine Life around here attracted by these Rocks.
You will find plenty of Lizard Fish, Fusiliers, Butterfly Fish and Damsel Fish. There are Red Tooth Trigger Fish as well as the usual array of Nudibranchs and Banded Boxer Shrimps. Moray Eels, Kuhl's Stingray, Lion and Scorpionfish are regularly spotted here. Along with Anemone Fish, Cuttle Fish, Sea Snakes, Butterfly Fish, Durban Dancing Shrimps and White Ribbon Eels.
Is Banana Rock a good dive site for PADI Courses?
As with Banana Bay, this is an excellent scuba diving site for a number of PADI Scuba Diving Courses. Consequently Advanced Open Water Students find this a pretty awesome dive site as it has everything needed for your 5 Adventure Dives. It has depth for your Deep Adventure Dive, and bays with little current and flat sand for your Navigation Dive. Banana Rock has current for your Drift Adventure Dive when you are out of the bay. Additionally it is a paradise for Fish ID, U/W Naturalist, Digital Underwater Photography and so on.
We come here for the Open Water Dives of the PADI Rebreather and Advanced Rebreather Courses as well. This is because the dive sites are perfectly suited for the depths that are needed, along with some of the best diving off the coast of Phuket.
Another favourite here, again in part due to the currents and Racha Noi's location, are the large schools of Barracuda. These often number we guess 1000+ which can make some awesome photos. Especially if you can catch the light reflecting of them as they school around in the clear waters and sunlight.
You may even be lucky enough to stumble over a Leopard Shark taking a day-time nap. And if it really is your luck day, then you might get to meet a Manta Ray or a Whale Shark passing by ...