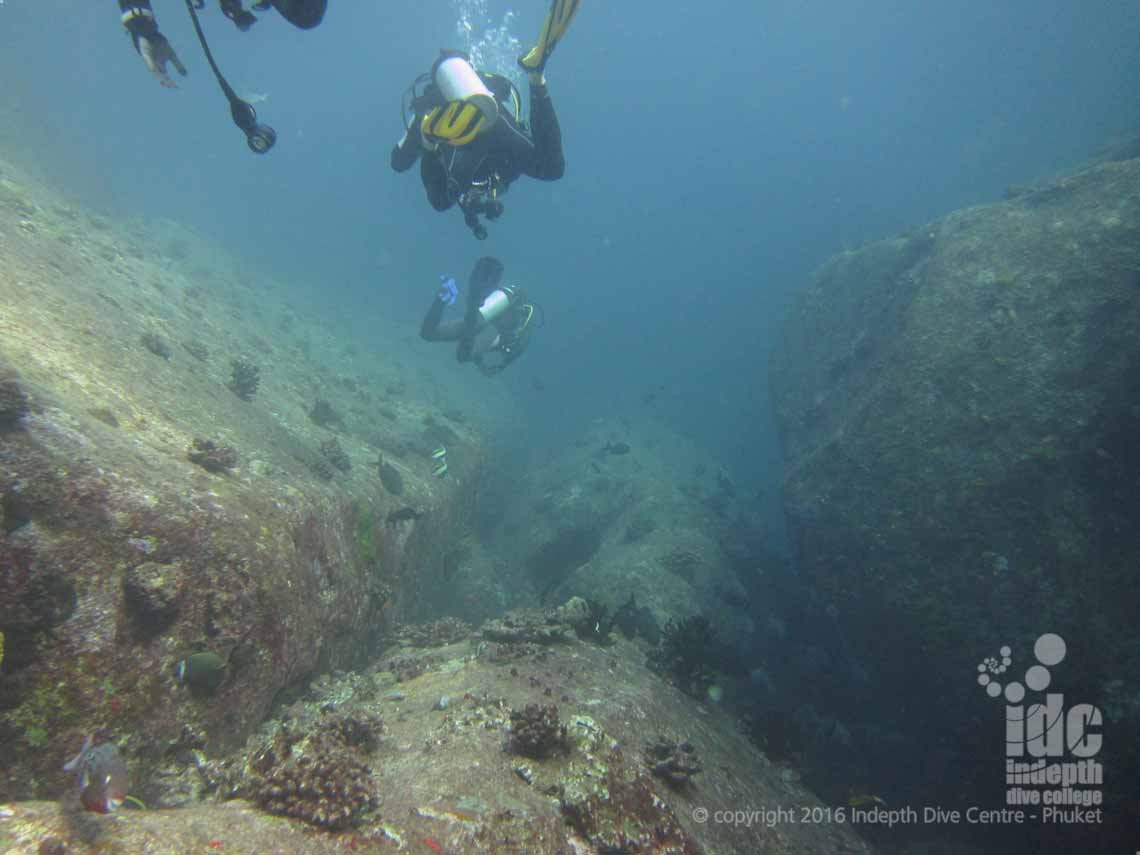 Boulder City: Similan Island No.3
Although a less frequently dived site, Boulder City is located to the South East of Shark Fin Reef, which is in turn South East of Island No. 3. As such, Boulder City dive consists of 3 submerged pinnacles surrounded by clusters of boulders. Hence the dive site name Boulder City and is definitely worth a visit.
The dive site is made up of several "corridors" made of huge boulders, which some divers call "swim-throughs". However, take your time look around, not only at the stunning landscape, but also the marine life out on the sand. There are Kuhl's Stingrays with the odd Leopard Shark resting on the sand. This in addition to the usual Andaman Sea Reef Fish divers would expect to see.
If you haven't dived for a while it's always a good idea to dive Phuket first on a Phuket Day Trip. And then it's time to get out to the Similans and dive Boulder City.
From time to time unexpected "Big Stuff" also makes an appearance here. We have seen Pink Whip Rays, Mantas and on at least five occasions last season Whale Shark!


What is the recommended way to dive Boulder City?
We start the dive by entering off the dive platform usually onto the "main" pinnacle. This is the Northern most pinnacle, where the shallowest part is around 14m.
There is a mooring line on the Western side of the pinnacle, which goes down to a depth of around 18m. Thus, it is recommended to use the mooring line for descent as the current can be strong here. Remember, currents can be especially strong around full and new moon. However, once you have gone down the mooring line, you can then use the main pinnacle as protection from the current if there is any. Usually the current runs in a North to South direction, or vice versa. However, you would normally head in an Easterly direction on the Northern side of the main pinnacle.
Here you will find a sandy bottom between 25-30m, but if you head away from the main dive site it does go as deep as 40m. And in this part of the dive site you can expect to see some very large Gorgonian Sea fans. Additionally, lying in the sand, many Kuhl's and Blue Spotted Stingrays, along with an abundance of Garden Eels.
Continuing East there are patches of Hard Corals with the top of the boulders being between 18-20m. This is useful as you can use the boulders for protection from the current. Now head in a Southerly direction towards the 2nd Pinnacle. Here, in the mid-water, you can expect to see large schools of Snappers and Fusiliers. As well as Barracudas, Unicorn fish with Glassfish swirling close to the rocks to try to avoid becoming breakfast for the groups of trevallies hunting along the tops of the boulders.
Diving with Bat Fish

Also found in the mid-water here are schools of Longfin Batfish. Now if you are not used to Batfish, you will find they are great fun, as they are very curious of divers. There are dangerous or harmful, just very inquisitive. Consequently, they often come very, very close to divers, usually when you are least expecting it.
The 2nd Pinnacle is shallower with the top being around 12m. Once again you will find the usual array of Andaman marine life. Here there are some very large Gorgonian Sea fans perched around patches of hard and soft corals. We also see Moorish Idols, Lionfish, Scorpionfish, Titan and Clown Triggerfish. These, and more, can be found throughout the dive site. Also, between the rocks, you can usually find Giant Morays who inactive generally in the day-time, being cleaned by cleaner shrimps and cleaner Wrasse. Be sure to look in the nooks and crannies for ornate Ghost Pipefish. Tiger Cowries are also very common here.
Additionally, if you are fortunate, you can sometimes see Leopard Sharks at Boulder City. They are usually in the sand between the Pinnacles, normally around a depth of 20- 30m. And you can approach Leopard Sharks if you approach from the front or from the side. And they will normally remain on the sand giving an excellent photo opportunity, but you must go slowly and carefully. Remember, if you approach from behind or overhead though, they will sense you as a threat and swim away.
How can I get more dive time?
Now, this is question we get asked all the time, whether it is a new diver or an experienced one. Due to the depth you do need to be very careful with your no decompression limits / dive time on this site. As it's easy to have such a good time that suddenly find yourself running short of time. And with the usually superb viz it can look shallow, but even the top of the reef is still deep.
Consequently, as long as you watch your depth, this is an ideal dive site for using Nitrox to increase your bottom time. So if you are not a nitrox diver, why not consider adding the PADI Nitrox Diver Specialty Course to your Liveaboard trip? Diving on Enriched Air Nitrox is now very simple and will definitely extend your dive time. This course can easily be conducted on a Liveaboard Safari and is an extremely popular option with many divers.
Diving the deeper waters of Boulder City
In the deeper water, you can often see White Tip and Black Tip Reef Sharks. But again, this should not be taken for granted. However, there are Green & Hawksbill Turtles which can be found at most depths around the dive site. And in addition, if you are very fortunate, you may see Napoleon Wrasse or Humphead Parrotfish which can grow well over 1.5m in length. Sadly though, photo opportunities are hard as they are very wary of divers.
Now Rebreather divers will find it slightly different, especially if you are not diving with open circuit divers. This is because although the Napoleon Wrasse & Humphead Parrotfish are vary of divers and their bubbles. Obviously diving on a Closed Circuit Rebreather, such as the Poseidon MKVI / Se7en, there are no bubbles. This lack of bubbles when diving on a Rebreather has resulted in lots of reports and pics of rebreather divers getting much, much closer to these awesome creatures!
Now from the 2nd to 3rd Pinnacle there is a mid-water swim of around 30m with the top of the third Pinnacle at around 18m. However you can normally only reach the 3rd Pinnacle and return to the main dive site if the current is slack. Thus, you would normally dive Boulder City as your 1st or 2nd dive of the day with visibility normally 20m+. Although at times it reaches more than 30m.
And last but not least, Manta Rays! Mantas have been reported at Boulder City, normally in the months of March and April.
So overall this can be a challenging dive site, but also a very rewarding one ...