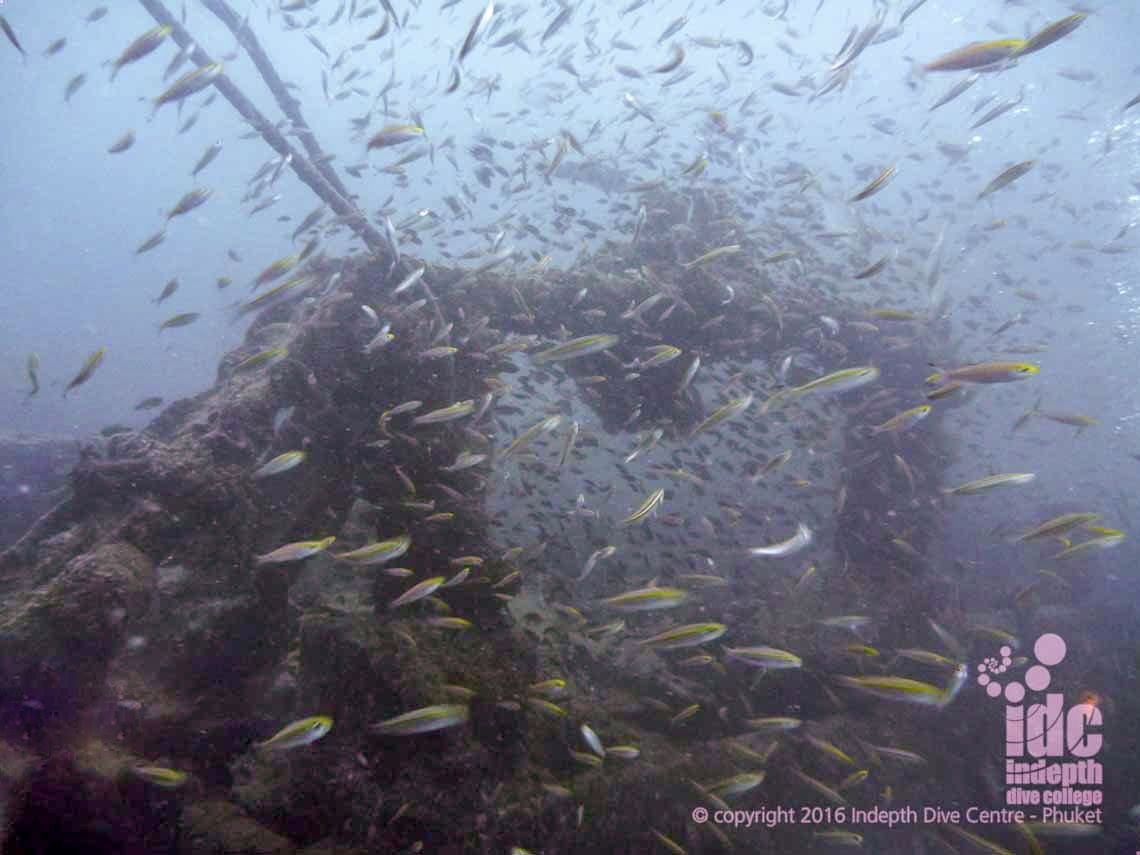 Boonsong Wreck: the Wreck on the way to The Similans
The Boonsong Wreck is Located approximately 8 miles from the mainland or 15 miles from Thap Lamu Pier. This dive site is perfect for Liveaboards returning from the Similan or Surin Islands. Although the Wreck can also be dived as a "Day Trip" excursion not only by Liveaboard.
The Wreck was originally a Tin Mining Dredger that sank between 1983 and 1985, although the exact date is not known. It now lies on a flat sandy bottom around 18-20m. The wreck is approximately 40m long, 12m wide and 6m high. It remained in one piece until the Tsunami hit on 26th December 2004. Following the Tsunami it is now split into 5 or 6 large pieces, which actually makes for a much larger dive site. Due to the length of time underwater the Boonsong Wreck is very established and covered in marine life. At the time of writing there are 2 mooring lines on and it's recommended you use one of these for descent as visibility can vary from almost zero to 20m+.
If you have had a chance to dive Phuket then hopefully you have dived The King Cruiser and the Bay 1 Wreck at Racha Yai. The Boonsong Wreck makes a nice addition to your collection of Thai Wreck Dives!
Even if the visibility is "poor" this dive site is a "must" ...



Diving on the Boonsung Wreck
We start the dive by doing a giant stride off the dive platform. We do not recommend making a free descent, although it can be done. Please use one of the moorings and keep your eyes open as you often cannot see the wreck for marine life. There are huge schools of Trevally, Barracuda, Snappers and Fusiliers. There are also some very large Porcupine fish that are everywhere. Which is unusual, especially in the mid-water just above the wreck.
Once you reach the Boonsung Wreck begin the dive at bottom looking around on the sandy areas. As you may well find a Leopard Shark or two here. There are also many Flounders on the sandy bottom, but you need a keen eye to spot them. In addition there are many species of Gobies, and sometimes inside the wreck you can see a large Blotched Stingray. Just do not go in for a closer look as it is not safe.
On the wreck, itself there is a wide selection of Nudibranchs that are great for underwater photography. Moreover, throughout the wreck you can find a large selection Moray Eels. Notably White Eyed Morays, Giant Morays and Honeycomb Morays. Other species of note are Sweetlips (look out for Juvenile Harlequin Sweetlips), Box Fish, Cuttlefish, Banner Fish, Anemone Fish, Lionfish and Scorpion Fish. Various species of shrimps can be spotted pretty much everywhere, especially Cleaner Shrimps and Dancing Durban Shrimps.
REMEMBER: Scorpion Fish are masters of camouflage so be careful if you are steadying yourself o the Wreck to take a photograph.
The Boonsung Wreck and Wreck Diving in The Similan Islands
Wreck Diving has been one of the favorite scuba diving activities since time began. And diving in the Similans is no different.
Rebreather divers will find that there is plenty to see and you can easily do a 2-hour dive here before continuing onto the Similan or Surin Islands. Or if you are diving the Boonsung Wreck on your way back, it is a great chance to use up the last of your scrubber.
For those not yet certified in Wreck Diving do not panic. This is a great chance to take the Wreck Adventure Dive from your PADI Advanced Open Water Course. This in turn makes a great foundation for the PADI Wreck Diver Specialty Course.
REMEMBER: Do NOT penetrate any Wreck without the proper training, experience and equipment!
Boonsong Wreck and Stone Fish
Finally, there are many Stonefish on the wreck, and yes these are highly poisonous. Again this is nothing to worry about, but do pay attention to your buoyancy. This is especially important if this is your first dive for a while and you are diving the wreck on your way out to The Similans / Surin Islands / Burma. If visibility is good you can see between each part of the wreck. However as we often have relatively low visibility on the wreck, it's best to dive the wreck with a local professional who can guide you around the complete dive site.
At the end of the dive you should use a safety marker as a few boats could be above you. This is especially true of the local "long tails" that you need to stay well away from.
All in all, this great little wreck is an ideal for a taster on your way out or a final dive on your way back to the mainland ...