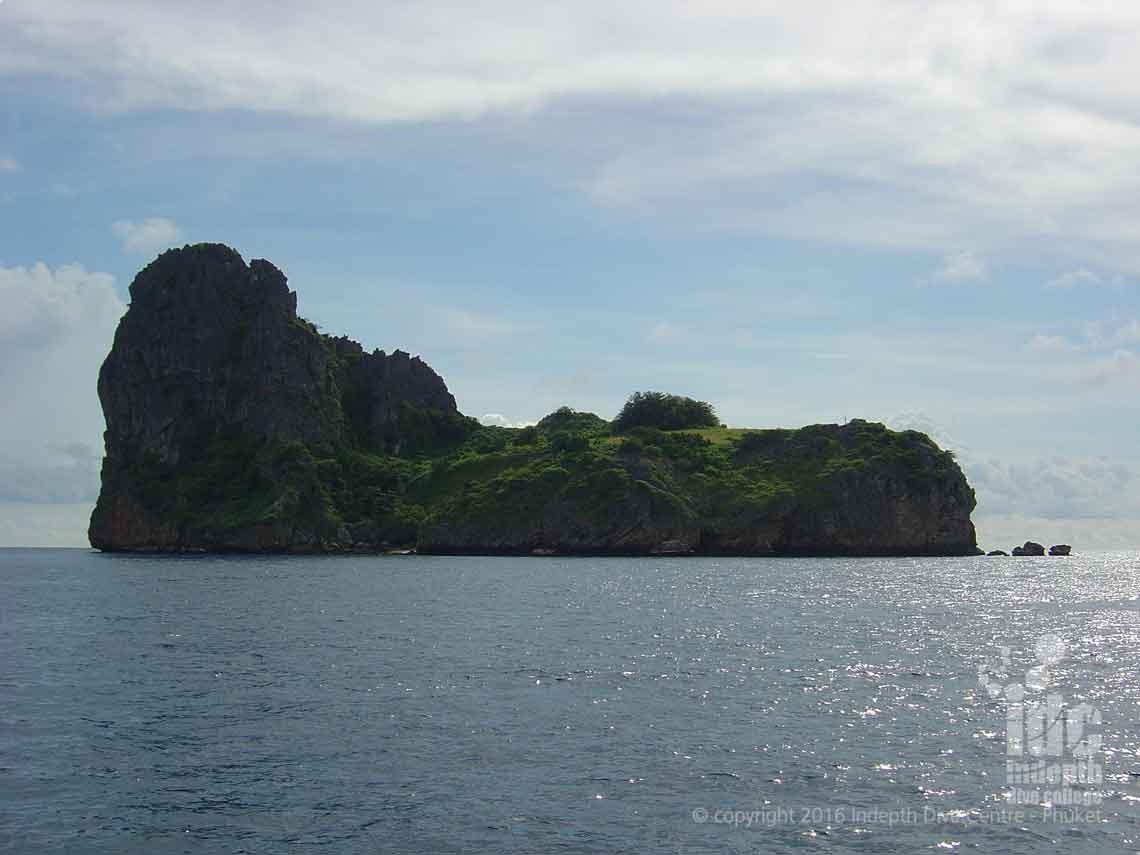 Ko Haa Neua is the most Northerly of Ko Haa islands
Approximately 70 Kilometers South East of Phuket are the five Islands that make up the Koh Haa group, these sites are normally dived by overnight liveaboard from Phuket. "Ko / Koh" means "island" in English and "Neua" means "North" hence the name either 'Ko Haa Neua" or "Ko Haa North"
Ko Haa Neua is a small pinnacle approximately 60m long by approximately 25m wide. The currents at Ko Haa Neua are normally very mild, running East to West or vice versa, and therefore suitable for all levels of divers. Also, the maximum depth on Ko Haa Neua is only between 25-30m.
The Northern side of the dive site is a sloping reef with both hard and also soft corals, sea fans and barrel sponges and makes a superb dive for everyone!


What is the best way to dive Ko Haa Neua?
We usually start the dive on the Southern side of Ko Haa Neua. Because, at the time of writing there is no mooring line, you would make a free descent into water between 10-15m. This is a mainly a sandy area where you can see Kuhls / Blue Spotted Stingrays and Gobies.
Go slowly, as if you are lucky, you may see a Leopard Shark resting on the sand. From here we would head west at a depth at around 18m. If you go carefully you will see a channel at 18m. If you go just past the channel and turn right (or North) there is a nice swim through at 16m.
Diving Ko Haa Neua Chimney:
From here if you then turn left towards the main rock (North West), at around 16m, you will find The Chimney. This is a stunning vertical swim through that leads up a chimney like hole. This is wide enough to get up comfortably but is not recommended for novice divers. There are 2 exits, one at around 5m and one at around 7m. Light is visible throughout the time you travel up the chimney as is a fantastic photographic opportunity. Remember to ascend slowly and try to this at the beginning of the dive to avoid a poor diving profile.
After exiting the chimney continue around the Island in a clockwise direction. You can expect to see in the mid water schools of the small Yellow fin Barracudas, Trevallies, Snappers and Fusiliers.
What will I see on the dive?

On the dive site itself you can expect to see Giant Morays, Puffer Fish, Trigger Fish and Angel Fish. This is in addition to the usual Butterfly Fish, Box Fish, Surgeon Fish and if lucky, a Unicorn Fish. There are also Turtles, Trumpet Fish, Wrasse, Groupers, Parrotfish, Sweetlips and Octopus here. As well as the usual Sea Snakes, Lion Fish, Scorpion Fish, Soldier Fish, Sweetlips, Anemone Fish, Blennies, Nudibranch, etc.,
Special finds here include Tiger Tail Sea Horses (look in the Sea Fans), Ornate Ghost Pipefish and Harlequin Shrimps. Because these are all very hard to spot go carefully and take your time.
For Rebreather divers this is an amazing dive because you can easily spend 2-3 hours diving here while the other divers are having lunch or a surface interval. And with the shallow depth limits it also makes for a long safe dive for all.
And last but not least, Manta Rays have been spotted here, most notably in March or April.
You would normally end the dive on the Northern side. There are some very shallow submerged rocks here so swim well away from the Island so the dive boat can pick you up safely.