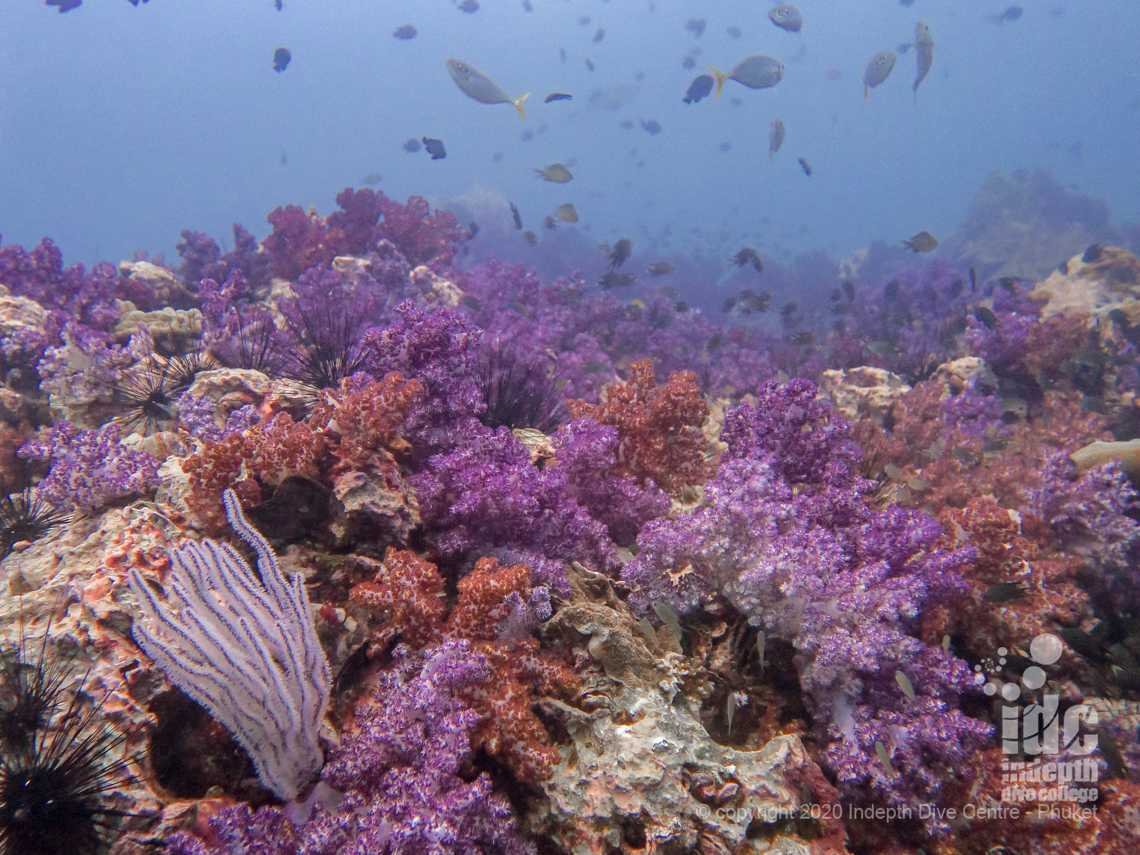 Hin Muang: South Andaman Sea
 Hin Muang is famous for it's Manta Rays and stunning soft corals and is100 km South of Phuket. Hin Muang is a submerged outcrop which can be reached by Liveaboard boat from Phuket. Interestingly, Hin Muang translated into English means "Purple Rock." This refers primarily to the beautiful purple soft coral which covers the dive site for which it is famous! If you are going to dive Phuket, you should definitely make the effort to try and dive Hin Muang.
The dive site is an outcrop of rock and is approximately 200m long and 20m wide. The dive site runs from East to West (and vice versa). There are 2 mooring lines, the Western one around 16m deep, while the Eastern mooring is 40m+. The outcrop actually consists of several pinnacles. At the Eastern end (the shallowest part,) the site is around 8m deep with the most westerly pinnacle being around 24m.
The Northern side of the site is the "shallow" side dropping off to around 45m. The Southern side drops off to at least 60m making this the deepest recreational dive site in Thailand.
This is one of the famous scuba diving sites in Thailand for Manta Rays which can be often seen in 4's and 5's at a time!


How would you dive Hin Muang?

Hin Muang and Hin Daeng are usually dived together on a South Andaman Sea Liveaboard Cruise. However, as Hin Muang is the deepest of the two, this would normally be the first dive of the day. The currents run from North East to South West, or vice versa. Moreover, they can vary from moderate to very strong, but you can use the rocks as protection from the current.
We would start the dive by descending down the Western mooring line and would then head East along the outcrop. You would then begin your dive going into the deeper areas while diving within your training / personal limits. In the deeper waters, you can often spot Leopard Sharks, White Tip & Grey Reef Sharks.
WARNING: They may be VERY deep so it's always a good idea to look at them from above.
In between the pinnacles, normally between 20-30m, there is a good chance to see large Blotched Stingrays resting under rocks. In addition, in the mid water you can expect to see schools of Rainbow Runners, Barracudas, Trevallies, Snappers and Fusiliers.
For those diving on recreational rebreathers, this is the perfect area to hang out in. Hence you can maximize your bottom time and easily spend an hour at 20-30m without going into Deco.
Again don't forget to keep your eyes open into the blue for Manta Rays and the occasional Whale Shark.
What Marine Life is there on Hin Muang?
On the dive site itself, you can expect to see the typical South Andaman Sea marine life. This includes some rather large Giant Morays, Porcupine fish, Trigger Fish, Angel Fish, Butterfly Fish, Box Fish and Surgeon Fish. To say nothing of the Unicorn Fish, Sweetlips, various different Parrotfish, Puffer Fish, some Trumpet Fish and many Wrasse. And there are also Groupers, Sea Snakes, along with lots of Lionfish, Anemone Fish, and Soldier Fish.
The dive site is covered in soft corals and there are some large Gorgonian Sea fans. And as usual, if you look in the sea fans, you may spot a Long Nosed Hawkfish or an Ornate Ghost Pipe Fish. Harlequin Shrimps which have also been spotted here at Hin Muang. During the dive, you can normally reach the Eastern end (deepest part) and come back to complete the dive at the mooring line at the Western End. In fact the dive site continues past the mooring line West for around 40m and rises quite shallow to around 8m.
Due to currents and depth of this dive site PADI Advanced Open Water would be expected to dive Hin Muang. However, if you are not yet certified to this level, Indepth can easily arrange a PADI Advanced Open Water Course or Deep Diver / Drift Specialty Diver Course.
Ending the dive
At the end of the dive it is recommended finish your dive on the Western mooring line, especially in strong currents. Accordingly if you cannot make the mooring line, make sure you have a safety marker buoy so you can be picked up safely.
This is one of the top dive sites in Thailand. Consequently there is a good chance of seeing the large Pelagic Fish like Manta Rays and Whale Sharks. Particularly between the months of January and April.