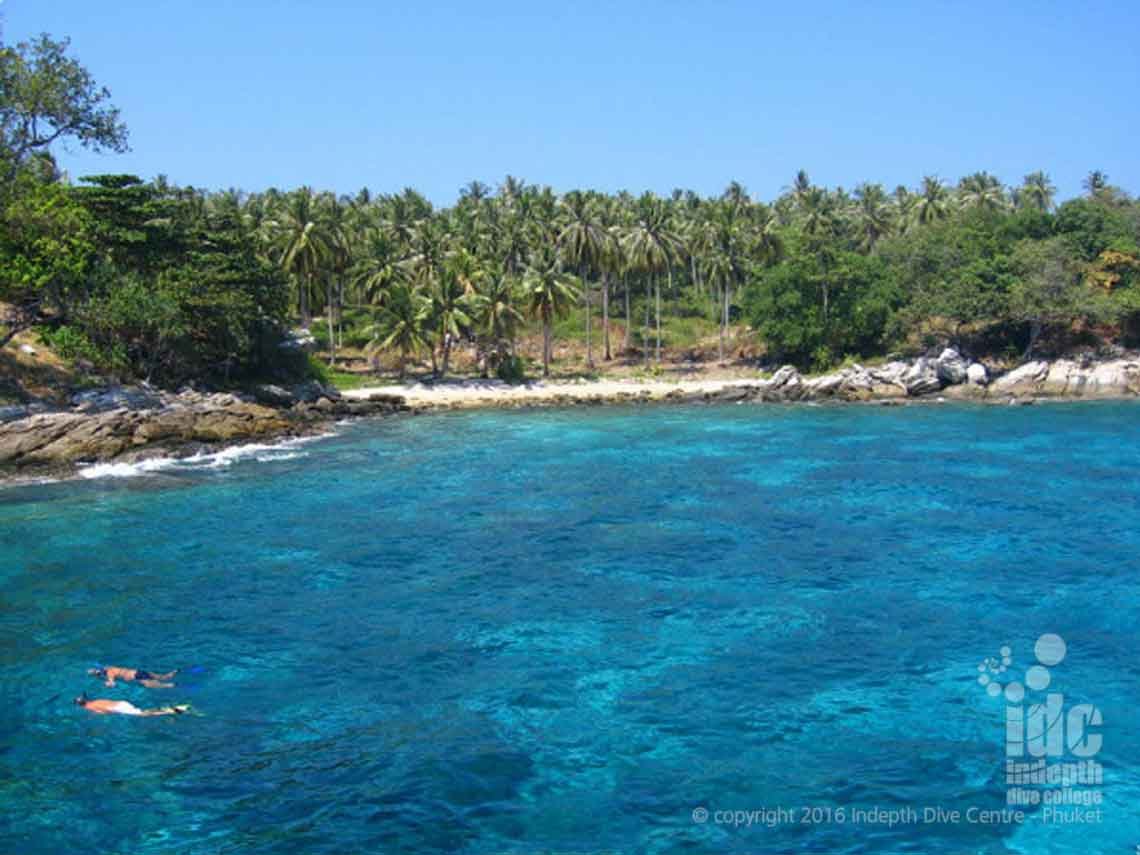 Racha Yai Bay 3: Lucys Reef
Lying about 12miles South of Phuket are the Racha Islands, where Racha Yai Bay 3 Lucy Reef is located. This takes around 1 ½ hours by regular dive boat, although speed boats can easily make the trip there in under an hour.
Racha Yai Bay 3 is the smallest of the 3 bays along the East side of Racha Yai Island, and is only 90 minutes from Chalong Pier by boat. As such this bay is very popular not only with local dive trips, but also with snorkeling trips. This is because of the lovely sheltered shallow corals close to the beach. Underwater the clear and calm waters here are perfect for beginner divers and Try Dives / PADI Discover Scuba Diving participants. Whilst not the best Phuket diving, the bay is home to a variety of reef fish. The reefs are mostly Hard Corals and make a nice introduction to Scuba Diving in Phuket.
The Dive Sites in Racha Yai Bay 3 vary from 5-30m and are therefore suitable for beginner divers as well as divers with more experience ...



Racha Yai Bay 3 Lucy Reef
Racha Yai Bay 3 has a number of easy dive sites, with Lucy Reef being one of them. While not being the best of Phuket's local dive sites, Lucy Reef does provide an excellent dive site for many Training Dives. Moreover, it has enough fish and coral to keep divers entertained, especially beginner divers. From the deck of the dive boat you have a great view of the white sandy beach and luscious green forest. In fact, you can usually see where the edge of the Resort meets the wild uninhabited jungle. This is a great location to catch the sunshine on the boat while having lunch. Or have a walk on the beach during surface interval between your scuba dives
If you head South from the edge of the bay you will enter part of the reef known as Lucy's Reef. This consists mostly of an interesting variety of hard corals, before giving way as you go further south. This leads to some deeper rock formations and is not dived by many people.
The best place to start your dive is obviously in the shallows. Here you will find large areas of hard corals, which as mentioned, are actually the start of Lucy's Reef. These hard corals are home to Cuttlefish and reef Octopus mingling with the hard corals and sandy patches. As such this is an ideal place for students taking their first tentative steps underwater. This can be with a Try Dive / PADI Discover Scuba Diving (DSD) program, or it could be on the PADI Open Water Diver course. Either way there is plenty of flat sand as well as great corals and fish life to entertain you.
For Advanced or experienced divers:
Moving into slightly deeper water there is a man-made coral nursery called "The Cubes." These attract the attention of large schools of juvenile Barracuda. Additionally, for the macro fans, some interesting Nudibranchs can be found, as well as Durban Dancing Shrimp.
For divers who are qualified as PADI Advanced Open Water Divers, there is an artificial reef out on the sands between 20-30m. Moreover these are not dived that often and this is where the occasional Leopard shark or large Marbled Sting Rays can be found.
Any divers doing their PADI Rebreather or Advanced Rebreather course dives with us will be sure to spend quite a bit of time exploring this part of the reef. This is because the depths suit recreational rebreather diving perfectly. Additionally, due to dive time limitations and gas supply, very few open circuit divers venture here!
This deep area of reef has been known to have eagle rays hanging around ….