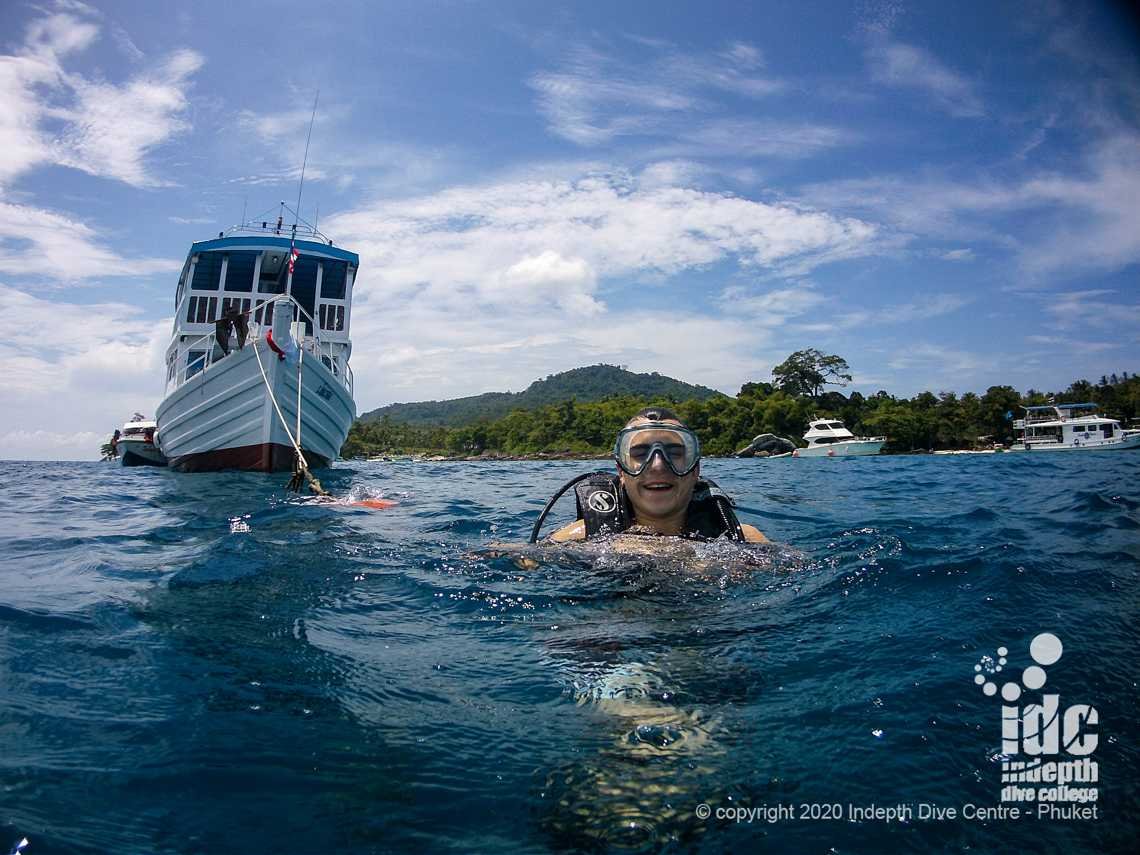 Racha Yai Bay 1: The Number One Racha Yai Dive Site!
Racha Yai Bay 1 is the first in a series of natural bays and is located on the East side of Racha Yai Island. Fortunately Bay 1 is only 90 minutes away from Chalong by dive boat. This bay is very popular not only with divers, but also with snorkelling trips. Thus you can easily get a Day Trip to Racha Yai Bay 1 any day of the week.
The average depth of Racha Yai Bay 1 is around 10-15m, although the dive sites vary from between 5-30m. As such, this another local Phuket dive site that is suitable for both beginner divers in addition to more experienced divers. As such, Bay 1 has everything from shallow soft and hard coral reefs, to ship wrecks ranging from 15-25m in depth. Consequently, you will find this dive site is both popular for divers taking PADI courses and for divers diving for fun.
Join us for an exciting Day Trip to Racha Yai Bay 1and let's see what surprises await ...



Why is Racha Yai Bay 1 the No. 1 Racha Yai dive site?
Racha Yai Bay 1 is one of the most popular scuba diving sites around Phuket. And as such, is known for its amazing underwater visibility and pure white sands. The bay is wide with a large shallow area, typically 3-10m deep. With the shallows are covered with a mixture of Hard and Soft Corals, separated by large sandy patches. In addition, divers exploring this area can sometimes amuse themselves spending as much time waving at the snorkelers above as they do looking at fish.
And for those of you are taking a PADI Discover Scuba Diving program, or PADI Open Water Diver Course, you will find Bay 1 perfect for your Open Water Dives.
What is the best way to plan a dive in Racha Yai Bay 1?
The best way to plan a dive in Racha Yai Bay 1 will depend on which mooring you are on. As Racha Yai Bay 1 has a large number of moorings, there will be one free to moor onto. However we do not know which one. Consequently, it is difficult to give you an accurate dive briefing without knowing which mooring you are starting your dive on.
Immaterial of which mooring we are on, we start the dive by going down one of the moorings in the middle of the bay. Typically, this would 5-10m depending on the tides. Then from here we check what the current is doing. There is usually none, but if there is the direction will dictate which direction we go. Usually we would either move across the bay parallel to the beach, or make our way down the sloping sandy reef. Either way you will find yourself surrounded by reef fish and schooling fish.
Diving The Cubes (Artificial Reef)
As you head off down the slope, at around 15m, you will see there are several large
artificial reefs
. These have been nick-named "The Cubes", because, well because they are made of concrete Cubes. The concrete reef was started around 2010 and today is one of the highlights of diving Racha Yai Bay 1. As over the years, The Cubes have attracted a plethora of marine life. Consequently, divers should find many different Moray Eels, Peacock Mantis Shrimp and Spotted Garden Eels. This is in addition to just about every kind of Stingray and other critters.
Another nice feature of the Cubes in Bay 1, is that divers use them for
buoyancy control
practice. In fact, you couldn't ask for a better "Obstacle Course" to practice your buoyancy skills with. This is especially true of beginner divers and Open Water Course student divers. For example, these make for a very interesting Buoyancy Workshop for our
Rebreather Diver Course
students. And don't worry, there is a lot stuff to see out on the sand. So if you take a little time to explore the sand around the reef, you will find there is a lot to see.
How good are the Wreck Dives in Bay 1?
One of the best things about Racha Yai Bay 1 is that there are THREE ship wrecks that can be found here. These lie around 15-30m and are very, very good. In fact, Bay 1 is an excellent dive site to complete the PADI Wreck Diver Specialty Course. Or of course, the Wreck Adventure Dive of your PADI Advanced Open Water Course.
The first Wreck is lying upright on the sand with the top around 15m , whereas the bottom slopes off to ~25m. Not surprisingly, this wreck is generally referred to as "The Racha Yai Bay 1 Wreck." The Wreck is a steel hulled ship that was purposely sunk to become an artificial reef. Furthermore, it has since become a popular addition to this dive site. Just beyond this wreck, past the 25m mark, is the remains of another dive boat that sank after a fire many years ago. This wreck was an old wooden vessel which has disintegrated quite a bit over the years. However, it is now home to thousands of shrimp as well as pipefish and Frogfish if you take the time to find them.
The newest addition to the fleet is the hull section of a cargo ship that was wrecked in a storm off the nearby Coral Island. All the cargo has been salvaged so there is no treasure to be found. However, as expected, the wreck has attracted a lot of marine life. Especially some big Pacific Lion Fish, and large Yellow Tail Barracudas.
What PADI Courses are good to take here?
Racha Yai Bay 1 is a superb training site for most PADI Courses, which just adds to its popularity, among both our Instructors and our customers!
Apart from Entry Level Scuba Diving Courses, such as Open Water or Scuba Diver Course student divers. Bay 1 is also a prime destination for PADI Advanced Open Water classes. This is because the dive site has everything we need. Racha Yai Bay 1 is perfect for your check-out dive with your Instructor. And when it comes to Peak Performance Buoyancy, Navigation, Underwater Naturalist and Underwater Photography Courses. In fact, most of the PADI Adventure Dives, as well as related Specialty Diver Courses are well suited for this dive site.
Bay 1 is a great dive site for the PADI Rescue Diver Course and Divemaster courses. Since you can practice both beach and boat exits, and it has both deep and shallow water with a variety of conditions. Thus, Racha Yai Bay 1 a very good dive site for PADI Rescue Diver training.
PADI Advanced Rebreather divers get the best deal at this site because they will be able to see all 3 wrecks in a single dive. And in addition, you get to hang out with the schools of Barracuda and Batfish long after the other divers have headed to back into shallower waters. Racha Yai Bay 1 is DEFINITELY a Rebreather friendly Phuket dive site!
Racha Yai Bay 1 really is a dive site open to all levels of diver and has something for everyone. And if you are taking any courses, or doing several days diving with us. Then the chances are you will be coming to this dive site at some point ...