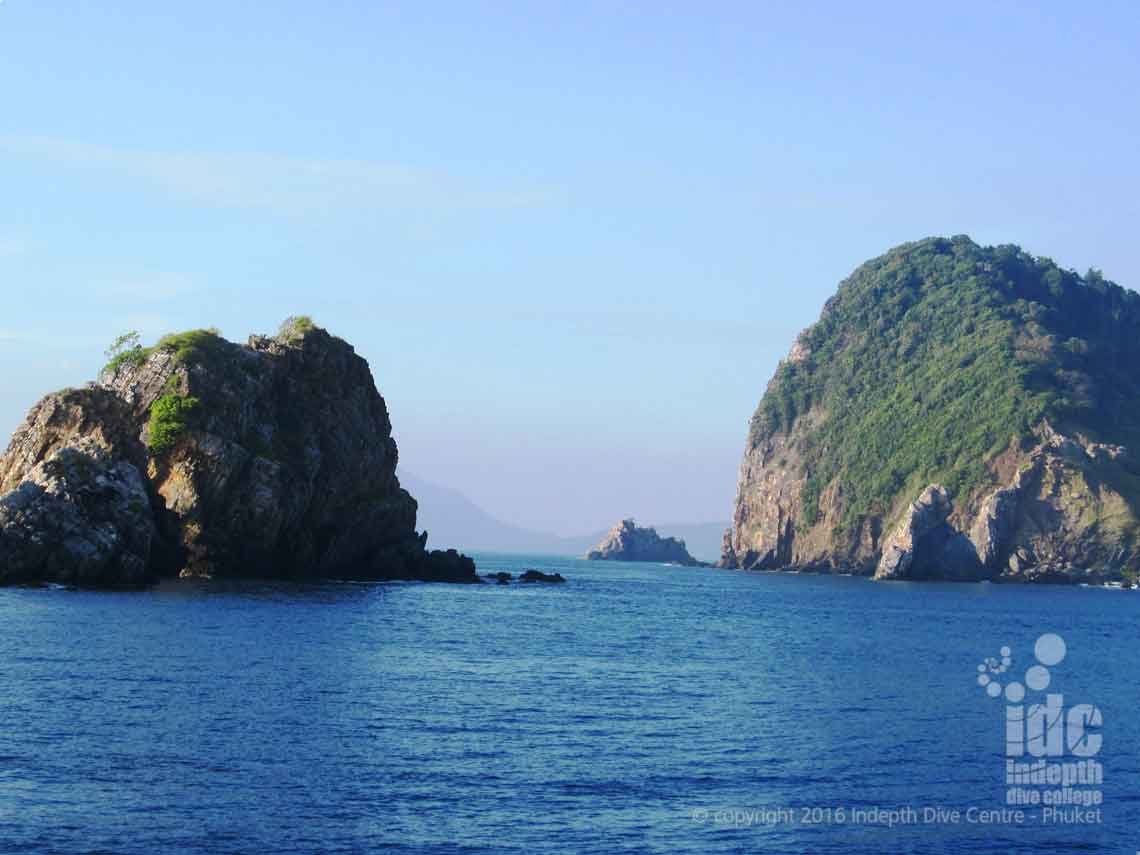 Stewart Island or Bo Wei as it is known locally
Located approximately 15km West of High Rock, Stewart Island is a small and approximately 100m long and 25m wide, and runs in a North / South direction.
There are 3 large swim-throughs, (underwater tunnels), that run right through the Island. These tend to go East to West or vice versa. If you have the correct training, and experience these make for a great dive. Although if you are not suitably trained, don't worry, there is more than enough to keep any diver happy.
In the event that the current usually runs from North to South, you often get a large surge running through the swim-throughs. As such this provides the added bonus of the pelagic fish which like hang out in the current. Consequently there is a nice variety of marine life here. We can usually see some Barracuda, Batfish, Puffer Fish and Angel Fish, including Juvenile and Blue Ringed. Additionally you have the usual Lizard Fish, Hawkfish and Boxfish with loads of the little stuff which is GREAT for Macro! If you need to dive Phuket to get yourself back into Dive Mode before your Burma Liveaboard let us know and we can arrange a Phuket Day Trip for you.
Visibility at Stewart Island is varies from as little as 10m up to 30m+ : Bring on The Manta Rays!



What should I know when diving Stewart Island?
To start the dive we would usually enter the water on either the Northern end or Southern end depending on the current. From here you would circle clock-wise or anticlockwise.
On the Eastern side of the Island, the dive site is more of a wall, with lots of granite boulders. These drop down to between 25-35m to the sandy bottom which can make for some very panoramic photographs. The Western side of Stewart Island is shallower, around 20m, and It is far easier to find the swimthroughs on that side.
Moreover if the current / surge will allow then you can pass through all 3 of the large swim-throughs during one dive. Again this is as long as you possess the necessary skills, experience and equipment for such diving. In fact the most Northerly of these has several entrances. Although we think the best entrance at around 16m with the other two being around 18m.
Rebreather divers are going to be very happy here as the depth ranges are perfect recreational rebreather diving. Consequently you can easily have an undisturbed 3 hour No-Decompression dive.
Burma Marine Life at Stewart Island
The selection of the marine life around this dive site can be pretty awesome. You can expect to see Barracuda, Batfish, Puffer Fish, and Moray Eels; including the Giant Fibrillated and White Eye. There are plenty of Pipefish including Juniors, Multibar and Ornate Ghost. This is in addition to Banded Boxer Shrimps, Dancing Durban Shrimps and many different Nudibranchs.
Stewart Island is also an excellent dive site for Night Dives. Consequently a great dive site for your PADI Night Diver Specialty or the PADI Night Adventure Dive of your PADI Advanced Open Water Course. You should find some very large lobsters and crabs here, along with a large selection of shrimps.
Please bear in mind that there are lots of large rocks just below the surface. Therefore you should swim well away from the dive site at the end of your dive for a safe pick up by your dive boat.