A Guide for Choosing Dive Equipment
Why buy your own equipment?
Before giving you tips on choosing dive equipment, it's important to explain why it's recommended for divers to have their own dive equipment. As a new diver or Open Water Diver Student, dive equipment can seem a bit overwhelming at first. However, once you get used to it you will see that it is not complicated. Although we have said "new divers" or "Open Water Students", this applies to divers of all levels. In fact, the certification level at which most divers buy their own dive equipment is Advanced Open Water. This has been true for the 30 years we have been teaching scuba diving.
When talking with students or certified divers, we often compare owning dive equipment to owning a car. If you have your own car then you are used to the brakes, the clutch, you know where the reverse gear is as it varies. In an emergency, you know how fast you can stop and so on. Well, scuba diving equipment is much the same. If you are using your own BCD for example, then you know where the "dump valves" are, you know how fast it inflates or deflates. And in turn how much air to add or let out without thinking or being aware of it.
What dive equipment do you need to go scuba diving?
The following is a list of basic dive equipment taken from the PADI Instructor Manual 2020 edition. This is the "minimum equipment" that an Open Water Student is required to use during their course, and in turn, the minimum equipment we would expect of a certified diver to have on a dive trip with us. You can use this as a guideline when choosing dive equipment.
PADI Instructor Manual 2020 – Standard Diver Equipment list:
Make sure divers have, at a minimum:
We would also add the following, as this equipment should really be carried by all certified divers:
Dive knife / cutting tool
Surface Marker Buoy (SMB) / Delayed Surface Marker Buoy (DSMB)
And when choosing dive equipment, depending on where you are diving, you may also need a torch/flashlight, wetsuit hood, gloves, or a dry suit, etc. You may also want to buy an underwater camera and various other toys, but we will come to these later.
Is using rental dive equipment okay?

Yes, of course! However, in much the same as driving a rental car, if you drive a lot, then you will want to buy your own car. And buying dive equipment is very similar. Actually, that's not quite true, as it's worse or better depending on your point of view. Most of us only have one car, but when choosing dive equipment there are lots and lots of dive equipment items we can buy!
When you use rental equipment then you are usually not that familiar with it. Or to put it another way, not as familiar with it as you would be if it were your own. For example, with a rental BCD, you do not really know how fast it inflates or deflates until you are diving with it. Or the dump valve/s may well be in a different place to the BCD you used last time. And let us not forget that a ScubaPro inflator has the "buttons" in a different place to an Aqualung BCD. It is things like these which can and do lead to "problems" or an "uncomfortable" dive.
Dive Equipment Maintenance
Another advantage of owning your own dive equipment is that you know the equipment has been well maintained and is in good working order. This is extremely important when it comes to dive equipment such as your regulator.
Rental equipment obviously should be "well maintained and in good working order". However, rental equipment does get used a lot and is, of course, more prone to "wear and tear." And though we do not like to say it, not all dive centres or Liveaboards keep their equipment to the maintenance standard that we would expect. Consequently, in much the same way as a rental car's brakes can be different from what you expected, so can your rental dive equipment.
Being familiar with your equipment and knowing it is in good working order is one of the first steps to making a comfortable, enjoyable, and safe dive. In addition, you may even consider doing a PADI Diving Equipment Specialist Course to learn more about how your gear works, and manage minor repairs and adjustments.
Where should I buy my dive equipment?
When choosing dive equipment, there are mainly two options in today's day and age:
1. Through your PADI Instructor and local Dive Centre
2. Online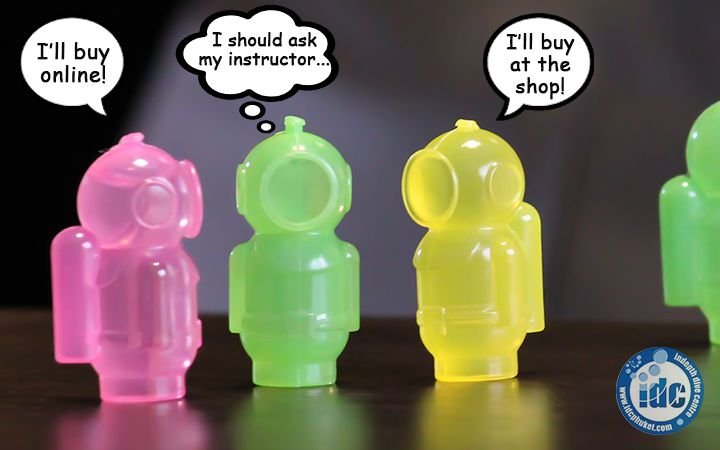 From your Dive Instructor and Local Dive Shop?
Personally, we feel that the best place to buy your own dive equipment is through your Instructor and local dive centre. Building a relationship with the dive shop, in addition to your instructor, has some great advantages. Not only do they usually use the same brand of BCD for rental equipment, so you will be familiar with some of the retail equipment. But it is also valuable when it comes to equipment servicing as they will have trained technicians. And as you will be "advertising" the equipment they sell, they will want to keep your equipment in perfect condition.
The Dive Shop will also no doubt have "startup" packages, "pre-dive trip specials" and very importantly offer you a "Try before you buy" deal. This allows you to dive with the equipment you are proposing to buy to ensure it meets your expectations.
And if anything ever goes wrong with the equipment, then you can take it back to the people you purchased it from.
Your Instructor the Dive Guru
Your Instructor is a dive professional who has a wealth of knowledge and experience. When it comes to buying dive equipment who could possibly be better to offer you advice?
They know YOU and what you are like in water and in turn will have a good idea of what equipment will be best for you. They may have seen you through the process of going from "knowing nothing" about diving or scuba equipment, through to becoming a certified diver.
This not only applies to new divers but to divers of all levels of certification. If you were already a certified diver with say 20 dives and you have recently taken your PADI Advanced Open Water Course. Then you have been diving and working with your Instructor for the days of your Advanced Course dives. Consequently, once again, your Instructor can see what level your knowledge and skills are at.
And if they know what you are planning in the way of future dive courses, diving destinations etc then they will be able to give some very personalized advice. For example, if they know that you will be getting into underwater photography and will need to be carrying spare lenses. Then they can make sure that the BCD has suitably large pockets to accommodate this.
Buying equipment online?
There is nothing wrong with buying dive equipment online. This can be cheaper depending on where you live or where the online shop is located.
However, when choosing dive equipment, a website cannot see you try on your mask to see if it fits you correctly. Nor can a website advise you that this cheaper regulator is perfect for you. You may have been determined to buy the highest performance regulator certified down to 200m. You have been looking at it in the shop, been reading about it online and you really want it. However, if you are planning on diving 10-15 times a year on dive sites with depths of 5-15m, then a different cheaper regulator might be better for you. There is nothing wrong with still buying it if that is what you really want. But at least you were given the right information for you to make a properly informed decision.
And there is always secondhand dive equipment on websites such as eBay, Amazon and 101 other platforms. But please observe the same caution you would when buying anything second hand.
When should I buy my own dive gear?
This is a difficult question to answer, but the honest answer is: if you are going to be a "scuba diver", then as soon as you can. Obviously, it does depend on budget, opportunities to dive, where you are diving, and so on.
We have Open Water Students sometimes arriving for class with a complete set of dive equipment, even though they have yet to dive. Then we also have divers with several hundred dives who have been diving for years, but they still do not have their own dive equipment. Not even their own mask?!?
We advise divers to buy their equipment once they have completed their PADI Open Water Course and are certified divers. This way you are familiar with the basic dive equipment required to dive safely. Also, this way, you will have your PADI Instructor to help you choosing dive equipment to purchase.
Nothing replaces advice from an experienced dive professional. Especially one who knows you and knows how you dive. This, in turn, provides you with someone who can offer honest advice on what is best for YOU.
Do I buy the cheapest or the best dive equipment?
As with any popular sport, there is a huge range of makes and brands to choose from. However, as with most sports' equipment, the most expensive equipment is not always the best equipment for that particular participant's needs.
The most important factor is not the price but fit and comfort. "Does it fit you properly" and "Is it comfortable" are the two most important questions to ask yourself.
For example, we have people who have wanted to buy the most expensive mask we stock. Maybe it is the style or colour as looking cool in dive equipment IS important. Especially on your profile Facebook photo. However, when we assist them in the shop, they find a cheaper mask fits them way better.
Can you give us any more advice on choosing dive equipment?
This page is an introduction to choosing and buying scuba diving equipment. We are posting a series of articles on how to choose each piece of the equipment mentioned above. There we will explain the purpose of each piece of dive equipment. As well what features you should look out for and when you will be using the equipment. As well as some general tips and ideas for you.
Hopefully, you have as much as fun as we did when we first bought our dive equipment. And, still do enjoying buying when we can find a suitable excuse to buy yet more dive equipment.
Toys for the Boys … and Girls …
More posts about diving equipment: