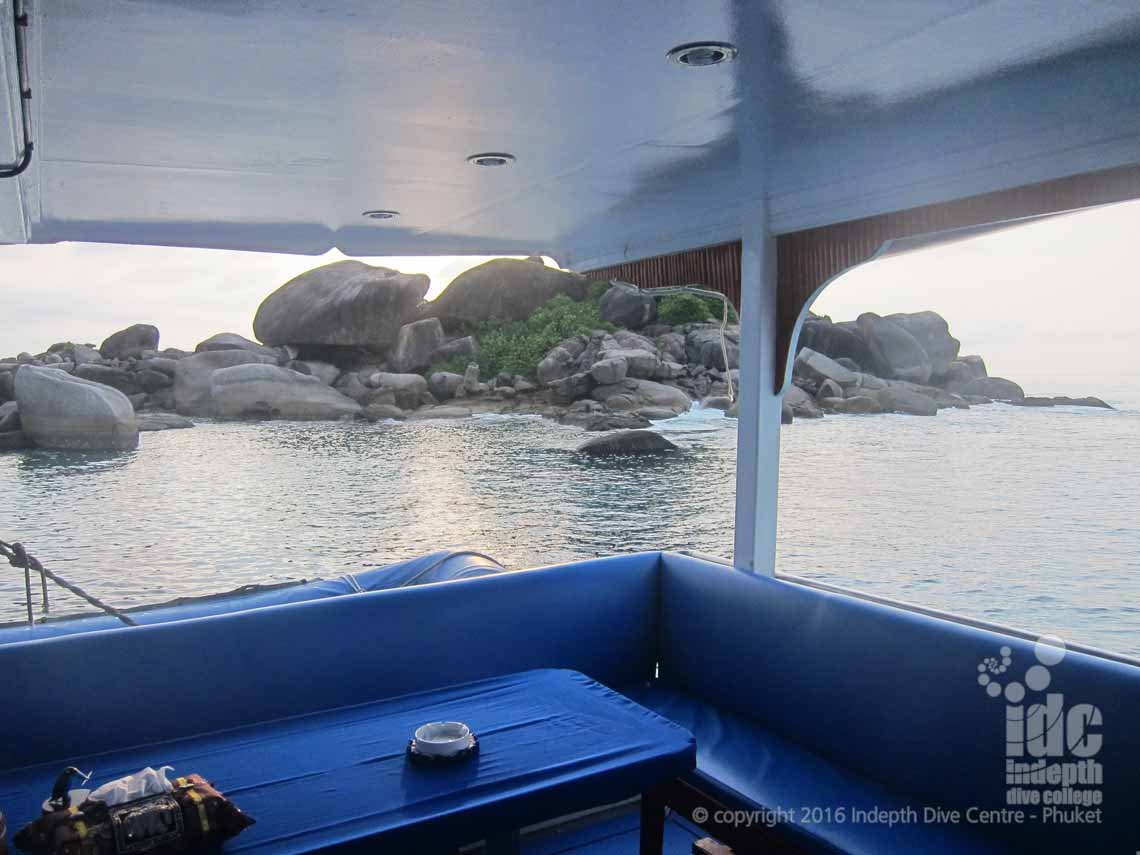 Similan Islands No 5&6:  Anitas Reef / Hin Muan Deaw
Anitas Reef is probably one of the longest known dive sites in The Similans. Located in the southern half of The Similan Islands on the Eastern side of Island No. 5, Anitas Reef is the perfect way to start your Liveaboard Safari in The Similans with Indepth.
For years many Liveaboards have been coming to Anita's Reef for the 1st dive of the Liveaboard Trip. This has always been used for "Check Out Dives" and beginner divers. And with good reason as this dive site is a great way to introduce guests to the Similans. The reef is filled with superb marine life with a stunning diversity of corals. This an easy and gentle start to any Similans Liveaboard Safari. Especially if you haven't had time to dive Phuket on one of our Phuket scuba diving Day Trips to refresh your skills.
Anita's Reef is the perfect dive site to start off your Similan Liveaboard Safari ...



Anitas Reef: the perfect Dive Site for beginner divers and a "Check Out Dive"
Anita's Reef is the best dive site to start your Similan Liveaboard Trip. For decades Thailand Liveaboards have been coming here for a "Check Out Dive" to start the Similan Trip with. It is also awesome for beginner divers new to the Similan dive sites.
The reef typically has little or no current, with a flat sandy bottom starting at 5m. Thus, if this is your first dive for a while, or you are a beginner diver, then this is the best dive site for you. Anitas Reef is a perfect dive site to sort out your weights, buoyancy. Especially if you have not dived for a while, or are using different equipment. All in all it's a great dive site to generally get yourself comfortable with being in the water again.
For Advanced Open Water Course Student Divers
For those scuba divers combining your PADI Advanced Open Water Diver Course, this is a perfect first dive. Either as a "check out dive" with your instructor, or maybe your Peak Performance Buoyancy Adventure Dive. It is also well suited for the Underwater Navigation Adventure Dive.
We start the dive by dropping down to 5m and then making your way down to the sloping part of the reef. Where the first thing likely to catch your eye will probably be a Parrot Fish. Or if not then it will most likely be a Blue-spotted. Don't forget to check out the 100s of Garden Eels. In addition there are lots of different Parrot Fish here along with schools of juvenile Barracuda.
Moreover, if you're lucky you may find a juvenile Rockmover Wrasse. Divers can easily become engrossed in the symbiotic relationship between the Gobies and their partner shrimp. See how close you can get before they move.
Heading South, the reef alternates between vibrant coral pinnacles and white sand patches. On these sandy patches you should find your first Kuhl's stingrays. These can usually be found from 12m depth. In the deeper parts of the reef, the Garden Eels are less shy and come much further out of the sand. This is in contrast to Sting Rays that float across the sand in groups of 4 or 5.
Roll of film Rock
As you make your way onto the main part of the dive site you will find a little pinnacle. This is covered in healthy hard and soft corals and is the signature part of the coral reef. This special pinnacle even has a name. Translated from Thai it roughly translates as ''Roll of Film Rock.'' This dates back to when old school photographers would use up their entire film cartridge on this part of the dive.
In fact, you may well lose sight of the reef due to the density of small silver Baitfish These are trying not to be eaten by the Bluefin trevallies who hunt in packs across the top of the pinnacles. Nemo is also here on the South West side of the pinnacle, waiting to be found. While Nudibranchs abound and Comet Longfins and Giant morays hang out among the holes in the reef.
Anita's Reef and the Boxing Day Dec 24th 2004 Tsunami
After spending 10 or 15 minutes cruising around the pinnacle we usually continue along the sandy slope at around 15m. You then move onto an area with large Sea Fans that were toppled over in the Boxing Day Dec 24th 2004 Tsunami. These were carefully replaced by local divers and have since flourished.
At this point in your dive you'll be heading back to the shallows to conserve your air. Unless you are diving on a Rebreather or Nitrox that is. And you may well see more Stingrays and Garden Eels in the sand before moving onto a hard-coral reef at about 14m. Be sure to take the time to look for octopus and Clown Triggerfish as you round the end of the island and move into the bay between Islands No. 4, No. 5 and No. 6.
Those diving on Rebreathers (CCR) will find that they probably still have an hour or two more dive time here than the regular Open Circuit divers. This is due to depths and topography. Therefore, if you haven't dived your Rebreather for a while, this again makes a perfect first dive for you to get back into "Rebreather Mode."
Following a safety stop under a surface marker buoy you can head back onto the boat for a hard, well-earned breakfast.
What better way to start the first day of your Indepth Similan Liveaboard Safari!