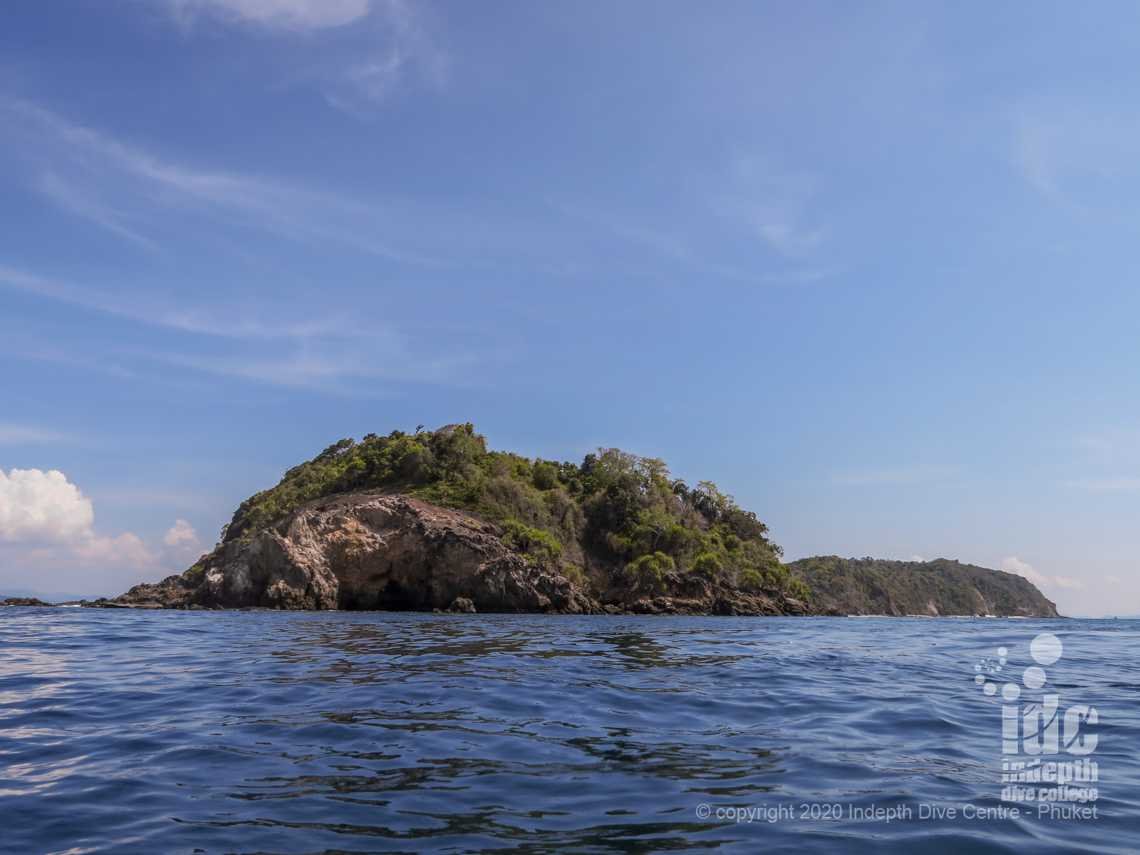 Mai Thon Dive Site (Honeymoon Island)
Only 16 km Southeast of Phuket
Mai Thon is a small island and famous for its beautiful coral reefs. The waters are usually crystal clear water with powdery beach and resident wild dolphins that are regularly spotted here. The island is ideal for diving, swimming and sunbathing, and the Mai Thon Dive Sites are only 1 hour from Chalong pier. Mai Thon is a popular destination for divers who want to dive in the morning and spend the afternoon relaxing or exploring Phuket.
Mai Thon offers 6 dives sites in total and has a depth range of 2m to 25m. This means that it's especially suited to new divers or those who prefer shallow easy dives. For beginners and snorkelers the East side of the island offers the perfect Mai Thon dive sites with shallow areas that slope down gently to a maximum of 14m, and are a great place to dive Phuket for the first time. Mai Thon has plenty of healthy hard corals, Barrel sponges and Gorgonian fans to see. And additionally you are likely to see a few different types of Puffer fish, Moray Eels and Lionfish. There are lots of Nudibranchs as well as the usual tropical reef fish that are native to the region.
On the West coast the sloping reef goes down to about 18m. Fish here include Snappers, Anemone fish, Parrotfish, cuttlefish and damsel fish. You may also get to see the odd turtle ...



Mai Thon Dive Sites

There are a number of different Phuket dive sites located at Mai Thon Island. As such we will try and review some of them here.
Mai Thon Dive Site: Eastern Promise
Despite this being a shallow Dive Site, there is actually a great selection of hard corals to be found here. Additionally, there are a number of Whip corals, Gorgonian Sea Fans and Barrel Sponges. The coral begins as shallow as just 2m and continues down to the sand line at around 8 -10m. This Mai Thon dive site has some nice sheltered sandy areas suited for conducting dive skills in the shallows. Consequently, this dive site are deal for beginner divers and Try Dives / Discover Scuba Diving divers. And in addition, the first dives of your PADI Open Water Diver course. Although not our best dive site, you can still find all of the usual marine life found in the Southern Andaman Sea here.
For the macro enthusiast, this Mai Thon dive site has a good selection of shrimps and Nudibranchs. Among the "special finds" you may be lucky enough to see a Honeycomb Moray Eel.
Mai Thon Dive Site: South Tip
This Dive Site is not to be confused with Racha Noi South Tip as it is very different. On this dive site the coral begins as shallow as 2m and continues down to the sand line at around 25m. As such, this is a more challenging dive site than any other Mai Thon Dive Sites. Especially as the currents can be strong here as there is very little shelter from the island. This dive site is also suitable as a training site for PADI Advanced Open Water Adventure Dives or PADI Specialty Course Dives.
If you head out South from the Island you will find a steep drop off which allows the divers to get to moderate depth fairly quickly. On this  Mai Thon dive site reef itself, expect to see the usual Angel Fish and Butterfly Fish. There are also Puffer / Porcupine Fish, Moray Eels, Lion Fish, Scorpions Fish, Surgeon Fish and Wrasse.
Some of the more unusual sightings include Eagle Rays and the occasional Leopard Shark!
Windmill Bay, Hideaway Bay, No Name Bay and Radio Bay
Are all  the dive sites on the Western side of the island? You will find some of the hard corals grow up to 1m below the surface in places so you have to look around a little bit before making your descent. The shallow waters close by the island are a good place to see squid and the like. Further out into reef you can look around for the rarer Tomato Anemone fish and if you're lucky the fantastically colored Honeycomb Moray Eel.
All in all a Mai Thon dive site is a good choice of destination for these looking for a "half dive day." Or for beginners looking for a short and easy acclimatization to Phuket scuba diving ...