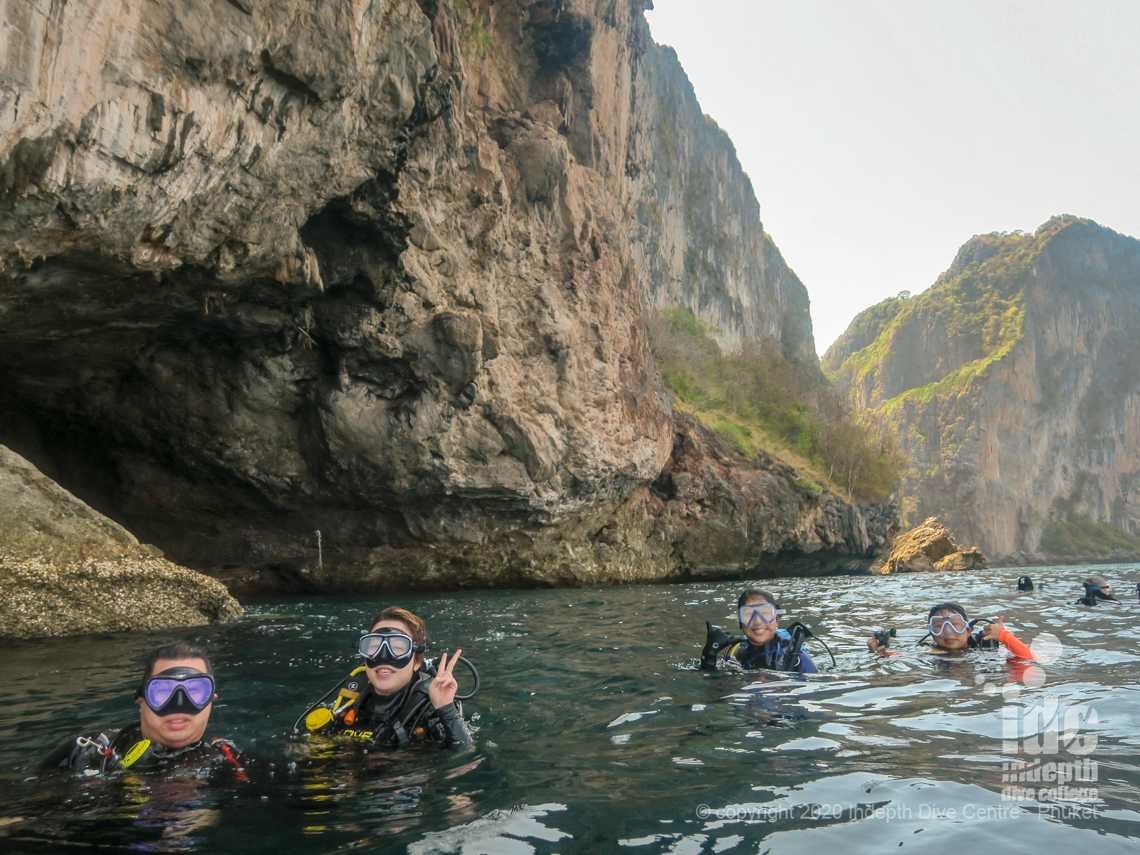 Phi Phi Islands: Pileh Palong Wall
Pileh Palong Wall is another of the well-known Phi Phi dive sites. In fact it is probably the most popular dive site after Bida Nok and Bida Nai.
Palong Wall sits underneath the towering limestone cliffs of Phi Phi Ley and close by to the entrance to the now world famous Maya bay. This is on the North West side of the Phi Phi Ley Island. Most visiting divers always want to get a few pictures of the majestic back drop of this renowned diving location. It makes a great photo prior to getting into their scuba gear to explore the underwater realm.
This is a popular destination for both divers and snorkelers alike, because of the clear shallow waters and the Blacktip Reef Sharks that cruise around here. Most boats do this site as the 2nd dive of the day as the sun is on the other side of the island in the early morning.
However 'early morning' is also a good time to dive here as there is a real chance to get close to some Blacktip Sharks as they hunt for their breakfast ...


How do I start my dive on Pileh Palong Well Phi Phi?
We like to start our dives on Pileh Palong Wall by dropping down to about 8m. This is where the dive site starts and where you should find some boulders and some hard corals. And more recently it has become well known for Moray Eels. Make sure you take a good look around here as you can look for some devastating LARGE Moray Eels!
Not so long ago we witnessed a crazy Moray Eel battle
A Yellow Edged Moray took it on himself to try and oust a rather large and definitely ferocious looking Giant Moray from his lair. Big Mistake! The Giant Moray sunk his teeth into his smaller opponent and wrapping round the smaller eel crushing him and biting, till the yellow Edge saw the chance and bolted away as fast as he could.
Lesson learned: Never try to take another Moray Eels' house unless you are bigger, faster and trained in Extreme Fighting!
Moving further along the soft corals along the wall are in fine condition and the colors are beautiful. With the shallow water and sunshine you all the reds ,blues, orange, purples and can be truly awe-inspiring.
Palong Wall and PADI Courses
Palong Wall is an ideal location for many PADI courses. Very popular are the Adventure Dives of the PADI Advanced Open Water Diver Course. In particular dives such as PADI Underwater Photo, Fish ID and Underwater Naturalist. In addition there are some large flat areas with plenty of marine life to make it an exciting place to learn new skills. The dive site is shallow with the maximum depth around 18-20m. Unfortunately the visibility can sometimes drop down to around 10m, but in general it's a wonderful dive.
Rebreather divers will again love the depth ranges this site offers. Moreover with many people snorkeling during the surface interval, divers can easily do a 2 hour dive before the boat needs to move. If you haven't yet taken your
PADI Rebreather Course
, this is an excellent time to do it. Not only does Phi Phi have great dive sites for
Rebreather diving
, but also many of the
Phuket dives sites
are also excellent for Rebreather diving.
Moving along Palong Wall
Along Palong Wall there are several overhangs with a couple of swim-throughs. It is always exciting when you know you always have the chance to find Harlequin Ghost pipefish and Tiger Tail Seahorses. Further along at about 12m the whole reef appears before you with the visibility usually better than most of the others sites in the area. There is a huge large school of Yellow Snappers. The school used to be much bigger, probably twice the size, that was until a team of crack Dolphins came rattling through here and feasted themselves on the succulent yellow fishes.
There are so many fish on this site it would take all day to name them but a quick Fish List would be something like this: Barracuda's, Trevallies, Angel Fish with many different kinds of Snapper. Additionally a selection of Scorpion fish, Lion fish and many different types of Moray Eels. There are also small Tuna and savage Mackerels and the list just goes on. be sure to bring a camera with you here as it is well worth it.
There are also the occasional Hawksbill Turtle. Happy Diving ...