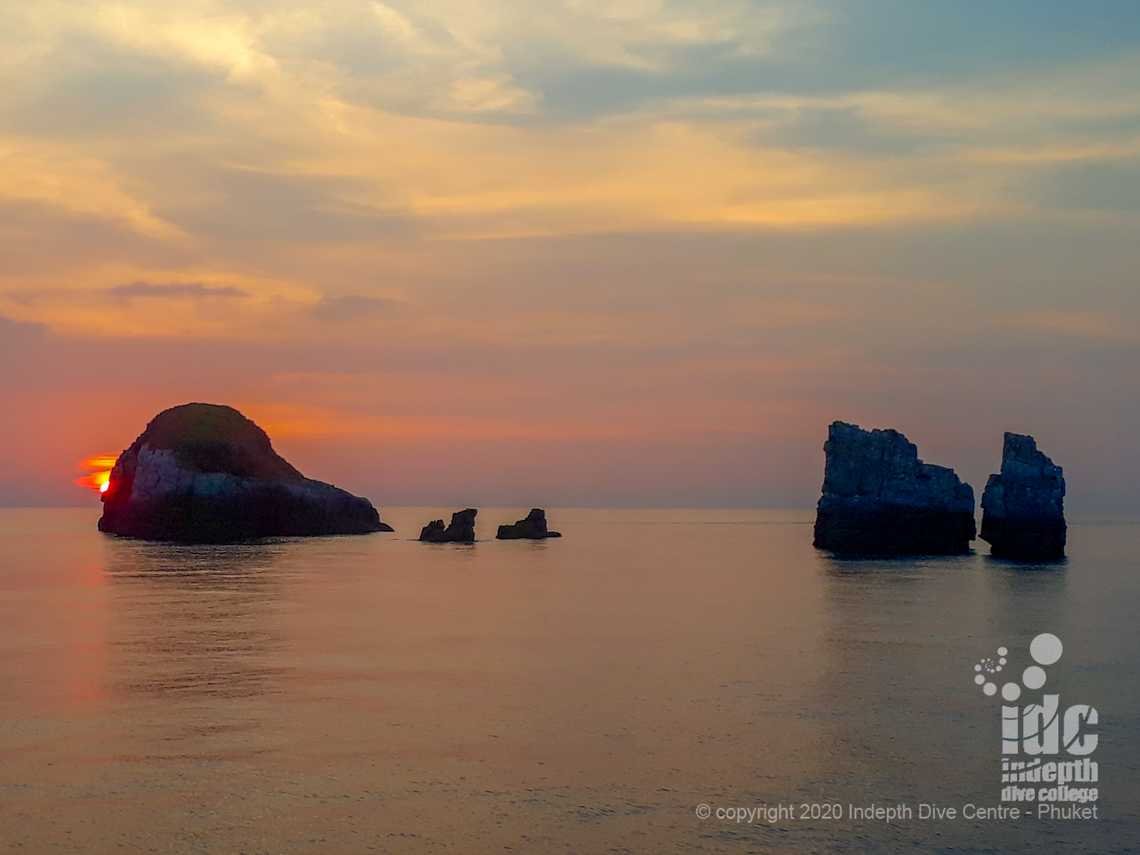 Western Rocky: dive sites which truly rock!
Western Rocky is a small limestone Island with several tall rocks, resembling Church Spires. It is roughly 80km South-West of Kawthaung and is an absolutely fantastic dive site. In fact, Western Rocky is easily one of the most popular Burma dive sites in the southern Mergui Archipelago.
As Western Rocky is one of the closest known dive sites to the Myanmar/ Burmese/ Thailand border, it is usually the first or last dive site of a Myanmar Liveaboard Safari. Although in fact, Western Rocky is several different dive sites within a one island setting. Consequently, Myanmar Liveaboards usually spend at least one whole dive day here. Visibility is normally very good here and whilst the spires are not connected to the main Island, you can normally see from one to the other underwater. As they are roughly 20-25m apart.
Currents here are usually moderate, again running from North to South. While the Island itself is approximately 75m long x 30m wide and has an abundance of life both big and small. Western Rocky is best known for the 40m long tunnel which runs straight through the island at a depth of around 20m. This is in addition to the deep outer pinnacles, and the stunning underwater archway overflowing with fish.
If you are not used to diving in currents, why not dive Phuket first on one our Phuket Day Trips?
You will have difficulty choosing which one of these excellent sites to dive on first!


Western Rocky: Probably one of the best Burma Liveaboard Dive Sites

The main island can be completed in 1 dive; however you probably want to dive it more, especially on a Night Dive.
Probably the most famous Western Rocky dive site is the tunnel. The tunnel is roughly 40m long and goes straight through the island at a depth of around 20m.
We start the dive on the Southern side of the main island. Usually where there is a jagged scar running down the rock from about 15m, all the way to the surface. This forms a small natural bay so jumping in here is always easy enough. Once in you can then descend down the rocky wall face down to about 30m.
Staying at 18m allows you to move West through a magnificent archway. This archway is full of Gorgonian Sea Fans, along with lots of Snappers and Fusiliers. You pass through the archway and then head back around the outer wall and back towards the tunnel entry point. This should be at around 20m so be careful. The passageway is about 5m wide and 5m high and gets bigger the higher you move. Although it starts with a gentle slope to 18m before descending slowly to 20-25m.
This is DEFINITELY an Overhead Environment!
Therefore, as with any Overhead Environment: you should not enter without the proper training, equipment and experience. You need to 100% aware of your buoyancy control, air consumption and various other factors before choosing to enter. Please listen very carefully to your Dive Guide's briefing.
There are plenty of other dive sites on this island to cater for anyone not comfortable with entering here.
Assuming you do enter, as you move into the tunnel, move slowly and fin carefully. This is to avoid disturbing the bottom and stirring up silt. Go slowly and you will find lots of Emperors and Snappers along the wall. As you get to about 15m in, you should turn around and look back out the way you have come in. The color of the water behind you can give the divers behind you some fantastic silhouetting. Consequently, this is just awesome for photography. Although again, please be very careful of your buoyancy if you are taking photos or video.
Just as you lose sight of the entrance, the blue of the exit to the tunnel will become visible. A brief flash of a torch along the left wall will show numerous adult Painted Spiny Lobsters and large shrimp.
How to exit The Tunnel
As you continue moving down the slope, you will see that there appear to be 2 exits.
TAKE THE RIGHT EXIT to leave the tunnel safely.
The left exit is actually too small to exit by, however just before the end of the tunnel is a small room on the right hand side. The room should be full of juvenile lobsters, often 30 or more and there are usually one or two Blotched Stingrays too!  This is at a depth of 24m. Unless you are very familiar with the dive site it is hard to locate the tunnel from the Northern side as the entrance is quite small. Once you are past this small room, you will naturally exit through the right-hand exit. Additionally, there is usually a gentle water movement guiding you out and over an outside rock at 23m. As you arrive you will find yourself at the edge of a sloping rocky reef having crossed through the inside of the island.
This is an AWESOME dive when done on a Rebreather. Diving on a Rebreather your movement is so much more controlled. And in addition, there are no bubbles to disturb the fish or the tunnel. You can easily have 2-3 hours dive time with no-decompression and you can spend as long as you want on the dive site!
After leaving the tunnel you can head left or right. If you head right, North East, then you are heading back towards the pinnacles. The wall drops down to between 25-30m. Here you can see almost anything that can be seen in the waters of the Mergui Archipelago. In particular Harlequin Shrimps, Ornate Ghost Pipefish, Sea Horses and Frogfish. There are also some very special Nudibranchs here too.
Western Rocky Pinnacles Night Dive
If you dive the pinnacles as a separate dive ask to be dropped in at the most Eastern point. There are some boulders, large Sea Fans and beautiful soft corals that start at approximately 25m dropping off to 35m+. This is an excellent place to spot sharks. We can usually find some Guitar Sharks along with some Leopard Sharks and Eagle Rays. If you are lucky you may well find some Grey Reef sharks and some White Tips. On occasion, Manta Rays have also been spotted here.
After exploring the deeper areas, you can end the dive around the pinnacles, which are covered in beautiful purple soft corals, or head back to the main island.
If you get the chance to make a Night Dive here: DO IT!
Night Dives here can be very special. Stick to the main Island which is covered in Shrimps, Crabs, Lobsters, Moray Eels, Lionfish and Scorpionfish. These are all active at night. You may also see sharks cruising in the deeper waters, just look for green eyes: only Sharks and Rays have green eyes!
Overall this is an amazing dive site where you can see almost anything. You can spend the whole day here and still not see everything ...