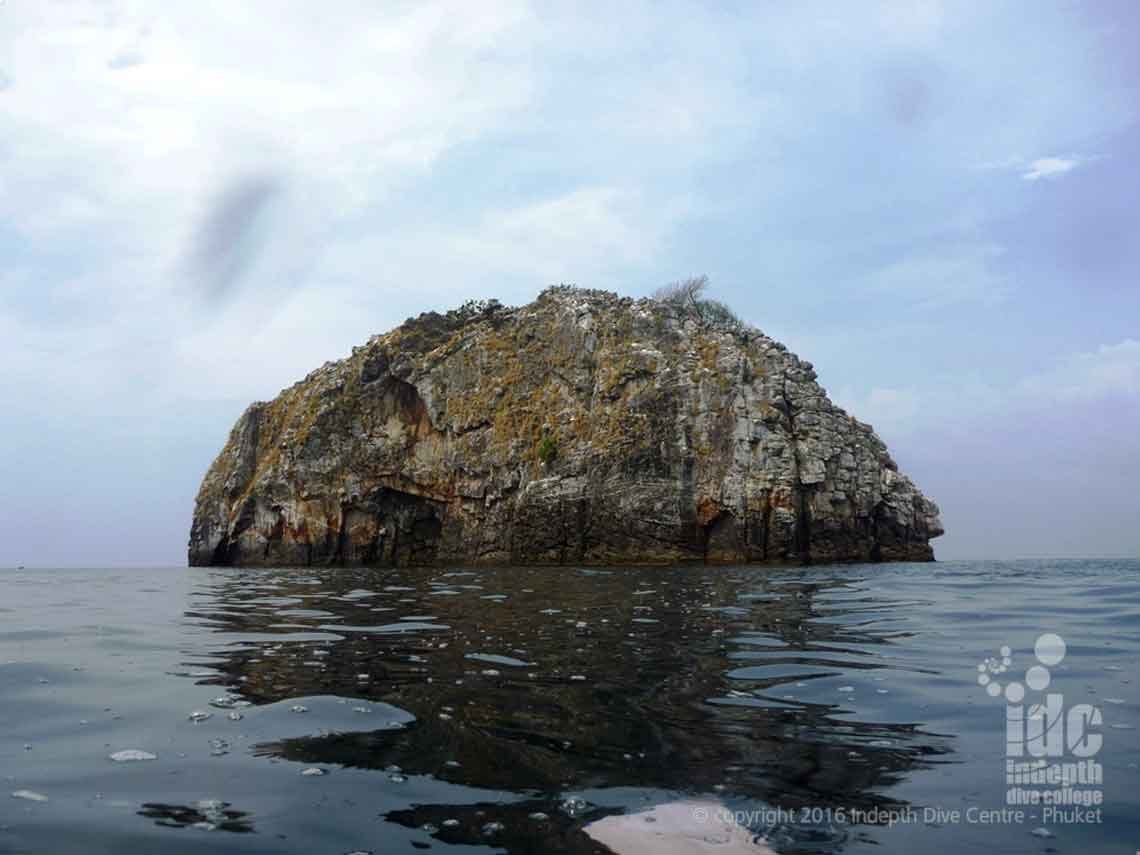 Three Islets: also known as "Shark Cave" & "In Through the Outdoor"
Three Islets is one of the favorite Burma dive sites for both the Dive Guides and the guests. This is because not only is the dive site fantastic, but so is the topography of the limestone rocks, both above and below the surface.
Located approximately 30km North West of Stewart Island / Bo Wei, Three Islets is a large area. Three Islets actually consists of 1small Island and 2 large rocks, all of which rise well above the surface. The Small Island is in the middle with the rocks either side, with the current running North West to South East or vice versa. Each of these can pretty much be considered as separate dive sites and you can easily spend a full day diving here. This is another dive site which is perfect for Rebreather diving.
The sheer diversity of marine life and the underwater features mean you'll want to spend an entire day diving here to explore everything on offer. We regularly see everything from Frogfish and tiny baby seahorses through to Whitetip Reef sharks and Blotched Fantail rays. And if you haven't dived for a while, it's probably a good idea to dive Phuket first to make sure you cameras are working and your buoyancy is up to scratch! You can easily do a Phuket Day Trip with us before your Burma Liveaboard Trip!
Make sure you take your camera when you dive Three Islets; the tough choice is whether to go with macro or wide-angle lens!


What is the best way to dive the Three Islets Burma Dive Site?
When you arrive at Three Islets you will see that it occupies a large area. In fact, Three Islets consists of one small Island and two large rocks all of which rise well above the surface. To make things easy; the middle of these three rocks actually marks the main dive site.
The rock to the North West of Three Islets is over 100m from the main Island. Thus, due to currents, which can be strong and normally run North to South, you would usually complete this as one separate dive. The rock to the South East is close to the main Island with a large submerged reef of hard corals and granite boulders. These are almost connected with the maximum depth being around 30m.
How start your first dive here

If you begin by diving the main island first, then start on the Southern side somewhere in the middle of the island. From here you can then descend down the wall which drops off to around 25-30m. There are many large boulders sat on top of one another here similar to those in The Similan Islands. Keep an eye out under the rocks for Nurse Sharks and Blotched Stingrays. You will find they are typically sleeping until darkness returns and their natural hunting time.
From the wall, if you head out in a North-West out in the sand, you will find some anemones. As usual they are hosts to the Anemone Fish and Eggshell Shrimp. Keep your eyes open in midwater as there can be large schools of Barracuda, Snappers and Fusiliers. Around the base of the wall there are many Orange Cup Corals and Feather Stars. You will also find an archway here.
As you pass through the archway a 10m long passage opens up to the right. If you time your move through the passageway carefully, then depending on the swell, you can make your way through and back out of the ravine on the other side of the island. From here you can move left along the coral reef or drop down to the right along a wall that lies around 24m on the back side of the island. Either way you can be looking for all types of marine life. This includes White Tip Reef Sharks along with Blotched Fantail Rays and Kuhl's Stingrays. You can also find some small stuff like Seahorses and Ghost Pipefish. This in addition to the usual Snappers, Groupers and schools of Barracuda.
Diving "The Submarine"
If you have enough air and dive time remaining you can move onto an interconnecting set of rocks. These break the surface to the South of the main island, and are known as "The Submarine." This is a rocky face that bottoms out at around 27m most of the way round and is a great place for finding Sharks, Cuttlefish and the bigger Sting Rays.
This really is one of the best scuba diving sites for underwater photography. Therefore, if you don't own an underwater camera already, let us know. As not only can we provide you with one, but we can also arrange for you to take your PADI Underwater Imagery Course. This course combines both still photography and video.
There is a natural split in the island at a depth of around 18-20m. This Channel / Canyon is very obvious as the stones here are very small and smooth from where the current passes through here. Moving through the canyon leads to a large archway where the rocks are covered with Yellow Sponges.
Somewhere among these sponges there is said to lurk a yellow Frog Fish: Can you find it?
Cavern Diving at Three Islets Dive Site
Continue inside the canyon, if the current and your Dive Guide allow, and after approximately 25m there is a cavern with a fairly small entrance.
PLEASE do NOT enter the Cavern without the proper training, experience and equipment. There is more than enough to see without entering this Cavern!
Look for Lobsters, Stingrays and Nurse Sharks. There is natural light from both ends but if you have a torch it will help. However, as we said you do not have to enter the cavern and can just continue down the channel / canyon where the cavern rejoins the canyon.
From here you can head either North West or South East. On the Northern side of the Island there are many Sea Fans, Hard and Soft Corals, in addition to the usual marine life. Keep an eye out for Harlequin Shrimps, Sea Horses, Ornate Ghost Pipe fish and Frogfish. And there are also some very nice Nudibranchs to be found here too.
What sharks can you find here?

Square Rock to the North of the main island seems to be a haven for Seahorses. As such, we have been lucky enough to find several varieties there over the last few seasons. We often see bigger rays and some sharks here from time to time too.
When you exit there are often some Grey Reef Sharks hanging around.
For the 2nd & 3rd dive you should dive either from the smaller rocks where you can find similar marine life. There are also some very large Nurse Sharks that are often seen in the cracks in the rocks on the Northern Rock. And by large we mean at least 3m long. The Southern Rock is covered in Soft Corals and Anemones.
If you stay for a 4th dive, complete the final dive, usually either a Sunset Dive or a Night Dive, back at the main rock.
If you are diving this on a Rebreather you will find it possibly to complete all 3 dive sites on one dive. Additionally, if the boat is staying here all day / night you can get 2 awesome 2-3 hour dives here!
This is some of the best diving in the Mergui Archipelago!