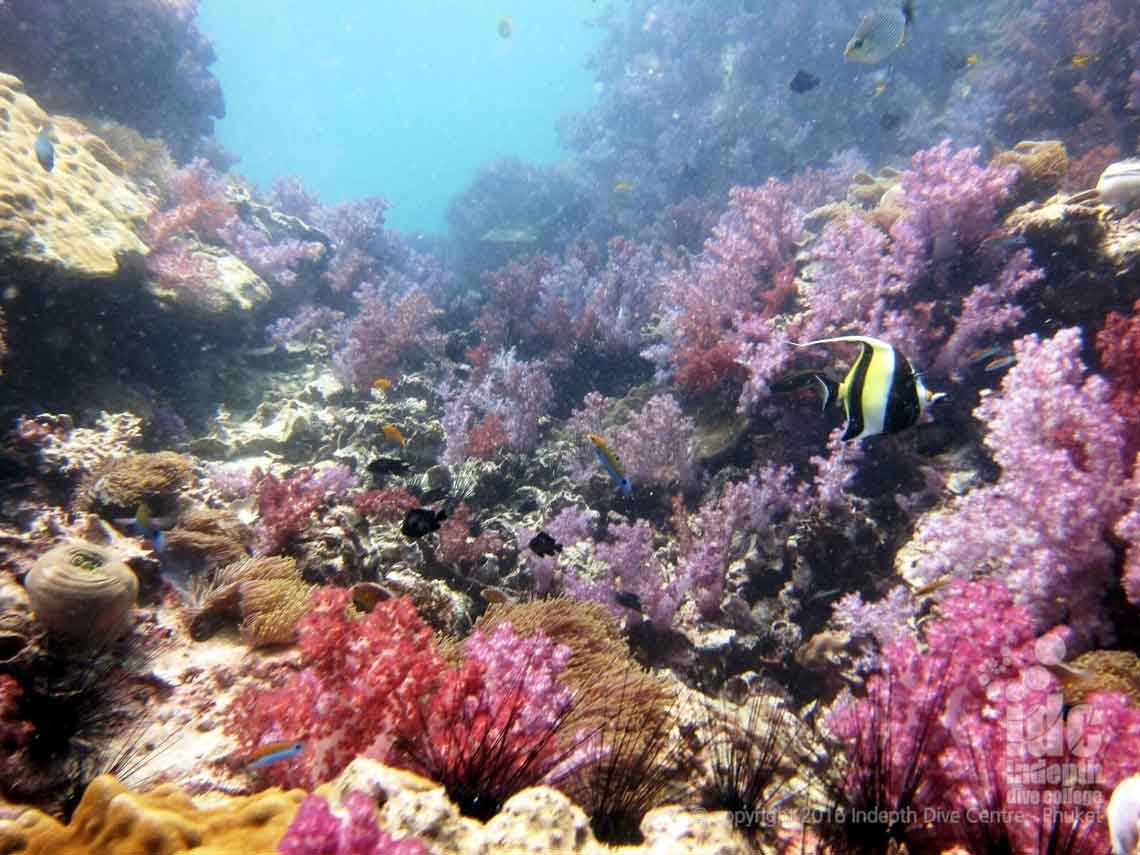 Fan Forest Pinnacle: another favorite Burma Dive Site
Fan Forest Pinnacle  is located around 40 nautical miles West of the Myanmar/Thailand border port of Kawthaung. This Burma dive site lies in open ocean and is is actually a massive submerged pinnacle. Hence Fan Forest Pinnacle ranges from 5- 40m + and is a firm favorite among guests from all experience levels. In Addition, we are regularly asked if we can make a 2nd or even a 3rd dive here.
Fan Forest Pinnacle is famed for regularly producing a huge diversity of marine life in all shapes and sizes. And as such, if you add to this the huge numbers of large, healthy Sea Fans and the stunning topography, we think this will be one of your best Myanmar dives. And if you haven't dived for a while, why not get back into Dive Mode and dive Phuket first on one of our Phuket Day Trips!
Fan Forest Pinnacle is a must for underwater camera and video enthusiasts ...



How do I best dive Fan Forest Pinnacle?
We start a dive at Fan Forest Pinnacle by taking a step into the water from the dive platform. For dives at Fan Forest Pinnacle is important that everyone is on the dive platform and ready to descend quickly. Or even better, descend with a negative entry using the shallow 5m area of the submerged pinnacle for reference.
Once in, then drop down to around 20m and head Northwest into the rocky valleys that line the edges of the limestone pinnacle. From here you can make your way down to your maximum depth while keeping an eye open for Leopard Sharks and some large Sting Rays. These tend to hang out on the sandy bottom so check them out before cruising back up the top of the boulders. Here you will find schools of Tuna, Barracudas and Trevallies that hunt over the top of the boulders.
Rebreather divers can have an awesome time here following them up into the swirling schools of fish.
Which is the best direction to dive around the pinnacle?
The current will determine which is the best direction to dive around the pinnacle. However as the rocks come all the way up to 5m, there is always a place to hide if the current does end up being strong.
We have seen Pygmy Seahorses in some of the Sea Fan but you need to look carefully. In addition you will also see the remains of large old fishing traps, usually opened by divers. These can be fun to watch as the fish move in and out of at will.
Moving up onto the limestone walls of the main pinnacle you can look for Crabs, Moray Eels, Sea Stars and various Shrimp. We also regularly see Cuttlefish, occasionally in mating pairs which is fascinating to watch. There are also a few turtles in the shallows from time to time.
For those not yet certified in Digital Underwater Photography or Videography, this can be a perfect dive site to start you off on. It is also a great dive site to improve your underwater photographic skills on too.
As this dive site is in open ocean, you should of course be constantly on the lookout for Eagle Rays and Mantas. We have also been lucky the last few seasons with several Whale Shark sightings.
ENJOY Fan Forest Pinnacle as you never know you will find, or what will find you!