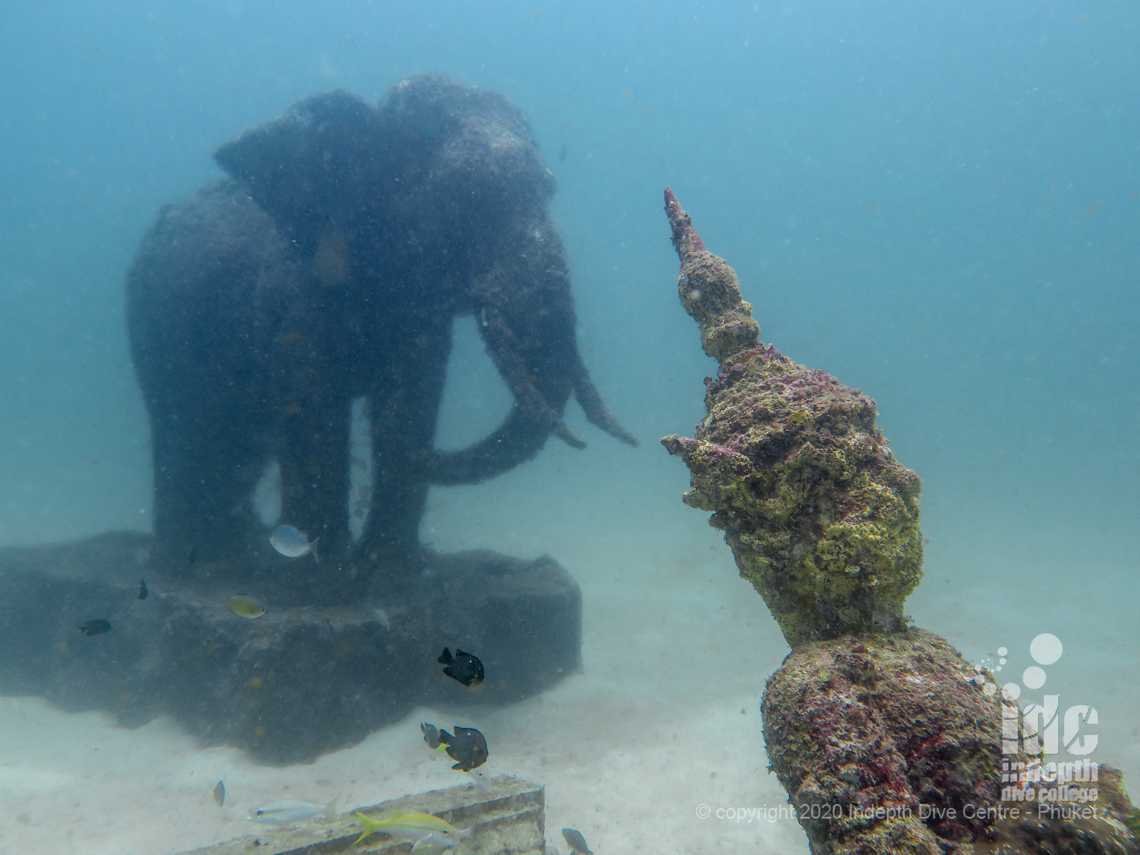 Racha Yai: Siam Bay: Elephant Dive anyone?
Siam Bay dive site is the Northern most bay of Racha Yai, roughly 1 ½ hours away by dive boat. The bay itself consists of rocky edges and the center bay area is sand covered with hard-coral patches. Including some large "Coral Bommies" and nice Staghorn coral.
And as far as we know, Siam Bay is the only dive site in the world that you can guarantee yourself a dive with elephants. Even they are made from stone!
These man-made concrete elephants and were sunk in 2006, along with a temple gate and mythical giant sentry known locally as Yak. They were sunk in order to add another scuba diving attraction for the local Phuket dive sites, not surprisingly these did in fact prove very popular with divers. In fact, many divers around the world now have fond memories of swimming around this temple.
Don't forget to bring your underwater camera with you. However, if you don't have one, then one of our Photoguides could always go with you. That way you can relax, enjoy your diving, while they take some cool pics of one of the most the unusual photographic opportunities ...



Can a beginner diver dive with the underwater elephants at Siam Bay?
Siam Bay is a nice easy Phuket Dive Site and ideal for beginner divers and people new to diving.
In 2006 Siam was "made famous" with the arrival of an artificial reef in the form of a number of underwater statues. These include, in addition to the elephants, various Giants and Demons from Eastern mythology. There is even an underwater temple, which they guard, complete with Thai Sala.
To start the dive, the dive boats usually moor in the middle of the bay. As there are number permanent moorings which help with navigating this straightforward dive site. Once at the bottom of the moorings, you will find yourself in a large sandy area around 6m deep. From here the sea bed slopes off down to around 12m depending on the tide. Even from the surface you can see the sandy bottom with scattered patches of coral.
Siam Bay is a nice easy site and thus one of the best local dive sites for Try Dives / PADI Discover Scuba Diving. Additionally, this is a very good destination for Open Water Students, especially on the Eastern or Western reefs. Take your time and have a good look around. The are some nice Staghorn Coral gardens where you can look for Devil Scorpion Fish as well as lots of different types of Moray Eels. Moreover, as you inside the bay, there is very rarely any current. This all makes for a nice simply, easy introduction to scuba diving, even if you do get to meet an Elephant.
Which PADI Courses are good at Siam Bay?
Bungalow Bay is one of those local Phuket Dive Sites where, whilst not being the most exciting of dive sites, actually has plenty to see. In addition, with the bottom topography, Bungalow Bay is very conducive to most PADI courses.
If you are working towards your PADI Master Scuba Diver Rating for example, then this is a good dive site to do some Specialty Course dives. PADI Digital Underwater Photography (DUP) Specialty Course is a very popular one. Not only is the dive site shallow so there is plenty of light penetration, but also as there is a lot of sandy areas, you can relax a bit when it comes to getting used to diving with a camera and maintaining your buoyancy.
PADI Underwater Naturalist, Underwater Navigation, Fish ID are all very popular here due to the diversity of the marine life. And of course, to get a picture of an Underwater Selfie of you riding an Underwater Elephant!
Diving with The Elephants

Divers that are qualified to dive deeper than 18m can follow a natural channel through the middle of the reef. This slopes down to around 20m where the reef ends and the sand begins again. Here you should find lots and lots of Stingrays sleeping in the sand. Additionally, not far from the edge of the reef, is a man-made concrete reef. This is surrounded by resident Yellow Snappers, as well as a few Giant Puffer Fish.
It's well worth taking a good look around this area as Great Barracuda have been known to use the reef as shelter. Additionally those diving on rebreather will be able to spend of time around here before heading over to the highlight of the dive. Yes you guessed it, the Underwater Elephants.
The Underwater Elephants are spaced around 20m apart, with the temple gate and mythical guardian Yak in-between them. Not surprisingly at this point most divers tend to like to break into small groups and to take it turns to be photographed.
Underwater Elephant riding Facebook photo anyone?
After all a photo of you riding an underwater elephant makes a pretty good holiday photo. Or profile pic or Cover photo of your Face Book Page.
Swimming around the temple uses up air and bottom time quickly, so keep an eye on your dive computer and gas supply. Because before you know it, its soon time to head up into shallower waters wishing you could have stayed a little longer in the deep blue waters of the temple.
Once again Rebreather divers will get a lot longer down here, probably around 1 hour. Have fun with The Elephants everyone ...